Directions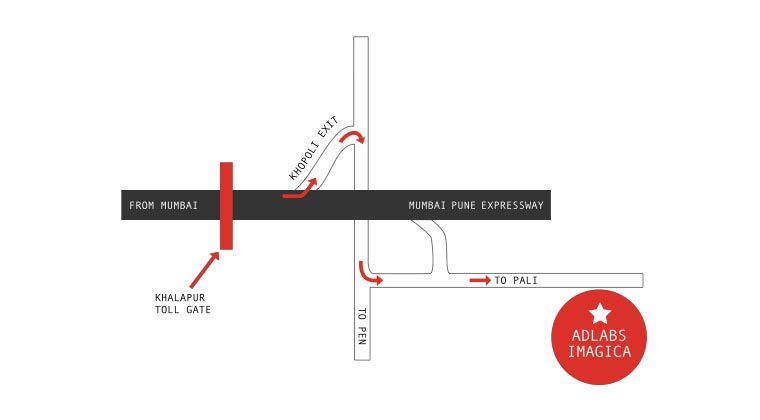 Adlabs Imagica is a mega tourist destination conveniently located on the Mumbai – Pune Expressway. The Park will be easily reachable from Mumbai, Thane, Navi Mumbai, Pune and Nashik.
Guest services
Information Booths
There is an Information Centre & Guest Relations Counter at the entrance itself. We offer various services for our guests that include:
Visitor information (hotels, campsites, points of interest)
Lost and found
General park information and assistance
First Aid
Adlabs Imagica is fully equipped to offer first aid in case of an emergency, where professional nurses provide you the best service. We have two Medical Centers in the Park. The first one is located near the Outdoor Rides while the second one is very close to the Lagoon.
Lost & Found
We have a Lost & Found desk located in the Guest Services counter. In case you find something, please deposit the same here, in case you lose something, be sure to check with us. However with the sheer number of Guests in the Park, we cannot take a guarantee for your belongings. Please be careful with your cameras, purses and mobiles.
Tip - Carry minimum, Secure what you carry.
Parking Area
Do collect the Parking tickets while entering the Park. The Parking ticket is valid only for 1 day.
Though our Parking is planned for large crowds and we have enough space, it is going to be on a first-cum first serve basis.
Imagica Management is not responsible for any loss or damage of vehicle in the Parking. Do not leave any valuables in the car, (specially something visible on the seats), and please follow all safety and directional signs in the Parking Bay.
Kennel Services
Animals are not allowed in the park, with the exception of service animals used by the hearing and visually impaired. Adlabs Imagica does not provide kennel services. For the health and safety of your pet, please do not leave your pet in your car for any length of time while visiting the park. Adlabs Imagica will call Animal Services to rescue your pet at your expense, which may also result in prosecution.
Stroller Rental
Strollers are available for rental. They can be rented from the retail market area. Subject to availability (Please note: A limited supply of Strollers are available to rent).The Strollers can be hired with a minimum deposit that would be refundable on return of the stroller.
Wheel Chair Rental
Wheelchairs will be made available for rental; they can be rented from retail market area subject to availability, (Please note: A limited supply of Wheel Chairs are available for rent).
Food & Drink Kiosk
There are Kiosks located conveniently in the Park which will provide a range of food and beverages.
Guests Physically Challenged
Due care has been taken to support guests who are physically challenged. Our Entry Plaza, restrooms and restaurants have been built with considerations for their special needs.
Other Facilities
Restrooms
Adequate restrooms have been provided through the Park. We also have restrooms for children and our Physically challenged guests.
Drinking Water
There is bottled water available in the Park on payment.
ATMs
There are two ATMS in the park, HDFC & ICICI which would cater for all cash requirements.
Baggage Counter
Though The Park is equipped with a limited baggage counter, which guests can use to store their belongings on a first come basis, the baggage counter is located near the ticket counter.
FAQ & Help
Q: Can I bring outside food and drinks to the park?

Ans: Apart from infants and expecting mothers, guests are not allowed to bring outside food and beverages into the park.

Q: Is the theme park open during monsoon?

Ans: Yes, the theme park is open and functional all year round. Though, the park may keep some of the outdoor rides non-operational for safety purposes.

Q: What kind of food is available at the park?

Ans: There are 5 different restaurants at the park that serve various cuisines. Please click here to know more

Q: Are there reservations available for restaurants?

Ans: As of now, we aren't taking any reservations for the park restaurants.

Q: Can I leave the theme park and come back again on the same day without being charged?

Ans: We do not encourage our guests to step out, as all the fun is happening inside the park, But incase you have to leave and re-enter the Park at any time during park hours (only from the Park Main Entry) guests will have to get a stamp on their Tickets while moving out. They would have to show the stamp when Re-entering and go through the security checks.

Q: Are there any personal items which may not be permitted to bring into the park?

Ans: Yes, there are. For further information, click here

Q: Are there any new attractions or shows in the near future?

Ans: Yes, at periodic intervals, new attractions and shows will be added to the range of existing rides.

Q: What attractions might be closed during my visit?

Ans: Depending on the weather, few rides may be closed for your safety.

Q: Which rides are suitable for children?

Ans: Rides suitable for children can be found here

Q: Do you have locker facilities?

Ans: Yes we do have locker facilities, however they are limited and strictly on "first come first serve" basis. It is thus advisable to leave all your, essentials for a day's outing, in your Car.

Q: Where is the nearest mosque?

Ans: It is in Khopoli.

Q: Where is the theme park located?

Ans: Sangdewadi, Pali - Khapoli Road, Off Mumbai Pune Express Way, Dist - Raigad Maharashtra.

Q: How long does it take to see the entire park?

Ans: To enjoy the park completely, two days would be apt for the whole visit.

Q: What is the best way to dress for a day at the park? Is there any clothing that is not permissible?

Ans: In keeping with our family-friendly atmosphere, and for health and safety reasons, we strictly enforce a dress code. Proper attire must be worn at all times, including shirts and appropriate footwear. Clothing with rude, vulgar or offensive language or graphics is not permitted, and shirts cannot be turned inside-out as a solution. Sheer, mesh and see-through clothing cannot be used as a cover-up over bathing suits. Park admission may be denied if clothing is deemed by management to be inappropriate. Shirt, shoes, and a bottom (shorts, pants, skirt, etc) must be worn at all times in the theme Park.

Q: Are there any pets allowed at the theme park?

Ans: No

Q: Are your rides affected by bad weather?

Ans: All the attractions and rides are designed to operate under any weather conditions. Although, a couple of rides may be open or closed depending on the services level.

Q: Will I get wet on any of the rides? Is there a place where I can change my clothes?

Ans: Few of the attractions / rides involve water. So there are chances that visitors may get wet. There are restrooms around the Park where you can change, if you want to.

Q: Do I have to pay even if I am pregnant?

Ans: Yes

Q: My leg/arm is in plaster. Can I still use your rides?

Ans: Every ride has its own specifications that states which attraction can be accessed by Injured / Disabled / Pregnant etc. Please check the link given on each ride page.

Q: Do you have first aid facilities in the park?

Ans: Yes, we have two Medical Centers in the Park. The first one is located near the Outdoor Rides while the second one is very close to the Lagoon.

Q: How long are your queues?

Ans: The length of the queue is completely dependent on the number of guest visiting.

Q: How do I reclaim an item of lost property?

Ans: We have a Lost And Found Counter inside the park, speak to the Service Attendant at the counter and he/she will help you locate and retrieve your lost property.

Q: How is the connectivity at the park for mobile phones?

Ans: Special arrangements have been made for mobile connectivity, with Vodaphone, Idea & Airtel.

Q: Is there wifi service available at the park?

Ans: Yes, wi-fi is availble at the park only at the entry point near the Ticket counter.

Q: How can I protect my valuables while in the park?

Ans: We advocate not carrying Valuables. With limited locker facilities, the problem of valuables gets compounded.

Q: Can my special dietary request be accommodated at the restaurants?

Ans: No

Q: How can I find out about different restaurants at the park?

Ans: Browse through the website to know more about all the park's restaurants.

Q: Can I bring Camera to the park?

Ans: Guests can bring their personal cameras for leisure photography. Professional photography equipment or cameras with detachable lenses is however not allowed. (point-and-shoots without additional lenses are fine).

Q: What is the weather at Adlabs Imagica?

Ans: It is reasonably Hot during summers, which last upto mid June. In June arrives the breath taking Monsoons. Khopoli is famous for its waterfalls and greenery. One needs to be adequately prepared for the torrential rain which occur quite often.

Q: Where are the information booths located?

Ans: At the entrance itself in the Arrival Plaza.

Q: Can I upgrade my ticket?

Ans: Yes at the Guest Services Counter.

Q: Can I get a refund of my ticket?

Ans: NO.
Safety & Health
Tips from Imagica Safety & Health
Stay Together
Some of us move fast. Others move slow and a few of us stumble into trouble. Make sure you keep an eye on your family & friends. Keep an eye on your children & toddlers; keep them well within your reach. They have a habit of wandering off & getting lost, especially when there is so much excitement around. You wouldn't want to waste time looking for them, when you should be enjoying the Park.
Stay Hydrated
You've heard this before, and you are going to hear it again: drink water. Lots of it. Dehydration is the number one cause for discomfort. Water makes your body work. Make sure you drink more than you think you need. Nudge a friend if she isn't drinking enough water.
See it,Say it
You cannot get into trouble for anything you say to the medical or safety staff at Imagica. That is the the deal. So if a friend needs help, please stay around and help fill in the blanks. No one will trouble you. And if you think you might need assistance, don't worry, speak up. The Imagica staff is there to help you out.
It is Hot Here
Khapoli swelters in the summertime. Protect yourself. Pack a hat, breathable clothing, and plenty of water. Have fun, responsibly.
Medical Centers
Where: We have two Medical Centers in the Park. The first one is located near the Outdoor Rides while the second one is very close to the Lagoon.
Things happen: Giddiness, Nausea, Vomiting, Hangovers, Sprain, muscle pulls, palpitation.
For your safety, the Medical Centers are staffed with licensed professionals. Imagica also has a roaming medical staff to reach out to you.
In an emergency, if you're not near a Medical Center, find a staff person with a radio, or notify the nearest security personnel.
Tip: If you're not sure whether it's an emergency, assume it is and get help right away.
Security Staff
Where: There is a Security Office located near the Turnstiles, in the Arrival Plaza, to help you out. You can also find our security staff roaming through the Park; near every attraction, restaurant or open spaces.
Our safety (A.K.A security) staff is trained to help make sure everyone has a good time and stays safe. If you have a security issue in the Park, our security is available 24X7.
Prepare to be (politely) searched & frisked each time you enter Imagica. Find out what you can and can't bring in here. BAGS ARE NOT ALLOWED IN THE PARK.
Food Safety
Outside Food is not allowed inside the Park. We work hard to ensure all food and drink is good and safe. There are some great restaurants available inside the Park. Yes, we cater for vegetarians too!!
About Alcohol
No outside alcohol is allowed into Imagica. If you are above the legal age, enjoy a drink at our bar. It is advisable to enjoy the Roller Coasters without alcohol.
Remember to drink responsibly.
About Drugs
Imagica stands squarely against drug use. First, It's dangerous to your health. Second, it can ruin the visit for you and those around you. And last but not least it's against the law: If it's illegal outside , it's illegal inside, too.
If you see someone who is sick, upset, scared or clearly having a bad experience, get help. Find a medical or Security Staff. Provide all the information you can to the staff. Our 'no questions asked' policy means neither you nor the sick person can get in trouble when you seek help.
Our number-one concern is the well-being of all our Guests. By steering clear of substances and getting help for those who need it, you are contributing positively to the Imagica vibe, and we thank you for that.
What To Bring / What Not To Bring
Don't Leave Home Without It
We recommend you bring all of these:
Cap for shade
Comfortable shoes for walking
Sunglasses
Camera without a detachable lens
Don't Even Think About It
Here is what is not allowed inside, under any circumstances (and remember we search every Guest):
Alcohol
Food
Weapons of any kind, even slingshots
Fireworks
Illegal substances
Professional photography equipment or cameras with detachable lenses (point-and-shoots without additional lenses are fine)
Pets (even really, really small ones)
It is advisable to leave your expensive electronics, belongings and family jewels at home.
Park Timings
1)The park shall be open between 11 AM and 9 PM. Rides and other attractions will operate till 8 PM only.
2) The management has put all efforts to keep all the attractions operational; however it is possible that some of the rides or attractions may not be fully operational at all times. Some guests may not be able to experience a particular attraction on a particular day or time due to technical/repairs & maintenance/electricity or power failure. Conditions Apply.
Zones and Attractions
Restaurants