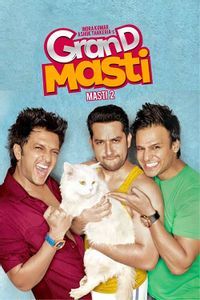 A sequel to India`s first adult comedy gets more bigger and livelier.
Summary
User Reviews
Critic Reviews
SYNOPSIS
The film is a sequel to Masti released in 2004. The film brings the trio of Vivek Oberoi, Aftab Shivdasani and Riteish Deshmukh back in action. This time around the fun gets more livelier and bigger. The sequel to India's first adult comedy.

Three married guys Vivek Oberoi as Meet,Aftab Shivdasani as Prem andRiteish Deshmukhas Amar go out on fun experience in their college reunion in Shree Lalchand University of Technology and Science(SLUTS),finally to be trapped in a danger.
People who viewed this also viewed