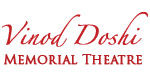 Vinod Doshi, an eminent industrialist and Chairman of The Premier Automobiles Ltd., (now known as Premier Ltd.), represented a rare combination of technical expertise and aesthetic sensibilities. His passion for amateur theatre and experimental cinema led to a close interaction with playwrights, actors, directors and technicians. He became deeply involved in various aspects connected with experimental theatre and cinema - screenplays, sound effects, lighting, rehearsals, translations and acting. His wife, Dr. Saryu Doshi, a noted art historian, shared her husband's interests. During the late 60's and early 70's many play readings and post-show parties were held at their home. With increasing corporate responsibilities, his involvement in theatre gradually lessened over time.
To celebrate his passion for theatre, Premier Ltd. has commissioned an annual, 5 day theatre festival in his memory, called the Annual Vinod Doshi Memorial Theatre Festival, since the last 4 years. This year, the 5th festival will be held at the Yeshwantrao Chavan Natya Sabhagruha, Kothrud, Pune from 25th February to 1st March, 2013.
This year, the festival presents an eclectic mix of topics and tones, from established as well as budding directors. For the first time in the festival's history will be a Gujarati play, thereby promising to entertain an even bigger group of audience. Also at the festival are two great Shakespearean adaptations.
The festival begins with Piya Behrupiya, director Atul Kumar's adaptation of Shakespeare's Twelfth Night. This musical comedy opened to acclaim in April 2012 at the prestigious Globe To Globe Festival of Shakespeare's plays, in London. Day two will have Adhe Adhure, a tragicomedy based on the life of the middle class. Recipient of the Sangeet Natak Academy Award, this play sees its brilliant director Lillete Dubey playing the role of the protagonist. Watch Shakespeare's masterpiece, All's Well That Ends Well, on the third day, with its Indian touch and enunciations in Maro Piyu Gayo Rangoon. Directed by Sunil Shanbag, this play was commissioned for the Globe to Globe Festival at the Shakespeare Globe Theatre, London. Day four sees Gasha, a twenty-year-old tale of a Kashmiri Pandit and Kashmiri Muslim, and their broken friendship, all set in the midst of the Kashmir embroilment. This play is written by Irawati Karnik, a recipient of the highly-coveted Vinod Doshi Fellowship in Performing Arts honour, and directed by Abhishek Majumdar. The festival closes with Uney Purey Shahar Ek, written by Girish Karnad and directed by Mohit Takalkar. The play presents one of the most paradoxical realities of the modern-day city that it has become a complete city full of incomplete people.
Determined to infuse character and vibrancy, the Festival Director, has carefully selected the best directors in Maharashtra and even raised the bar with a contribution from Bangalore. The lines of performances are a reflection of each director's unique style.