Gina Carano has been axed from The Mandalorian and Disney's Star Wars franchise following a series of posts on social media. Carano initially made her career in the world of MMA, but later made a name for herself in movies like Fast & Furious 6 and Deadpool. However, more recently she is best known for her role as Cara Dune in The Mandalorian. The character was set to play a pivotal role in the third season of the show until February 10 when Lucasfilm announced that her contract would not be renewed.
Last year prior to the release of season two, she was accused of mocking trans people after putting the words "boop/bob/beep" in her Twitter bio in lieu of pronouns. She had been asked by fans whether she would add pronouns to her bio to show solidarity with the trans community. She claimed to have added the R2-D2 sounds in response to online harassment she was a victim of upon refusal to add the pronouns.
They're mad cuz I won't put pronouns in my bio to show my support for trans lives.
After months of harassing me in every way. I decided to put 3 VERY controversial words in my bio.. beep/bop/boop
I'm not against trans lives at all. They need to find less abusive representation.

— Gina Carano 🕯 (@ginacarano) September 13, 2020

This resulted in outrage and many fans calling for her to be fired from the series.
Gina Carano is ignorant af and I hope she gets fired from Mando. https://t.co/BNz7F6Fq4x

— Joe Martin (@Joey_Radstone) September 13, 2020
As the final straw, Carano made multiple posts on social media on February 9, which she deleted that night or the following day. One of them stated that Jeffrey Epstein didn't kill himself, but was murdered because of his political and celebrity connections. In another, she equated the persecution of Jews to the treatment of Republicans in the United States.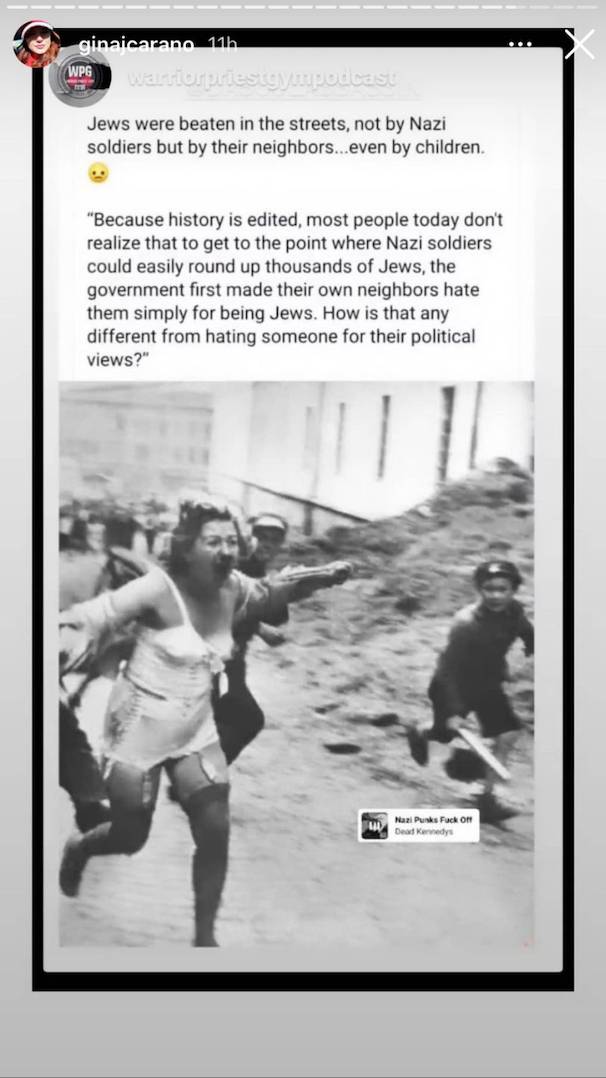 While Lucasfilm had let last year's online controversy with the trans community slide, they took notice of her latest posts, especially comments about the Holocaust and promptly removed her from their flagship series rather than allowing the controversy brew without taking action.