In his 12-year career, Virat Kohli has already established himself as one of the greatest ODI batsmen the world has seen. The 32-year-old took to the one-day game like a fish to water very early in his career, and has gone from strength to strength since. In the last few years, he has displayed consistency and a hunger for runs never seen before in ODI cricket.
Kohli added another feather to his already illustrious cap during India's third ODI against Australia yesterday. He became only the sixth player in history, and the second Indian after Sachin Tendulkar, to notch up 12,000 ODI runs. Kohli was the fastest to achieve this feat and by a considerable margin, taking 58 innings fewer than the second-placed Tendulkar to get there.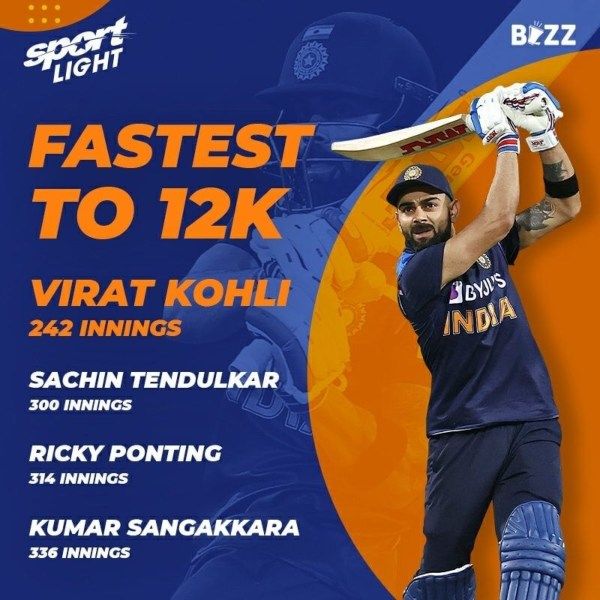 Accolades came pouring in for Kohli after he got to the 12,000-run mark.
The Master Virat Kohli Completed 12,000 ODI runs. And as usual King Kohli is Fastest of All Time. Virat Kohli Greatest ODI Batsman.!! #GOAT🐐 pic.twitter.com/etfIzK8kRW

— CricketMAN2 (@man4_cricket) December 2, 2020
Indian skipper Virat Kohli goes past the legend Sachin Tendulkar to become the quickest to score 12,000 ODI runs. Yet another feather in the cap of King Kohli.#AUSvIND #ViratKohli

— Vedant Birla (@birla_vedant) December 2, 2020
22,000 International runs and 12,000 ODI runs for King Kohli. He now holds the record for reaching these milestones in fewest innings. Congratulations VK @imVkohli. Many more runs to come from you bat… #AUSvIND

— Sriram (@NaamRaam) December 2, 2020
Fastest player to reach 12 000 ODI runs 🔥🔥🔥 if there's one thing I'll remember him for, its his mentality 🧠

ELITE 🔥 #Kohli

— Chace 🇿🇦 (@Mr360Sport) December 2, 2020
Most 50+ Scores In SENA☑️
Most Runs By An Indian In SENA ☑️
Most Runs By Ind. Cap In SENA ☑️
Fastest 12,000 Runs ☑️
Fastest 22,000 Runs☑️

KING KOHLI 🐐👑#INDvsAUS #ViratKohli pic.twitter.com/Ds9m4Jf7Lc

— Bang VK Haters™ (@BangVKH) December 2, 2020
Fastest to Score 12,000 ODI runs with an average of 60.00💥💯

Greatest of All Time✨
King Kohli😍 pic.twitter.com/URuW16SLWj

— Sourabh Raut (@xzx_slipknot) December 2, 2020
Without question @imVkohli is the best ever ODI Batter I have seen … #NoBrainer #AUSvIND

— Michael Vaughan (@MichaelVaughan) December 2, 2020
Sachin Sir completed 12,000 runs in 300 innings… King Kohli has done it in 242 Innings… That means he might be around 15,000 runs when he'll play his 300 inning in ODI Cricket.
Legend.

— Mohit Bararia (@mohitbararia17) December 2, 2020
Virat Kohli is undoubtedly another Tendulkar in the making. The fastest 12,000 runs in ODI cricket is a milestone. #AUSvsIND #ViratKohli pic.twitter.com/RNJehGqaZr

— Inspire (@iSabahuddin_M) December 2, 2020
Kohli after becoming the fastest to score 12,000 runs:#AUSvIND pic.twitter.com/iS1le9fpxS

— Sid Grover (@GroverSid) December 2, 2020
Virat Kohli completed 12,000 runs in ODI format, fastest ever – The freak – near to 60 average & strike rate over 90 – Consistency and greatness mixes together. All time best player in odi#AUSvsIND

— Official Shamsi ( M S H ) (@MsHaidri) December 2, 2020
In ODIs

Virat Kohli

Innings-242
Runs – 12040
Centuries- 43

Kane Williamson + Joe Root

Innings – 284
Runs – 12135
Centuries- 29#ODIGOAT #AUSvIND

— Gaurav Sundararaman (@gaurav_sundar) December 2, 2020
12k runs in Odis for @imVkohli and what an achievement to do it in just 240 odd games! Staggering record that will last a long time! #AUSvIND pic.twitter.com/hs8XYY28im

— Kris Srikkanth (@KrisSrikkanth) December 2, 2020
After achieving this milestone of fastest to 12000 ODI runs, it is clear that Virat Kohli is far ahead of Sachin Tendulkar.

— Injured Not Anshuman's lenses are broken (@AnshumaNot) December 2, 2020
To Become A Good Player,
You Need TALENT.

To Become A Great Player,
You Need An Attitude Like KOHLI..

(#ViratKohli became the fastest cricketer to score 12000 ODI Runs) pic.twitter.com/wTeQrcO82Z

— sarcastic bunny (@sar_casticbunny) December 2, 2020
12k ODI runs in 12 years for Virat Kohli is a mind-boggling achievement, Don't forget his Test and T20 runs.#AUSvIND

— Arjun (@LifeIsAnElation) December 2, 2020