Life in Argentina briefly came to a halt yesterday, when arguably their greatest football icon breathed his last. Before the likes of Lionel Messi came along, Diego Maradona was the boyhood hero to an entire generation of Argentinians as well as football fans across the globe.
Maradona, who celebrated his 60th birthday just last month, succumbed to heart failure. He had recently undergone surgery to remove a blood clot from his brain.
UEFA president Aleksander Čeferin: "I am deeply saddened to hear of the death of Diego Maradona, one of world football's greatest and most iconic figures. He achieved greatness as a wonderful player with a genius and charisma of his own." pic.twitter.com/BYGWL2sNFZ

— UEFA (@UEFA) November 25, 2020
A glittering career
Maradona enjoyed an enviable professional career spanning 21 years from 1976 to 1997. Born in Buenos Aires, he had taken to football at the tender age of 3, and became the youngest player to feature in the Argentine Primera Division when he walked out for the Argentinos Juniors ten days short of his 16th birthday.
In 1982, Maradona moved to Barcelona for a then record fee of $7.6 million. After two seasons in Spain he transferred to the Italian club Napoli, once again making the record books with a transfer fee of $10.48 million.
For the Argentinian national team Maradona scored 34 goals in 91 appearances, and featured in four world cups from 1982 to 1994. His crowning moment came in 1986, when he captained his team to world cup glory and took home the Golden Ball.
He retired from professional football in 1997, drawing curtains to a glorious career that saw 258 goals.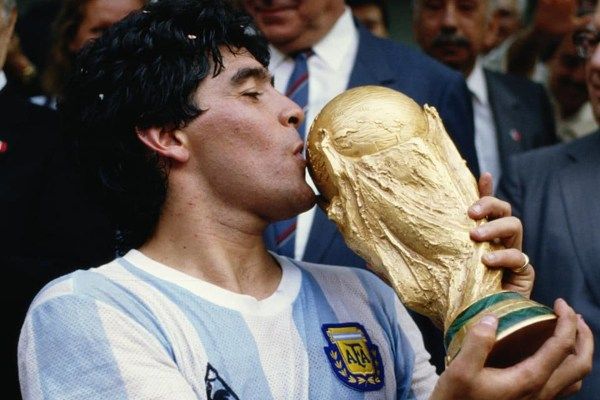 Controversy's child
Diego Maradona's brilliance on the football field was often marred by his inexcusable behaviour both on and off it. Many are of the opinion that he squandered much of his talent bingeing on drugs, alcohol and food. His cocaine addiction and related problems brought him fines and bans through his career, the most disgraceful of which came in 1994 when he was ejected from the world cup after failing a drug test.
Of course, one can hardly talk about Maradona without mentioning the infamous 1986 world cup quarterfinal. Replays suggested that his first goal of the match had been punched into the net by his left fist, something the referee had evidently failed to notice. When confronted he evaded the issue, perplexingly describing the goal as "a little with the head of Maradona and a little with the hand of God". In 2005, he finally admitted on a television show that the goal had indeed been illegitimate. It is rather unfortunate that the 'hand of God' goal is more famous than the one he scored just four minutes later, which is regarded by many as one of the greatest goals ever.
Diego Maradona may not have been the most ideal role model for budding footballers, but few can deny his breathtaking brilliance when the ball was at his feet. The world sat up and noticed whenever Maradona took the football field, for he could weave magic that very few other mortals could. His legacy and contribution to football shall never be forgotten.