Disney+ Hotstar's 1962: The War in the Hills, is a ten-part war drama based on the Indo-China war of 1962.
A David vs Goliath tale
The year is 1962. China's expansionist policy has already devoured Tibet, and now the Chinese have set their sights on Ladakh, India. Skirmishes on the border have begun, and Major Suraj Singh (Abhay Deol) and his C-Company are in the thick of things. Back in Delhi, a hapless prime minister Nehru knows his army is short on resources, but doesn't want to back down. His counsels bear the same outlook, except his daughter who wants to avoid war.
The Chinese troops capture an Indian post, which is recaptured by the Indian army. This game of musical chairs goes on until full-fledged war breaks. The show's premise is about how Suraj Singh's brave platoon of 125 men holds off 3,000 Chinese soldiers.
Clichés abound
The first impression one gets of 1962: The War in the Hills is that the show is strikingly similar to JP Dutta's Border, a film that struck gold at the box office back in 1997. What's unfortunate is that the series goes over 20 years back in time to play out pretty much the same tropes. The drama unfolds as much in the Haryanvi village of Rewari as on the border. Rewari is where most of the men in the C-Company hail from. Here we see a newlywed soldier who can't celebrate his wedding night because duty beckons, a pair of aged parents whose only support is their son and a corny love triangle. The motive behind these stories is understandable — to show that every soldier has a little world of his own away from the border, one that often turns to ashes when war occurs. However, this isn't anything different from what we've already seen numerous times before. The rather primitive and unimaginative dialogues don't help. The writing seems straight from the '90s.
There's plenty of melodrama in Suraj Singh's household as well. In Suraj we get our righteous hero who can do no wrong. His wife too, is the ideal companion, one who could never dream of standing in the way of her husband and his duty. After giving us the firecracker that was Dev.D, Abhay Deol and Mahie Gill pair up again for a rather drab cause. With Deol one can always expect a credible performance, but it's disappointing to see the poster boy of offbeat cinema being reduced to such a bland character.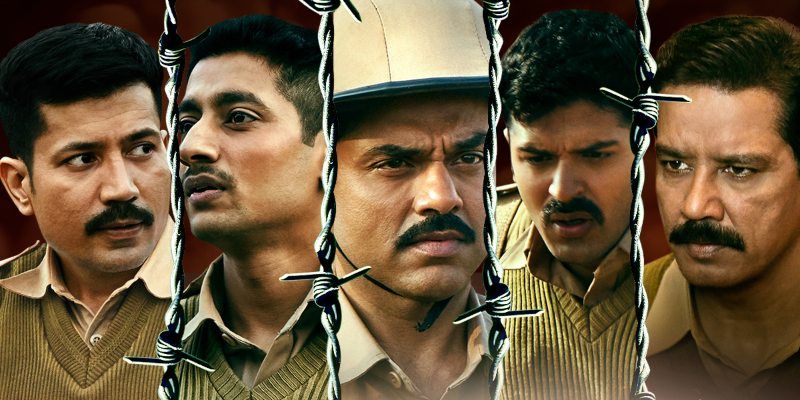 After wading through the incessant and wholly unnecessary drama, if you're expecting slick action sequences on the border, you're going to be disappointed again. The action is impressive in patches, but at most times looks glaringly studio-shot and VFX laden. The show leaves much to desire on the technical front. Rochelle Rao, who plays a Ladakhi milk maid, has her dialogues dubbed by someone else which look hopelessly out of sync. There's plenty of dialogue about how our soldiers must contend with uninhabitable conditions. The weather is a bigger enemy than the Chinese, as one of the characters declares. However you don't get a sense of how inclement the weather is.
The Chinese soldiers, save for Meiyang Chang's character Colonel Lin, are predictably portrayed as merciless savages. It's high time we realise that troops fighting at the border aren't the real enemy and need not be dehumanised. Every soldier, including our own, is simply carrying out the bidding of more powerful men sitting in air-conditioned boardrooms.
The makers, however, must be credited for doing away with one stereotype, that of hyperbolic nationalism which usually comes attached to army film or series. 1962: The War in the Hills chooses not to cater to the current political climate, where one is said to love his country only if he thumps his chest about it. Our soldiers don't dish out jingoistic dialogues declaring their love for the motherland. Instead, they're a group of astute men driven towards doing the duty they've sworn to do.
Among the other bright spots is the considerable coverage of the psychological impact that war can have on the soldiers. This comes in the form of Ram Singh (Sumeet Vyas), whose temper and recklessness has resulted in the death of his comrade. Vyas adds to his range as an actor with a wonderfully restrained performance.
WATCH OR NOT
Lauding the bravery of our armed forces is hardly a new theme in Indian cinema. 1962: The War in the Hills plays out every cliché ever seen in Indian war films, adding no new perspective to an issue that continues to be of grave concern.
Director: Mahesh Manjrekar
Writer: Charudutt Acharya
Cast: Abhay Deol, Sumeet Vyas, Mahie Gill, Akash Thosar, Rohan Gandotra, Annup Sonii, Meiyang Chang, Rochelle Rao, Hemal Ingle
Streaming on: Disney+ Hotstar