A Simple Murder, SonyLIV's latest offering, is a dark comedy revolving around Manish (Mohammed Zeeshan Ayyub) and Richa (Priya Anand), a dysfunctional couple in Delhi who get caught in a web of crime involving dangerous men.
A healthy dose of coincidence
We're introduced to Manish, a good-for-nothing loser whose start-up idea combusted before it could take off. His wife Richa passionately harbours one dream, that is to sleep on a bed of currency notes. She has grown to despise her unsuccessful husband and flirts with her lecherous boss Rahul (Ayaz Khan).
The first episode of the series is aptly titled "Sanjog ka Tadka". Sanjog or coincidence is very integral to the story. In what is a case of mistaken identity, Manish accidentally lands himself a hit job. Of course, since it's fetching him a lot of money he decides not to rectify the error, thereby triggering a chaotic chain of events. From here the writers take help of a series of coincidences to bring together all the key elements of the show, which among others involves two trigger-happy assassins (Amit Sial and Sushant Singh), a religious nut job of a gangster (Yashpal Sharma) and a big bag of cash. Also in the mix is an honour killing angle. A Hindu politico's daughter and her Muslim boyfriend fear for their lives and are on the run. Coincidence, often bordering on the unbelievable, is the fuel on which A Simple Murder runs.
A bunch of hilarious, bad men
In a nutshell, A Simple Murder is a medley of morally bankrupt individuals who play out a Priyadarshan-style premise. There's confusion, people constantly landing up at the wrong place, and plenty of chases. The humour, however, is far from Priyadarshan's slapstick brand of comedy. It is derived largely from the sharp, witty dialogues and the brilliance of the actors. Mohammed Zeeshan Ayyub is mighty fine as a loser desperately looking for a ray of hope. While he displays some moral fibre through the show, his wife Richa has no qualms about being self-centered and perfectly evil. Priya Anand is impressive in bringing to life a despicable character. Ayaz Khan is the right amount of creepy as Rahul. Yashpal Sharma makes an impression in the limited screen time he gets. There's also Gopal Datt, who is delightful in a Pink Panther-like cop avatar. Adding weight to the show is the thoroughly entertaining voiceover by Vijay Raaz (one can't imagine a better person for the job).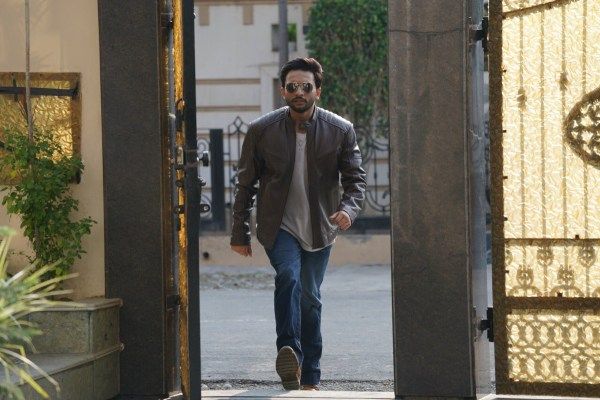 But the ones who leave the biggest mark are Amit Sial and Sushant Singh as Santosh and Himmat respectively. The two contract killers are terrifying and quirky in equal measure. Himmat's eerily calm demeanour and sing-song style of speaking, and Santosh's penchant for Hindi songs and poetry make them endearing. The little screen time that the two men share together makes for delectable viewing.
The story is a bit of a dampener in the second half. After building an intriguing premise, it gets stuck in a repetitive loop. There's a whole lot of one character pursuing another, killings taking place and the bag of money changing hands. Predictably, this builds up to a climax where the characters come together for a final showdown. The series meets a rather tepid end, but not without promising a follow up season.
WATCH OR NOT
With seven episodes of approximately a half hour each, A Simple Murder feels more like a long movie rather than a web series, and can be comfortably completed in a single sitting. If a cocktail of abhorrent humans, violence and edgy humour appeals to you, and if unrealistic coincidences don't bother you, then the show can be a fun ride.
Director: Sachin Pathak
Writers: Prateek Payodhi, Akhilesh Jaiswal
Cast: Mohammed Zeeshan Ayyub, Priya Anand, Amit Sial, Sushant Singh, Yashpal Sharma, Ayaz Khan, Gopal Datt, Vikram Kochhar
Streaming on: SonyLIV