Netflix's Bombay Begums is a six-part series that tells us the stories of five women across generations and social strata, in the city of dreams that is Mumbai.
The endless struggle of women in a man's world
Rani Singh Irani (Pooja Bhatt) is the newly-appointed CEO of a prominent Indian bank. She's surrounded by men waiting for her to fall. Her second in command is Fatima Warsi (Shahana Goswami), a corporate superstar in the making who is confronted by the age-old conflict — career versus family. Starting out at the same organisation is Ayesha Agarwal (Plabita Borthakur), a starry-eyed small-town girl in her twenties who dreams of becoming CEO one day, but for now must contend with parents who want to see her married and the trials of being a single woman in Mumbai. Shai (Aadhya Anand) is Rani's step-daughter, a reclusive teen on the cusp of adolescence, struggling with body image issues. A misfit in the sophisticated group is Laxmi Gondhali aka Lily (Amruta Subhash), a sex worker who yearns for a life of respectability for herself and her son. Rani's step-son runs over Lily's son while driving drunk, which leads to all their paths getting intertwined.
The word 'struggle' is at the core of Bombay Begums. Whether you're the queen bee of the corporate world or struggling to make ends meet, a woman's path is always laden with more struggles than that of a man. Women must wade through life protecting themselves from society's judgemental eyes, and being careful of not bruising the fragile egos of patronising men along the way.
The series compels us to reflect upon numerous situations in which women have it tougher than men, and through Shai's perspective we get commentary on their ordeals by way of voiceover. It's difficult for single women to rent an apartment in the city because they're considered immoral. No matter how high up the success ladder a woman is professionally, conforming to traditional roles like being a wife and mother is what is expected to bring her fulfilment. And of course, there are always men around the corner insecure about seeing women rise in the ranks.
One of the highlights of Bombay Begums is how it attempts to normalise women's desires. The show explores themes such as infidelity, open marriage and bisexuality. Women of every age feel the need for intimacy, physical as well as emotional, and the lack of it can create a void in their lives.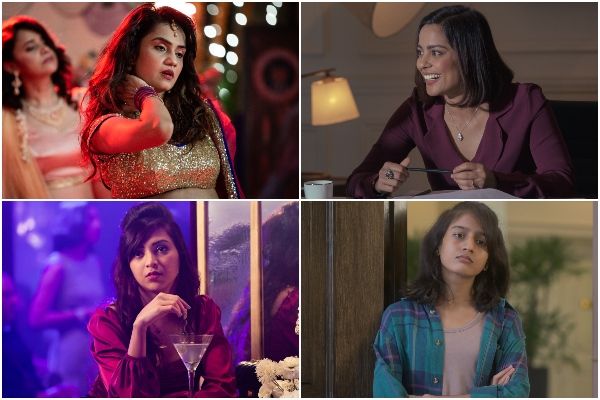 A tale of flawed women
Bombay Begums serves us with a bunch of women that are flawed and very real. "We're part of the problem", Rani admits in a scene. The women are guilty of often demeaning fellow women and favouring their male counterparts. Ayesha gets slut-shamed by her female bosses when she reports sexual harassment at the hands of a powerful colleague, showing that even the strongest, most progressive women fall prey to years of patriarchal conditioning. Despite this, we do see our protagonists standing up for and supporting each other when the time calls for it.
We're glad Pooja Bhatt is back on the screen
Bhatt is clearly the showstopper of the series. Returning to acting after over a decade, she has tremendous screen presence as she essays a powerful character that hides a lot of scars. Shahana Goswami too plays a complex character with much finesse. She's constantly torn between her maternal aspirations, her career and the strain of all this on her marriage and herself.
While Bhatt and Goswami put in restrained performances, Amruta Subhash revels as the firecracker Lily with her coarse lingo and feistiness. She is the underdog we're all rooting for. Plabita Borthakur is charming as the spirited Ayesha, while Aadhya Anand is a surprise package with her portrayal of a awkward yet thoughtful teenager.
WATCH OR NOT
After hitting home runs with Sacred Games and Delhi Crime, it's fair to say Netflix lost its way a bit as far as producing original Indian content was concerned. With Bombay Begums, the platform redeems itself to an extent by producing a thoughtful and compelling drama about strong yet flawed women.
Directors: Bornila Chatterjee, Alankrita Shrivastava
Creator: Alankrita Shrivastava
Cast: Pooja Bhatt, Amruta Subhash, Shahana Goswami, Plabita Borthakur, Aadhya Anand, Manish Chaudhary, Vivek Gomber, Danish Husain, Imaad Shah, Rahul Bose
Streaming on: Netflix