Season two of Amazon's crime drama Mirzapur centers around Guddu Pandit's (Ali Fazal) endeavour for revenge against Mirzapur's de facto ruler Kaleen Bhaiya (Pankaj Tripathi) and his son Munna (Divyendu Sharma).
An ambitious follow-up
The challenge with an immensely popular web series is that expectations from a new season are through the roof. Especially for Mirzapur, a show that has achieved cult-like fandom, producing a follow up that would live up to the reception and hype generated by season one was always going to be a tough ask. The makers make a valiant attempt, with a plot that wields more ambition than the first season. While the quest for power and revenge remains the central trope, geographically the storyline transcends beyond the Purvanchal region to the state capital Lucknow, and beyond state lines into Bihar. In the process a lot of new characters are introduced.
The season begins promisingly with a rather impressive first episode that lays down the premise. But soon after we get entangled in a web of one too many things happening at the same time, a far cry from the first season's crisp narrative. The story moves along at an inconsistent pace where at times too much information is being delivered, and at times not much. One gets the feeling that in trying to pack a large, complex plot, somewhere the makers lost sight of what made season one such a hit with the audience – the fact that it was a fast-paced thriller that constantly kept one on the edge of his seat.
This isn't to say Mirzapur 2 doesn't have its moments. To its credit, the season springs powerful sequences every now and then that leave an impact. The makers do well to incorporate some of the finer elements that people enjoyed about the first season, from audacious dialogues to a healthy dose of irreverent humour served in Mirzapur's trademark coarse lingo. A lot of nostalgia is invoked as well, with iconic lines and scenes from season one being revisited. It's clear the makers wanted to keep die-hard fans of the show happy.
The cast, as expected, delivers in spades
Mirzapur's biggest strength has always been the prowess of its illustrious cast members. Be it Rajesh Tailang, Sheeba Chaddha, Amit Sial or Dibyendu Bhattacharya, even the characters with limited screen times have been proven performers. The new additions to the cast don't disappoint either. Anjum Sharma, who made a fleeting appearance the last time, is mighty impressive in his underplayed portrayal of Rati Shankar Shukla's son Sharad Shukla, a wily character out to avenge his father's death. Veteran actor Lilliput Faruqui and Vijay Varma leave a mark as the Tyagis, a crime family based in Bihar. Priyanshu Painyuli, who was seen in Netflix's film Extraction, is likeable as Robin, a colourful and street-smart character who we expect to see more of in the next season.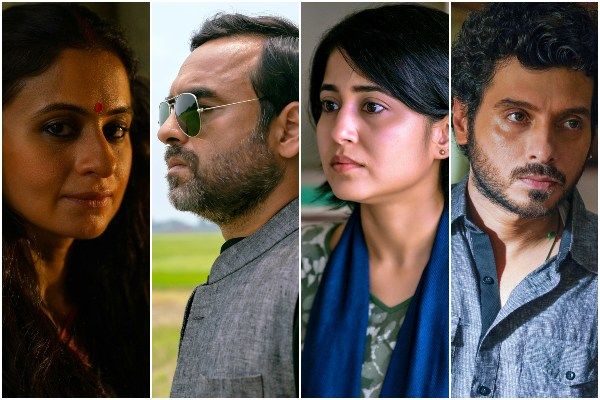 At the end of the day, what really keeps you hooked to Mirzapur 2 are the characters we invested in the first time around, namely Kaleen Bhaiya, Munna, Guddu, Beena (Rasika Dugal) and Golu (Shweta Tripathi Sharma). Divyendu Sharma ups his game as Munna, the impulsive and trigger-happy scion of the Tripathi clan. He retains his flamboyant persona, and as always the sassiest dialogues come from him. But the season also brings out his softer side on occasion. The father-son discord gets a fair bit of weightage. Meanwhile, Guddu Bhaiya is reeling from the cold-blooded murder of his wife and brother, and has nothing but revenge on his mind. He and Golu slowly rebuild their empire outside of Mirzapur and wait for the right time to strike. Guddu is a lot more subdued this time around, but still revels in violence.
Ultimately though, Mirzapur belongs to Kaleen Bhaiya. Pankaj Tripathi proves yet again that he is the best thing about the series. In the sea of scary men that is Mirzapur, he is the scariest of all. Tripathi emotes with the subtlest of expressions and nods and displays a dry sense of humour. Even in scenes where he is pensive or troubled, there is an air of intimidation about him.
The women light up the show
One of the most refreshing changes that this season brings about is that it breaks away from the male-dominated mould of season one and gives its female characters more teeth. The women are seen challenging the patriarchal status quo that exists in this lawless world. Beena Tripathi's character undergoes a delightful arc. After the horrors inflicted upon her in the previous season's finale, she is here to protect herself and will go to any length for it. Meanwhile, Golu Gupta has transformed from her cheerful, studious self into a straight-talking, gun-wielding badass. More calculative and industrious than Guddu, she assumes the lead in the illicit business operations the two set up. Isha Talwar too makes her presence felt as Madhuri Yadav, the chief minister's daughter. The talented Meghna Malik, unfortunately, gets barely a few minutes on screen as Rati Shankar's widow and Sharad's mother. It is expected that both Talwar and Malik's characters will be featured more prominently in the following season.
WATCH OR NOT
Mirzapur 2 is a competent show. Crime and gangster dramas of lesser mettle have been lapped up by the audience on OTT platforms. But comparisons with the first season are inevitable. Season two does lack the slickness and brisk pace of season one, but packs enough to keep you engrossed. It's worth watching for the inspired performances put in by the entire cast, particularly Pankaj Tripathi.
Directors: Gurmmeet Singh, Mihir Desai
Creators: Puneet Krishna, Vineet Krishna, Karan Anshuman
Cast: Pankaj Tripathi, Ali Fazal, Divyendu Sharma, Shweta Tripathi Sharma, Rasika Dugal
Streaming on: Amazon Prime Video