Amazon Prime Video's latest original series Tandav is a political drama surrounding a fictitious political party called the Jan Lok Dal (JLD) party, and the battle for power that ensues following the death of its patriarch.
It's politics as usual
Tandav begins with JLD on the verge of sweeping its third consecutive Lok Sabha election. Samar Pratap Singh (Saif Ali Khan) is the party's dashing and dynamic face of the youth. Devki Nandan (Tigmanshu Dhulia), his father and the country's prime minister, is wary of Samar's thirst for power and calls him a "tanashah" or dictator. There is evident discord between father and son. Samar feels under-appreciated and desires a larger share of the political pie, and resents his father's proximity to Anuradha Kishore (Dimple Kapadia), a senior party official and his close personal friend. Devki Nandan passes away on the eve of the election result, thus commencing a three-way rumble for power between Samar, Anuradha and party veteran Gopal Das (Kumud Mishra).
Tandav presents a classic case of a compelling premise that could have been a slick thriller, but is let down by uninspired writing. Despite a ton of real-life events woven into the story – mentions of the Emergency, demonetisation and farmer protests – we get a rather amateur plot that's laden with cliches and melodrama. Saif Ali Khan brings out his piercing eyes and subtle smirk to play out a character that is unadulterated evil, yet he also hams out the occasional monologue. Sacred Games has showed us that he is capable of underplaying a complex character, and Samar Pratap is far less complex for him not to do justice to it.
The parallel plot about student politics is also dealt with in a pedestrian manner. Student elections are about to take place at a Delhi college unimaginatively named VNU, and a humanitarian leftist by the name of Shiva Shekhar (Mohammed Zeeshan Ayyub) emerges a prime candidate. Samar and Shiva's paths are soon set to intertwine. We're treated to highly predictable chants of "azaadi" and violence on the VNU campus. Ayyub is convincing as the earnest student activist who wants to make a difference. It is, in fact, he, not Samar who seems to be the protagonist of the show. He is after all an angry youth called Shiva, and this is his tandav. Yet there is no effort to get into the mind of his character. We don't know what drives his activism.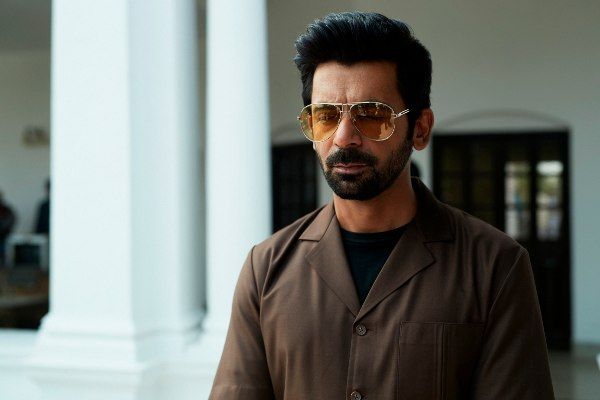 Too many characters, too little screen time
Tandav attempts to put together a cocktail of different characters, but just doesn't stir the pot well enough. There just isn't enough run time to flesh out these characters and do justice to their arcs. Kumud Mishra's Gopal Das, who seems to be one of the most prominent players in the scheme of things at first, gets sidelined as the show progresses. Other characters include a token dalit neta, professors and students at VNU, and get this, Anuradha's coke-snorting man-child of a son who is in line to become the next defence minister of the country.
Tigmanshu Dhulia makes an impression in his cameo of an ageing political maestro. From Anuup Soni to Sandhya Mridul, the cast is filled with talented actors who all do a convincing job but just don't get enough opportunity to showcase their mettle. The guys really worth watching are Gurpal Singh (Sunil Grover) and Maithili Sharan (Gauahar Khan), who are loyal enforcers for their respective bosses. Gurpal orchestrates the on-ground dirty work for Samar, while Maithili is Anuradha's close aide. Grover is mighty fine as the stone cold, remorseless Gurpal, but again is let down by patchy writing. For someone who enjoys almost as much screen time as Samar and Shiva, we have no idea what the motivation for his actions is. Perhaps some back story would've been nice.
Tandav doesn't even provide a satisfying end. The makers were clearly building things up for the next season, but the current one certainly deserved more closure.
WATCH OR NOT
With it's impressive cast and Amazon's knack of consistently churning out good quality content, Tandav was a highly anticipated web series. However it's a rather dumbed down rendition of politics in India. Watch it only if you're a die hard fan of Saif Ali Khan.
Director: Abbas Ali Zafar
Writers: Abbas Ali Zafar, Gaurav Solanki
Cast: Saif Ali Khan, Mohammed Zeeshan Ayyub, Dimple Kapadia, Sunil Grover, Gauahar Khan, Kumud Mishra, Anuup Soni, Dino Morea, Sandhya Mridul, Sarah Jane Dias, Kritika Kamra
Streaming on: Amazon Prime Video