Festival tickets purchased online will need to be exchanged at the venue box office to get the festival band.
Parties (if any) after the event, may have additional ticketing requirements and may be sold separately.
Beware of fake / colour photocopied tickets. Tickets shall not be a valid if the bar code or hologram has been tampered with.
For stolen or lost tickets, duplicate tickets will not be issued.
Alcohol will be served to guests above the legal drinking age and only on displaying their valid age proof.
There will be no refund on a purchased ticket even in case of any rescheduling/ change of venue.
Artist line up and activities may be subject to change at any point of time without prior intimation.
For security reasons, the organizers reserve the right to perform a security check on any
member of audience at any point during the event.
Organizers or any of its agents, officers and employees shall not be responsible for any
injury, damage, theft, losses or cost suffered at or as a result of the event of any part of it.
Parking near or at the festival premises is at the risk of the vehicle owner. Organizers will not be held responsible for any damage or theft of any vehicles.
Organizers reserve the rights of admission even to valid ticket holders.
Cameras, any form of recording instruments, arms and ammunition are not allowed inside the festival. Ticket holders may bring their mobile phones in the event, however shall not be allowed to record, shoot any picture/ video recording in the event.
Food and beverages will be available inside the festival. Any outside food and beverages are not allowed from outside the festival.
Unlawful resale (or attempted unlawful resale) of a ticket would lead to confiscation or cancellation of that ticket without refund or other compensation.
Consumption and sale of illegal substances is strictly prohibited and those found possessing or consuming any illegal substances at the event will be immediately handed over to the police.
Organizers are not responsible for any negative effects of food items or drinks consumed in the venue by festival guests.
EVC encourages guests to drink responsibly and in moderation.
Persons suspected of carrying items that may be used in an offensive or dangerous manner, or carrying out illegal activities within the site may be searched.
Bottles, lighters, tins or cans, musical instruments, flammable, toxic, illegal or hazardous substances, metal containers, firecrackers, fireworks, weapons, motorcycle helmets, bags or any other article which might endanger or unduly annoy any other person are not allowed inside the event.
The ticket holder will not sell or offer for sale, any product or service from any part of the event premises and may not distribute or give away any free item (s) or any political, religious, charitable, commercial, advertising or promotional material(s) from or at any part of the event premises.
Foul, abusive or any form of discriminatory language, unruly language or any unruly or threatening behaviour will not be tolerated at the event.
Any property left unattended anywhere at the event premises remains at the entire risk of the owner of the property or person leaving the same, and the organiser does not accept any liability for the theft or other loss or damage of such property.
First aid/medical facilities will be provided, however, the organizers do not take any
responsibility for any problems arising.
The holder of the ticket hereby grants organizers the right to use, in perpetuity, all or any part of the recording of any tape made of holder`s appearance on any channel for broadcast in any and all media globally and for advertising, publicity and promotion relating hereto.
The organizers reserve the right without refund or other recourse, to refuse admission to anyone who is found to be in breach of these terms and conditions including, if necessary,
deny the holder/s of the ticket from staying at the venue after they have entered the
ground.
The organizers may use the ticket holder`s image or likeness in any live or recorded video display, photograph or picture.
The organizers may postpone, cancel, interrupt or stop the event due to adverse weather, dangerous situations, or any other causes beyond their reasonable control.
Organizers will not be held responsible for any inconvenience, losses of any kind or expenses incurred by the Ticket holder as a result of an event being cancelled, rescheduled or moved to a different venue. The Ticket holder is wholly responsible for any expenses which they incur in order to facilitate attending an event. This includes all transport, accommodation,
subsistence, miscellaneous and all other relevant costs.
The ticket holder voluntarily assumes all risk and danger incidental to the event whether occurring prior to, during or subsequent to the actual event, including any death, personal injury, loss, damage or liability.
Any disputes to be settled under Mumbai jurisdiction courts only.
If any provision of these terms and conditions shall be void or unenforceable by reason of any applicable law, it shall be deleted and the remaining provisions hereof shall continue in full force and effect and, if necessary, be so amended as shall be necessary to give effect to the spirit of these terms and conditions so far as possible.
2 Man, 3 Man, 4 Man Tents:
Each Camper has to pay a refundable deposit of Rs. 1000 at the Camping Registration desk (Concierge) which will be given back to the camper on check out date after they return the camping gear given to them in proper condition. If any good is damaged or missing TEMPL (Twisted Entertainment M Pvt. Ltd) is liable to keep the full amount.
Luxury:
Any damage to the tent or furniture noticed on checkout, customer will be liable to pay the amount on the spot to TEMPL (Twisted Entertainment M Pvt. Ltd).
Locker Room:
- The Baggage(s) shall be collected by the users of the lockers whose name appears on this form, on reproduction of the photo ID proof at the time of collection, failing which, the same shall not be returned.
- The users of the lockers shall retain their baggage tag(s) and reproduce the same while collecting their baggage(s), failing which, the baggage(s) won`t be returned.
Declaration:
- There is no real or artificial jewellery / accessories / watches kept in the locker/baggage(s);
- There are no hazardous / toxic / inflammable substances kept by me in the locker/baggage(s);
- All valuables kept by me in the locker/baggage(s) is kept at my sole risk;
- Management/organisers and their respective staff, vendors, agents, etc., shall in no manner be responsible for any theft/damage to my valuables kept in the locker or otherwise.
Internet handling fee per ticket may be levied. Please check your total amount before payment.
Tickets once booked cannot be exchanged or refunded.
We recommend that you arrive at least 20 minutes prior at the venue to pick up your physical tickets.
Achint

Achint's music could be described as a hybrid of sorts, heavily influenced by the culture of the Indian subcontinent and western aesthetics of composition and production.You can expect to hear glimpses of sounds from different parts of the world including Brazil, China, Africa, Turkey etc. coupled with electronic arrangements. Thakkar's passion for experimentation subsequently led him to compose music for films. His original score for Omar Iyer's 'Mon Ami Noire' won him Best Music at the Profire Film Festival 2012, Scotland. Current influences include are A.R.Rahman, Nusrat Fateh Ali Khan, Peter Gabriel, Michael Jackson, Vangelis, Massive Attack, Hans Zimmer, Deep Forest, Talvin Singh, Radiohead, Karsh Kale and Kanye West. Achint was also part of 3 piece Mumbai band Rosemary, where he was the singer, guitarist, songwriter and producer. Rosemary's sound could be described as progressive rock. The band toured all over the country and also opened for the British progressive band, Porcupine Tree. Rosemary released their debut album 'A Legacy of Ruined Days' in 2011. The album was published by NH7.in exclusively on their website and was well received by audiences throughout the country.

AERREO

''The first ever Indian DJ/Producer to have an original single featured on Nicky Romero's 'Protocol Radio'. And one of the very few Indian DJs to have played at the renowned Ministry of Sound Club, London Worked at one of the top dance music labels in the industry - Enhanced music Also supported by: Andrew Rayel, Blasterjaxx, Bassjackers, Cedric Gervais, Deniz Koyu, DJs From Mars, Futuristic Polar Bears, Justin Prime, Nicky Romero, Promise Land, Quintino, Sick Individuals, Swanky Tunes, Tiesto, Thomas Gold, Vinai, Yves V'To new kid on the block, the rising talent of Aerreo, nothing lures like the deep nights and hot adventures of clubbing. A call he cannot resist, and to which he so passionately adapted his life.

Alex Morph

As one of the leading DJs/producers in the global dance music scene, Alex M.O.R.P.H.'s popularity is on the rise like never before! With outstanding releases like 'An Angel's Love', 'Sunset Boulevard' and his latest hit record 'The Reason' plus remixes/co-ops with and for artists like Armin van Buuren, Paul van Dyk, Within Temptation, Faithless, Gareth Emery, Dash Berlin, Protoculture and many more, he's always one step ahead in quality and energetic like no one else! Through various producer aliases, Alex M.O.R.P.H. was able to establish and redefine himself and his sound again and again, delivering a big palette of highly respected quality productions and remixes over the years.One of the biggest impact on the dance floors was the 2007 mega-smasher 'Life Less Ordinary' together with the famous Dutch duo Rank 1, which resulted in a tremendous hype all over the world and burned the name Alex M.O.R.P.H. into the trance world map once and for all.

Arjun Vagale

Arjun Vagale is an Indian DJ, who has performed with artists such as Richie Hawtin, Dubfire and Adam Beyer. He is also signed for foreign labels, including Dubfires Sci-Tec and Christian Smiths Tronic.

Arsh

At a time when people from entirely different sub-cultures and prototypes of music are finding common ground in the form of sexy sounds and fresh electronic beats Arsh is giving them exactly what they need. Groovy, Intelligent dance music. He believes that playing music with this level of intensity is one of the only ways left to push the existential boundaries that all our minds seem to be ridden with, further into the realm of non- existence. He believes that the very essence of this music lies in its lack of boundaries and will probably never stop till he's opened enough minds to the madness that lies latent within us all. Enter his wonderfully organic abyss for music that is designed to feather your feet and help you fly.

Avalon

Leon 'Avalon' (Nano records, Killerwatts and Future Frequency) From London, Uk is currently one of the biggest names on the international psy-trance circuit. He has remixed and collaborated with some of the top artists in the scene such as Tristan, Astrix, Loud, Pixel, Captain Hook, Zen mechanics. Domestic, Sonic Species, Laughing Buddha, Xerox and illumination, Dick Trevor, EVP to name a few. His collaboration with Tristan, known as Killerwatts is currently taking bookings all over the globe following the release of their debut album 'Blow Your Mind' in April 2012.

Ben Gold

At just 23 years old Ben Gold is one of the most multi talented names in the electronic dance scene. Ben combines a highly acclaimed career as a leading studio engineer with that of one of the brightest young stars in the trance scene, djing at some of the worlds leading clubs alongside world class dj's who all regularly fill their cd wallets with his latest works.

Best Kept Secret

Take a touch of Rock, a dash of Disco, a hint of Blues, a shout of Pop and a pinch of Electronica. Whisk them up real nice with four young lads who just want to make you sway, and you've got yourself Best Kept Secret! They make you dance, they make you scream. They make you jump, they make you sing. You could be 16, or in your seventies. No worries there, they slide both ways. They're crowd-hookers. They love the open air and electricity. They love you.

Bhish

With an avid love for music which led to him to co-found Regenerate, Bhishma Sagar spent a lot of his time in the office studio learning the art of DJ'ing and mixing on the CDJ's. A couple of months in and spending countless hours on discovering new music and new artists he has collected a music bank of tunes unheard of to the ear.

Bullzeye

Siddhant started DJing in 1999 at the age of 16, influenced by the likes of Sasha, Paul Oakenfold and Bedrock. He rocked at various tops nightclubs like Fire and Ice and Mikanos in Mumbai, and has been appreciated for his compositions. His love for techno has always remained strong and his new project, 'Bullzeye' is one to look out for. With his unique combination of all forms of techno and house sounds, Siddhant is definitely the artist on the rise.

COD3D

COD3D (Coded) previously known as DJ A.K.S is one of the emerging Electronic Dance Music DJ/Producer from Mumbai, India.COD3D (Atit Shah), started his his DJ/Producer career in UK while he was pursuing his Under-Graduation degree. He ended up playing for the best of South-West UK nightclubs in a span of 3 years. Once he got back to India he started playing at Mumbai Night-clubs, but the turning for him was when he won the opening competition for DADA LIFE

Coshish

Fusing elements of Progressive Rock with mainstream songwriting of Hindi Rock seems to come naturally to Mumbai-based band, Coshish. The band believes that their music should have mass appeal and yet showcase their musical dexterity. Their songs are as simple as they are complex and carry strong social messages, delivered beautifully through Hindi lyrics. Coshish leaves little to be desired by ensuring that they do not compromise on any facet of their music, art or performance!

Dhruv Visvanath

Named one of the world's 30 Great Guitarists Under 30 - Acoustic Guitar Magazine (USA) Dhruv Visvanath is a Solo Percussive Acoustic Guitarist ( or SPAG) from New Delhi. He is known for being a one man band, playing the acoustic guitar like a drum, whilst singing simultaneously. He is responsible for ushering a new way of playing the acoustic guitar to the Indian subcontinent. A grade four pianist, Dhruv got his hands dirty with music at the age of 7. Now, a completely self taught guitarist, he is one of the best in the country and thanks to Acoustic Guitar magazine, recognized as one of the best in the world. And he's only 24.

DJ Joshi

Hailing from the sand and surf of Goa, Joshi, the young and sought-after artist, is fast taking the electronic dance music (EDM) world by storm! Having made his DJ debut at Sunburn Goa 2013, Joshi has continued to impress audiences around the country, playing in every major Indian city. Within the short span of one year, Joshi has managed to share stages with some of the biggest names in the industry; including Dimitri Vegas and Like Mike, Axwell, Sebastian Ingrosso, Sander van Doorn, Hard Rock Sofa, Michael Woods, Deniz Koyu and Danny Avila, just to name a few!

DJ Omnia

Without doubt one of the most exciting and fast rising name to emerge from the progressive and trance scenes this past couple of years is young Ukrainian DJ / producer Omnia jumped into the Top 50 in the prestigious DJ Magazine Top 100 DJs poll at #48 in 2013. Having already made waves as a standout, festival rocking DJ in his homeland in recent years, Omnia has recently transformed himself into a breakout and in-demand producer on a global scale after dropping a devastating sequence of releases that have included several Beatport #1s.

DJ RAM

Starting of his solo career in 2009, RAM immediately hit the jackpot with the most talked about track of that year ''RAMsterdam''. Supported by all the major trance DJ's it became the Tune of the Year on ASOT and it was pronounced ''best track of the year'' by Armin van Buuren 2013 started off brightly with collaborations with Alex M.O.R.P.H. (Grotesque) and Sean Tyas (Beat Boutique) signed to Armada's AVA.

DJ Sartek

Sartek is India's most accomplished dance music producer and DJ; signed to Cloud9 Music Publishing. Being the only Indian to grace the prestigious Beatport Top 100 (Electro House) multiple times with his tracks 'Back To The Future'(#51) and 'Dopamine'(#73) and continued global support from industry stalwarts, Sartek is a force to reckon with.

Dubfire

From global success in the commercial domain, to equal accomplishments within the underground scene, Dubfire is an artist whose drive, talent and intuition have placed him within the top tier of electronic music artists in the world. He maintains this position within the industry with an unrelenting work ethic and a focused determination to innovate, evolve, and entertain. Whether its his involvement with Deep Dish, his solo performances at an extensive list of the worlds most influential clubs and festivals, running his label SCI+TEC, or simply his exploration of audio and visual technology, Dubfire is in a class of his own and is resolute in his forward-thinking ethos. Born in Iran and raised in the U.S. from the age of seven, Dubfire first developed his skills playing at local clubs in Washington, D.C. He was introduced to Sharam Tayebi through a childhood friend and they formed Deep Dish - a production and DJ duo that conquered the world of electronic music, picking up a Grammy (and previous nominations) in the process in addition to a vast array of other awards and accolades. At the height of their success both men opted to take a step back and pursue solo careers, with the Dubfire alias allowing him to express his deep love for underground house and techno. Dubfire quickly integrated himself into the minimalistic techno scene and produced several key releases that cemented him as a true visionary and a force to be reckoned with in underground music. From 'Ribcage', 'Emissions' and 'Roadkill', to his work with Oliver Huntemann and his remix of 'Spastik' by Plastikman, Dubfires creations perfectly display his musical dexterity and depth of aural knowledge. Never satisfied with the status quo, Dubfire spent two years crafting a live show and his HYBRID live concept has been wowing audiences since its soft launch debut at the Amsterdam Dance Event in 2014. Described by Thump as, ''unlike anything we had previously seen or heard before anywhere,'' HYBRID explores the continued convergence of man and machine, delving into the realms of science and technology and their connection with music. Dubfires story is also set to be told through a documentary, titled ''Above Ground Level'' chronicles his career trajectory from fleeing Iran as a youngster to becoming one of the biggest electronic music stars on the planet. Featuring contributions from his closest friends and family, along with peers such as David Guetta, Richie Hawtin, Pete Tong, and Hot Since 82, it reinforces his stellar achievements and gives an inside look into Dubfires journey. With over two decades of experience in the music, Dubfire continues to push the envelope and challenge himself.

Far East Movement

Far East Movement has always had dance music in their DNA - their early breakout hit ''Like a G6'' established the LA trio as major dance commodities around the world. Since then their ever growing catalog of music has been supported by celebrated artists such as Skrillex, Diplo, and Afrojack. They have also performed at some of the most prestigious festivals like Ultra Music Festival and Electric Daisy Carnival, continually showcasing FM as one of the most exciting touring acts in dance music. The group has stayed busy this year with a slew of collaborations on reputable labels such as Ministry of Sound, Dim Mak, and Ultra. Their current collaboration ''Break Yourself'' with Hook N Sling is a staple on video channels of all formats so much that Pusha T has just joined the fray on the official remix. Their project ''Cool Water'' with producer Autolaser gained major support from dance blog ThisSongisSick.com and was featured as the first song on their Soundcloud page for weeks. The trio has also expanded its scope by managing five artists under their company Transparent Agency who have had releases on OWSLA, Armada, and Dim Mak themselves. They also just opened up a new joint label with Trap City, the largest trap music channel in the world (over 2 million subscribers), named BredNButter with a myriad of releases slated to start at the end of the year. Throughout it all, Far East Movement still love to make their own music and are hard at work on their next full length release slated for later this year.

Faridkot

Starting out in 2008, Faridkot has been a regular act on Delhi stages and beyond. Riding early on the wave of sufi music influx that is still flowing in they have carved out a cult following for themselves in the North. Faridkot's music is a mixture of shifting blues guitars and harmonic love melodies blended around a thumping percussion and bass. Described in certain circles as Confused Pop.

Fatboy Slim

Fresh off the back of a certified gold album, The Fatboy Slim Collection, musical icon Norman Cook is set to rip the Enchanted Valley Carnival apart with his inimitable high energy show. A string of successful appearances at European Festivals over the summer saw Norman hosting his own massive Smile High Club arenas with more energy than ever. His weird and wonderful Random Acts of Smileyness left people delighted and aghast in equal measure. Fatboy Slim has earned a well-deserved reputation for his live appearances and now more than ever is the time to be a part of it.

Ferry Corsten

Hailing from Rotterdam, the Netherlands, Ferry Corsten's lustrous career is exemplified by a passion for music that began as a hobby and spiraled into a full-blown profession. Today, as it was in the beginning, Corsten's skills lie in his ability to coax the maximum emotional impact from electronic dance music of all genres, not just trance, but also progressive-house and electro. He remains and has always been ahead of his time, making music that becomes a template for others to follow. In 2005, Corsten launched his Flashover Recordings imprint and he spends an enormous amount of time scouring the world for fresh talent and releasing music by cutting-edge producers, giving them a voice on the world stage. From the outset, Corsten has been a prolific music-maker. So much so that in the early years his musical output was so plentiful and diverse that he felt the need to release music under different aliases. Those pseudonyms included System F., Gouryella (with Tiesto), Moonman and others. Corsten has produced and remixed for Justin Bieber, U2, Moby, Faithless, The Killers, William Orbit, Duran Duran, Public Enemy, Nelly Furtado and many others. In 2007, Corsten launched his FULL ON FERRY live show concept whereby he melds different styles of dance music by playing back-to-back sets with his cherry-picked roster of DJ/producer friends and a state-of-the-art stage setup. Fellow DJs and producers such as Dash Berlin, Aly & Fila, Mark Knight, Bassjackers, Dimitri Vegas & Like Mike, Shogun, Cosmic Gate, and many more have accompanied Ferry on multiple venues and FULL ON stages in festivals worldwide. Also in 2007, Ferry's radio show Corsten's Countdown was launched and it is known as the only EDM interactive weekly music chart show.

FuzzCulture

Universal Music India's Artist, FuzzCulture is a two piece electronic music outfit from New Delhi, India Comprising of Arsh Sharma and Srijan Mahajan. Evolving from a project which has spent over a year and a half in the studio to a full-fledged live act , FuzzCulture is an act which aims to combine melody and groove within a framework of mix-tape experimentation. FuzzCulture's live shows promise to be ripe with energy, and you would be advised to come prepared for a full fledged roller-coaster ride.

GMS

GMS (also known as the Growling Mad Scientists) is a Dutch psychedelic trance duo which has attained significant popularity from the early 1990s to the present time (2010). Formed by Shajahan Matkin (also known as Riktam) and Joseph Quinteros (also known as Bansi) in the city of Amsterdam, located in the west of The Netherlands, the duo has attracted a large international fanbase. GMS founded Spun Records in 1999, the first psychedelic trance label in the United States and Ibiza, Spain.

Hobo

Released on labels including Minus, Tronic, Hot Creations, Mobilee and Diynamic. He has developed his own raw form of techno. Sometimes dark and abstract, and others more simple, heavy and groove based. Best known for his work on Richard Hawti's label Minus especially his huge hitting track ''Incise'' which featured on one of the labels compilations Owner and manager of his own label . Soundz due for launch in 2015 His 2009 hit ''Symptom'' was charted a favorite by Depeche Modes cofounder Martin Gores.

I-ZEN

AkshayHariharan aka I-zen is a music producer/dj who has created a unique blend between Indian classical music and electronic music,managing to find perfect blends with instruments such as the sarangi,tabla,flute and guitars with new age electronic music.Inaddition,he has an arsenal of tracks inspired by different genres of electronic music such as Deep House,PsyTrance,Tranceetc.He also happens to be the son of PadmashreeHariharan and draws a lot of melodic influences in his work from him.

KANISHK

Your talent is God's gift to you. What you do with it is your gift back to God. The above quote seems apt when you come across Kanishk Seth, a prodigious young talent whose debut album as a Music Producer, Trance with Khusrow released last year with his mother Kavita Seth a renowned Playback and Sufi singer. Kanishk , now 19 years old spent four years working on the album that presents Amir Khusrow's 800-year-old poetry with a unique blend of Trance and Sufi music.

Kerano

Born and raised in New Delhi, 22 year old DJ and Producer KERANO has always known he's wanted to make music. He's been a drummer since he was 4, started song writing when he was 14 and finally hit the studio in college where he was introduced to world of dance music. His passion behind the console is reflected in his powerful sets filled with his own bootlegs and mash ups. Previously DJing under the alias North & South, KERANO is now is all set to welcome the new name, emotion and energy in sync.

Kohra

Kohra: (Urdu - Fog or mist) creates a spatial, mystical (sufiaana) and ethereal (nihayat latif asmaani) musical experience that is unbound (bay-had) by genres. Designed to explore a raw, futuristic and enigmatic style of dance music, Kohra aka Madhav Shorey harmonises a spectrum of sonic dimensions into an ever-expanding sphere of musical ideas. Versatile, hypnotic and forward-thinking, Kohra has played at many festivals and clubs across the world. Sharing stage with global pioneers such as Pete Tong, Deadmau5, Dubfire, Richie Hawtin, Adam Beyer, Josh Wink, Christian Smith and Oliver Huntemann amongst many others has helped him hone a unique sound that is all his, yet has the ability to please a varied range of audiences.

KUSAI

Hailing from South Mumbai, Kusai Changi has grown up listening to his elder brother's eclectic taste in music ranging from Funk, European Electronica and Synth-infused 80's music. This paved way for KUSAI to explore his passion for music and it started off with a love for Hip-Hop and acid bass, synths and analog basslines quite observant in the space of gaming.

LAXMIBOMB

From the land of salt-pans and straight into the city, comes a local sound that provides the perfect foil as the city background. Meet 'Laxmi Bomb', a newly formed electro-pop outfit from 'Bombay', because tha's where the music comes from. The theme is reflective of those times and represented through a young woman's imagery. A traveller of the many landscapes in a city called 'H'?, the title of the debut EP.

Lost Stories

Lost Stories began their journey in 2009 and immediately rose to prominence when their single 'False Promises' was released on Tiesto's Black Hole Recordings. More support followed as the likes of Armin Van Buuren supported the track with multiple plays on his ASOT shows.

Marco V

Originating from the Dutch lowlands, Marco Verkuijlen has cemented a reputation as one of the most inventive, creative and diverse DJ/producers working today. Continually evolving and tweaking his style, he created many a leading edge track. Most recently releases like Reaver, 10PM and Walhalla have seen his music picked up by a host of today's other frontline DJs. A remixer in constant demand, he has reworked music from mainstream stars like Madonna, Nicole Scherzinger and 50 Cent and James Blunt, as well as rising stars like Nervo and Hardrock Sofa. Marco holds residencies at some of the most celebrated clubs in the world Privilege, Ministry of Sound and Eden among them and headlines tent-pole events, including the colossal Sensation.Musically, Marco has long inhabited the border regions of several different dance sub-genres, uniting elements of techno, trance, house and progressive to create his inimitable sound. His very first track, 'Luvstruck', released under the Southside Spinners guise, garnered him a major international club hit. Throughout the first decade of the millennium, releases like God, Simulated 'Automanual', 'C:/del*.mp3', 'False Light' and 'Second Bite' modified and cultivated the Trance / Progressive side of electronic dance. Most recently his productions - 'Reaver', 'GOHF', 10PM', 'Walhalla, 'Analogital' and others have applied more tough-house and progressive themes to his music. This in turn brought about a swing in the DJs supporting his studio productions. Further spurred on by his Marco V bootlegs (inc. The Killers 'Mr Brightside', Sonique's 'It Feels So Good' and Blaze's 'My Beat'), they've seen the likes of Avicci, Thomas Gold, David Guetta, the Swedish House Mafia and Dada Life start championing his productions. As A DJ, having originally cut his teeth aged just 17 at the renowned DansSalon spot in Eindhoven, Marco began to play at bigger nights, and to larger crowds. Notable among them were Innercity the first of Holland's major indoor arena events for ID and T. They're an outfit he still regularly spins for, most recently headlining their Sensation event. He's also delivered show-stopping performances at world-class festivals, which have most recently included Creamfields, Mayday, Mysteryland, Nature One, Kanzantip, Dance Valley, Global Gathering, and Monster Massive.

Nanok

Jai Vaswani, otherwise known as Nanok, is a versatile producer/DJ from Mumbai, who has been a veteran of the club circuit in the city for over 12 years. Having played music over the years to all kinds of audiences, Jai knows how to exploit opportunities and showcase the best of himself in unique ways. Seamlessly shuffling between genres in the same set has helped him showcase his versatility on the decks.

Nawed Khan

Nawed Khan is one of the biggest names in the booming dance music scene in India. A resident with Submerge, India's biggest artist management agency and dance music promoter, Nawed has constantly stayed ahead of the slow paced music scene in India, by acquiring and playing brand new tunes and almost impossible to obtain mixes of classics. A regular feature in clubs around India and South East Asia, he's one of the few DJs from India to have played across the globe with successful performances across America, Asia, Australia, Africa, and Europe in a career spanning over 15 years. Nawed was chosen to be the opening act for Swedish House Mafia in India for their, One Last Tour and has performed with international DJs like Tiesto, Zedd, Axwell, Paul Van Dyk, Dada Life, Seven Lions, Above & Beyond, Jaytech, Alvaro, Funkagenda, Wolfpack, Dimitri Vegas and Like Mike, Mark Knight, Alvaro, Aly and Fila, Roger Sanchez, Markus Schulz, Sander Van Doorn, Paolo Mojo, Gareth Emery, Mat Zo, Simon Dunmore, Norman Doray, Arno Cost, John Fleming, Pearl and Benny Benassi.

Noise controllers

Since the world of Hardstyle emerged from the depths of the universe, very few acts have faced the test of time and succeeded in bringing true passion and innovative creation to their productions for many years . Noisecontrollers is certainly one example of a rare breed of pure creativity that has thrived in the world of Hardstyle for almost one decade. The contagious and addictive signature sound of Noisecontrollers is based on the foundations of high quality production with an ambition to master the depths of hardstyle with an undying ability to emotionally captivate all listeners. Noisecontrollers' first album, E=NC2 (The Science Of Hardstyle) brought out an array of fresh tracks and this effort was doubled when Bas released his second album 'All Around' in 2014 on Q-Dance Records. All Around demonstrates an extremely sophisticated approach to hardstyle, with tracks such as 'Down Down,' 'What?!' and 'Cats, Jets and Breaks' with Wildstylez becoming some of the most original tracks in the history of modern hardstyle. The year of 2014 was full of milestones as Bas musical success was globally appreciated, leading him to reach #67 in the DJ Mag Top 100 DJs. He was also given the incredible honour to create the Qlimax 2014 anthem 'The Source Code Of Creation,' which represented a truly memorable performance. In 2015, Noisecontrollers took a non-traditional approach to creating his third album. 'All Night Long' comprised collected studio material from the years 2013-2015 and served as a huge inspiration to the scene as he expanded the musical horizons of many listeners. Leading the way creatively and inspiring the future productions in the world of hardstyle, Bas says himself that ''After releasing over 100 tracks, the process of creating music influences my life incredibly and means the world to me''

Nucleya

Nucleya is a bass heavy electronic artist from New Delhi. He co-founded the Bandish Projekt in the late 90s and also has played a number of gigs across the country, including a set at The Bacardi Weekender 2011. He has performed at numerous music festivals around the world including Glastonbury, Edinburgh Fringe Festival, Lille 3000 and the Electron Festival, where he performed alongside artists like Diplo and Modeselektor.
After leaving Bandish Projekt, Nucleya moved towards producing bass-heavy music. A collaborator (with Mou Sultana and Brooklyn Shanti) on season two of The Dewarists, Nucleya has also remixed a couple of Bollywood tracks and released a few remix albums. He also opened for David Guetta during the Eristoff Invasion Festival 2012. His work will be seen in the upcoming film, Kapoor and Sons which released in March 2016

Oliver Heldens

At the mere age of 17, Oliver Heldens was signed to Spinnin Records, the most renowned label in dance music. With the release of his hit single Gecko in 2013 he reached the #1 spot in the UK chart, a #2 spot in Beatports top 100 and it held the #1 spot on the Deep House chart for over a month. After the success of Gecko, Oliver hit the UK Charts again with Koala followed by collaborations with Sander van Doorn, Zeds Dead and Shaun Frank to name a few. He has established residencies at two of the most prestigious nightclubs in the world - Omnia in Las Vegas and Ushuaa in Ibiza. Now just a few years after his first record deal, Heldens who was already named 'Artist to Watch' by Rolling Stone launched his own record label Heldeep Records and revealed himself as HI-LO, who is responsible for the first release on Heldeep Records. We can reassure you that this 20-year-old has a long music career ahead of him and he will continue to bring a unique, refreshing sound that bridges the gap between EDM and the underground.

One & One

Most people say music is their passion, the fire that drives them to feel differently, but for DJ/Producer duo One and One it's probably just a way of life; something that fits in and will continue to stay.The immense ardour for dance music brought together the animated and uninhibited Pranav and the quiet and reserved Shrey a long way. From playing at Mumbai's smallest club, to closing Asia's largest music festival Sunburn, it has been a sensational journey for this DJ duo based in Mumbai. Having played regularly across numerous cities across India, and boasting of a regular appearance at some of India's most renowned festivals, Pranav and Shrey believe that it's just the beginning.

Oozeundat

Breaking out across the burgeoning electronic music scene in India - Oozeundat aka Roan Sable and Sidhant Naren are an explosive young duo out of Pune (India) who share a mutual love for Techno and Underground electronic music. Taking a cue from their engaging DJ sets and weaving in past influences, they have crafted a sound that is intense, driven yet dance floor friendly. These musical foundations are heard on the duo's breakthrough release 'Bitch to Quit' on Arjun Vagale's imprint Maktub Music.

Progressive Brothers

India based DJ/Producers Sunny and Karan better known as 'Progressive Brothers' are one of the most promising stars signed on DJ Tiesto's founded 'Black Hole Recordings' where they have released most of their tracks and official remixes and received immense support from India and abroad. Progressive Brothers have DJ'ed at India's biggest festivals like Sunburn, Vh1 Supersonic, EVC, The Journey, Holiguns Music Festival, EDMonk Festival, Burnout Festival, Sun and Moon Festival etc.

Ruben De Ronde

Synthesizing the landscape surrounding him, 'Statement! Music!'s Ruben De Ronde keeps his progressive, trance and chilled out mind set in overdrive- striking a signature musical balance. Owning a tune in all he surpasses, the celebrated Dutchman takes his studio to the crowds from his Armada residency to festivals, and A State Of Trance tours with Armin Van Buuren around the globe. DJ, producer and label owner, Ruben has all bases covered, taking his genre spectrum to the next level- always. In the studio, he is no victim to the genre black hole, breaking the mold across the prolific trance and progressive domes while taking the chilled out tips for a ride.

RITVIZ

Ritviz is a music producer/composer/songwriter/singer/rapper from Pune, who started in July 2013. His debut EP titled 'Vizdumb' was released on UK's Relentik Records. Ritviz is a classically trained hindustani musician and works towards creating unique soundscapes that combine his love for bass and Indian classical music. He followed up his debut EP with bootleg remixes of Cash Cash's 'Take Me Home' which saw him receive widespread attention from international music blogs such as Nada Brahma and Daily Dose of Bass.

SAMVED

An electronic music project that explores new possibilities in classical music by fusing it with electronic dance music (EDM) defines Samved in all the words we could gather. Samved originally is one of the Vedas comprising of hymns and verses; hence we get our much loved name. Sources believe we stand among top 5 bands in India in the genre of Folk Fusion.

Sashanti

Alexander Sukhochev (aka Sashanti) is a creatively gifted person who fulfilled himself in many art forms including journalism, photography, writing, promotion and DJing. During the twenty years of the artistic career he became a prize-winning journalist, showed few of his photo exhibitions around the world and released a best-selling book in Russia about Goa named ''The Goa Syndrome''. Music though is given a very particular role among all, being a fuel for all the achievements.

SHADED

Member of the SCI + TEC Digital Audio family. Effortlessly weaves elements of techno house, punk and funky sounds to create an amazingly unique sound Live sets anywhere from 1-3 hours. His ''Dwell'' EP was charted at #1 in the Minimal Top 100 on Beatport Released an EP for Tiga's record label Turbo Records in May 2014 Played festivals.

Shpongle

With over 80 years of experience collectively, Simon Posford and Raja Ram are more than qualified for the exploration into the un-classifiable music frontiers they have ventured into; 'SHPONGLE' is a new world of traditional sounds, acoustic guitars, Moroccan drums, Turkish operatic singing, cello, double bass, backing vocals and silver flute blended together with the computer wizardry of Simon Posford's studio production. Simon Posford (aka Hallucinogen) has long had a reputation as the, Hallucinogenius, a imitable pioneer in sound experimentation, from his seminal first album, Twisted which reached No. 28 in the French charts selling over 50,000 copies worldwide, up to his recent Millennium hit, Mi-Loony-Um with its up-to-the minute modem melodies. His international fan base has flowered from country-wide to world-wide in the last ten years, since his humble beginnings at Youth's Butterfly Studios in Brixton. This year alone he has played over 16 sell out gigs around the world, each with a capacity of over 1500 people, in Australia, Israel, New York, San Francisco, Los Angeles, Moscow, Geneva, Montreal, Tokyo to name just a few. Raja Ram is the innovative sonic co-pilot producing alongside Simon and providing inspirational artwork for the album covers and the website, as well as his unmistakable flute solo's in C Major. A founding member of the band Quintessence in the sixties. Raja has many years of band experience in the music industry. Not only a band member but also the creator of TIP Records along with their infamous party sound and energy, he is not only a brilliant flautist but the inspirational man behind the Shpongle concept.

Snow Flakes

Hailing from the flatlands of Ahmedabad, India, Snow Flakes has been influencing the playlists of some of the world's top DJs for over 11 years, performed at some of the best clubs in London and Scotland. Snow Flakes is comprised of some serious passion for Music. Supported by Armin Van Buuren, Above and Beyond, Ferry Corsten, Aly and Fila, Tiesto and many more.

Sound Avatar

Voted Best Drum and Bass/Dubstep Dj/Producer by MYFAV Awards for the year 2012-13, Piyush Bhatnagar aka Sound Avtar is an explosive force from the country's burgeoning Dance music scene.Hailing from Jaipur and based in Mumbai at the moment, Sound Avtar uses cutting edge music production techniques, creativity and innovation and concocts tunes so monstrous that its hard not to take note of this young producers earth rattling productions and Live sets.
A regular performer around the Indian club circuit, Sound Avatar has been playing all around the country at various clubs in addition to his infamous appearances at the Bass heavy stages of India's 2 most eclectic festivals NH7 Weekender and Sunburn. Sound Avatar's talent has further been recognized by brands like Beatport to feature his track ''1 Up'' and ''Monster on a Rope'' on their ''Mashbox App''.
Closer home, Sound Avatar was recently commissioned to remix one of the tracks from the Ost of a Bollywood Movie - Gangs of Wasseypur 2, which further cements the versatility and popularity of this young Indian producer who is a force to be reckoned with in the future.

Starling

DJ Starling from one of the World's party havens - Goa, India was born in the late 80s. His induction to DJ'ing came through trance , full on twilight at the age of just 14 and later progressed into different genres of music.
For nearly 10 years now he has played for some of renowned clubs and party places in India and around the globe.
Currently Ranked #1 psytrance Dj by MyFav Dj awards.

Stefano Richetta

He is the driving force behind one of Holland's most popular techno organizations that has a reach and fan base till far over the Dutch borders. An untameable dedication and energy that cause good musical vibrations when he is spinning his records. Meet Stefano Richetta. The big small guy who is rarely seen out there without a smile and friendly gesture.

Steve Rachmad

Feel free to visit the usual channels such as Discogs, Soundcloud or Beatport, and take your pick from the numerous productions and dj-sets, which resulted from polishing a one of a kind talent for over two decades.Steve has an unequalled gift for making a connection with every thinkable drum machine and synthesizer out there If the man had kids, boys would have names as Roland or Robert (Moog), and a girl would surely be named Linn, after the machine made famous in the 80's by Prince. No wonder one of his major achievements is the album Secret Life Of Machines.

Stiv

When your first release receives unanimous support from the biggest DJs in his genre: Dubfire, Richie Hawtin, Adam Beyer, Marco Carola to name but a few, you know you're onto something very special indeed. Born and raised in Milan, Stiv Hey is one of the next generation of techno producers to watch. With a trademark futuristic sound which has seen him signed Dubfire's SCI+TEC imprint, ladies and gentlemen make way for one of the future stars of the international techno scene. Futuristic techno characterised by the precise mix of driving basslines, dark grooves and a purely hypnotic sound. Sign to SCI+TEC.

Technoetic

Inspired by Josh Wink's ''Are You There?'' and influenced by the greats: Steve Bug, Laurent Garnier, Dave Clarke, and Marco Carola, Technoetic got behind a console in 1998 and shows no signs of stepping away. His brand of music covers techno, acid house, and tech house. He has been a resident DJ at several clubs and has worked with Rolling Stone Magazine for the last seven years.

The Unknowns

The Unknown is an electronic act out of Nagpur that has been making waves in the industry. Armed with an incredible skill set, Yugesh Madhwani aka The Unknown knows how to rock a dance floor with his power filled sets at every venue that he performs in. He was the contest winner at the Palm Expo held in Mumbai this year. Having been featured Sunburn On Air 50, this year and the next looks promising for him.

Thomas Gold

Call it the Gold standard. Theres simply no other way to measure the staggering success that Thomas Gold has achieved in dance music, consistently obliterating boundaries and defying convention with chart-topping tracks and jaw-dropping performances across the globe. Since storming onto the scene in 2006, the German artist has emerged as one of the most widely admired producers in modern dance music. Gold quickly caught the attention of such premier labels as Toolroom Records, Phazing, Spinnin Records and Size Records, while working with the likes of Fatboy Slim, Axwell and Dirty South. Golds rare ear for remixing acclaimed artists has also helped elevate his name into rarified air. His breakout remix of Adeles 'Set Fire to Rain' eclipsed 15 million YouTube views, while his reworks of industry icons like Lady Gaga, One Republic and Miike Snow continue to dominate dance floors worldwide. Gold's musical Midas touch earned him the honor of a coveted record deal with close friend Axwell's acclaimed Axtone Recordings, and he wasted no time in taking the Swedish House Mafiosos label to the top of the charts. Sing2Me rode its Miami anthem status straight to Beatports No. 1 spot. The biggest names in dance music flocked to support the hit, providing a clarion call for Golds signature style, which was fleshed out on his brilliant Essential Mix and Axtone Presents Thomas Gold compilation album later that year. Golds trademark melodic sound reached an emphatic crescendo on his highly anticipated follow-up - Remember featuring vocals from platinum-selling Aussie Kaelyn Behr, the hit single ignited the industry and inspired Golds smash-success 'Remember the Light' tour. As a globetrotting international DJ, Gold has taken his talents from the studio to the stage in unparalleled fashion. He has become a main stage staple worldwide, enthralling thousands at Ultra Music Festival, Electric Daisy Carnival, Coachella, Mysteryland, Sensation White and Tomorrowland, and pushing the envelope by adding a live drum line and brass section to his ever-evolving live show. His unmatched energy and arsenal of custom edits have made him a fixture at the worlds most prestigious clubs and earned him an esteemed residency at Light Las Vegas,where he regularly curates the soundtrack to an immersive sensory experience in partnership with Cirque du Soleil. Despite his dizzying rise, the Golden German remains relentless on the road to dance music dominance. 2014 finds Gold with highly anticipated collaborations with Borgeous and Deniz Koyu in the works, as well as a forthcoming single on Hardwells Revealed Recordings. With marquee gigs spanning North America, Europe and Asia, and massive productions waiting in the wings, Thomas Golds future is beyond bright. Its practically gilded.

Tiesto

Tiesto is a worldwide superstar who was voted 'The Greatest DJ of All Time' by Mixmag and the 'No.1 DJ' by Rolling Stone. He opened the 2004 Athens Olympic Games and has headlined festivals around the globe including Ultra Music Festival, Stereosonic, Coachella, Tomorrowland/TomorrowWorld and Electric Daisy Carnival; and has a storied residency at Hakkasan Las Vegas Restaurant and Nightclub and Wet Republic at MGM Grand Hotel and Casino. Artists ranging from Kanye West and Coldplay to Katy Perry and John Legend have personally tapped him for high-profile remixes, while Guess, AKG and Audiofly have collaborated with him on a fashion line and headphone brands, respectively. His 2014 album 'A Town Called Paradise' yielded his first two gold singles in the U.S. - 'Wasted' [featuring Matthew Koma] and 'Red Lights' while a medley from the album also soundtracks a presentation at the Bellagio fountain in Las Vegas, a first for a dance music artist. With Sirius XM, he launched the 'Club Life' channel (the only dance music artist to do so), nodding to his acclaimed compilation brand of the same name soon to be in its fourth installment. In February 2015, Tiesto was awarded a Grammy in the Best Remixed Recording, Non Classical category for his remix of 'John Legend - All Of Me.'

Zaeden

In this burgeoning era of dance music in India, Zaeden aka Sahil Sharma started DJing when he was 14 years old. His unique style of combining the new age Big room sounds with the classical melodic house and his eclectic production skills can clearly be heard in his first single Land of Lords (out on JoeySuki's Dubbed Records) with the Dutch producer Syzz which was supported by the likes of Andrew Rayel, Tritonal, Jordy Dazz and many more.

Zenith

Zenith is the brainchild of self-taught Mumbai based producers Harshit and Aniruddh. In 2012, fuelled by their curiosity to dwell into the science of music production; they created their first bootleg - Above and Beyond vs Blasterjaxx (Thing Called Titan). Later that year, Harshit co-produced a track titled 'Cyclotron' with one of India's leading dance music stalwarts Mash. Cyclotron quickly gained the support of Ale Mora, Wolfpack, Joey Dale and Pearl in their sets and radio shows. Zenith's music is a cumulation of electronic beats, syncopated synths and funky vocal chops.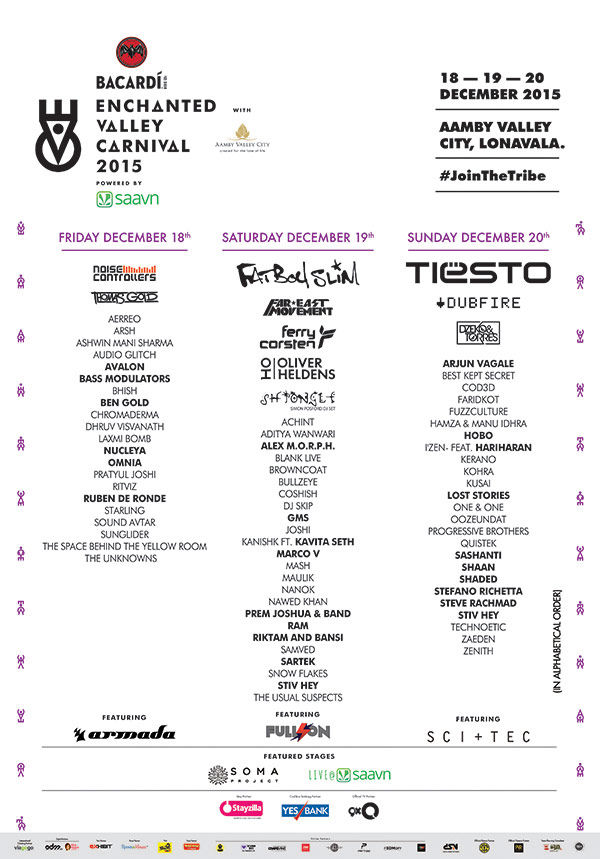 Enchanted Valley Carnival (EVC) is a unique festival property which was introduced to the Indian audiences in 2013. Enchanted Valley Carnival is the first-ever music festival in Asia to have a fully-fledged campsite, famously known as Enchanted Village, alongside professional adventure sport and other distinctive experiences.

Enchanted Valley Carnival shall be hosted amongst the serenity of nature in one of the most exclusive cities in Asia at Aamby Valley City, being the first festival in Asia to be held on an airstrip.

The new identity of the brand has been designed to build a strong community of fans that shall strive to create, maintain & sustain a sense-of-belonging to the EVC 'Tribe'.

Enchanted Village shall be poised to endorse and facilitate this community through its extravagant camping experience, with the objective of being the most sought after camping brand in the country. Enchanted Village aims to extend its ritualistic nature amongst the fans, rendering an experience across the length & breadth of India's diverse environmental settings.

EVC 2015 establishes itself as the only multi genre electronic music festival in India offering varied genres from electronic music to live genres across trance, house, techno, fusion, and Indie along with other experimental music. Bringing together some of the most electrifying international performers that remain sacrosanct, EVC covers a vast spectrum of dance music with the presence of Indian talent in the line-up.
No shows scheduled for now
Types of Tents available
Regular Two Man Tent

The Regular Two Man Tent includes access to the Enchanted Village and all facilities, 2 carry mats, 2 sleeping bags and 2 hygiene kits.

Regular Three Man Tent

The Regular Three Man Tent includes access to the Enchanted Village and all facilities, 3 carry mats, 3 sleeping bags and 3 hygiene kits.

Regular Four Man Tent

The Regular Four Man Tent includes access to the Enchanted Village and all facilities, 4 carry mats, 4 sleeping bags and 4 hygiene kits.

Luxury Four Man Tent

The Luxury Four Man Tent includes access to the Enchanted Village and inclusive facilities, air conditioning, 4 beds, 4 comforters, 4 bed sheets, 4 pillows, 1 western loo and shower, 1 luggage rack, 1 table for verandah, 2 relaxing chairs, 1 wooden side table, 2 wooden chairs, 1 lantern and four hygiene kits.

BYOT (Bring Your Own Tent)

The BYOT includes access to the Enchanted Village and inclusive facilities and one hygiene kit. These are prices per person. Tents must be of standard/reasonable sizes. The number of people living in the tents you bring is up to you.