SUNBURN JOURNEY!
Sunburn brings you an ultimate festival experience for its 10 year anniversary

This year Sunburn 10 brings you a brand new customer experience with added incentives, the cashless experience where fans can pre-load the Sunburn Smart Band and avail entry into the festival zone, purchase F&B and merchandise at the festival without swiping credit cards or dishing out hard cash. The bands will be available for home deliveries and will do away with box office queue. Fans can now block their early bird tickets at a smashing 35% discount, a 50% advance payment option to block your ticket is also available. For the first time, Camping packages will also be available during early bird sales with GA + Classic Tent, GA + Club Tent, VIP + Classic Tent and VIP + Club Tent

Sunburn is now one the top 3 music festivals in the world and most anticipated and foremost music festival which attracts multiplied audiences year after year from different nations with its credibility built on the pillars of massive audience patronage. It has carved an overwhelming dwelling in the souls of music aficionados. Over the past 5 years Goa has truly arrived on the world entertainment map and attained the credibility for promoting tourism primarily through the successful establishment. Connecting serious music enthusiasts directly with the artists they love Sunburn is no doubt set to become a sanctuary for forward-thinking music fans looking for life-affirming experiences. Maintaining a healthy balance between popular and underground music, this will be a festival for the true dance music fan, for whom music is a way of life.
It's time to take a break and leave your world behind. Welcome to Planet Sunburn. Be who you want to be. This is your festival.

Massive Production: Each stage with it's own creative concept and technological innovations, will reflect the mastery of some of the ace production design teams from around the world. And, sure to blow your minds, will be worlds largest single stage. A super-mega-stage, the Sunburn main stage is set in a beautiful natural amphitheater, redefining - in size, creativity and drama - how India puts on a show. Stage, sound lights and special effects have never looked so freaking good! With more than 150 artists and over 500 hours of music, including trance, house, electro, techno, drum & bass, psychedelic, experimental the list is endless!

Fan Village: Watch out for meet and greet contests to win a chance to enter the largest Artist Village in Asia and meet your favorite DJs!

Food Courts: Elaborate food plazas emanating with delectable local flavors to keep you nourished and ready to dance and reconfigured bars to activate the adrenaline rush.

On-Site Camping: For those really adventurous souls that dont want to miss a single beat, camping on-site takes the festival experience to the next level. Festival goers with VIP and General Admission passes can avail the classic (2 persons) or club tents (4 persons)

Leave No Trace: This activity is undertaken in the interest to keep the city clean and to avoid the harm caused to the natural environment. Sunburn is all about eco-friendly

40 + Experience Zones: Sunburn Cruises to take a break from the music and catch the beautiful sunset. For those really adventurous souls that didn't want to miss a single beat, Helicopter Rides will help you catch a breathtaking aerial view of the festival. An 80 Ferris Wheel for fans to witness a 360 view of the gigantic venue with the music, with a breathtaking view of the Arabian Sea on one side and the hills on the other. Dream Wall for fans to lock their dreams using sticky notes. Bungee Jumping, Hot Air Balloon Rides, Kite Flying, Open Library, Sunset Point, Tattoo Making, T-Shirt Printing, Art Village, Tarot Reading, Zumba, Yoga Stilt Walkers, Go Pros, Spider Cam, Para Copter, Performers-Fire Acts, Jugglers, the catalog goes on. Come early to experience the festival.

Flea Market: This year, Sunburn 10 will have more than 80 stalls catering to delectable gastronomy and indigenous lifestyle products including giving an impetus to local specialties.

Unlimited Parking: The size of Sunburns dwelling, allows a guaranteed spot for each and every car, motorbike, bicycle, camel, horse or whatever else you want to ride in on, right opposite the venue! Its all pro bono!

After Parties: Fans will be spoilt for choice with manifold options to choose from. Catch your favorite artists play a surprise set at multiple after dark parties in and around the city.

LIVE. LOVE. DANCE.
Camping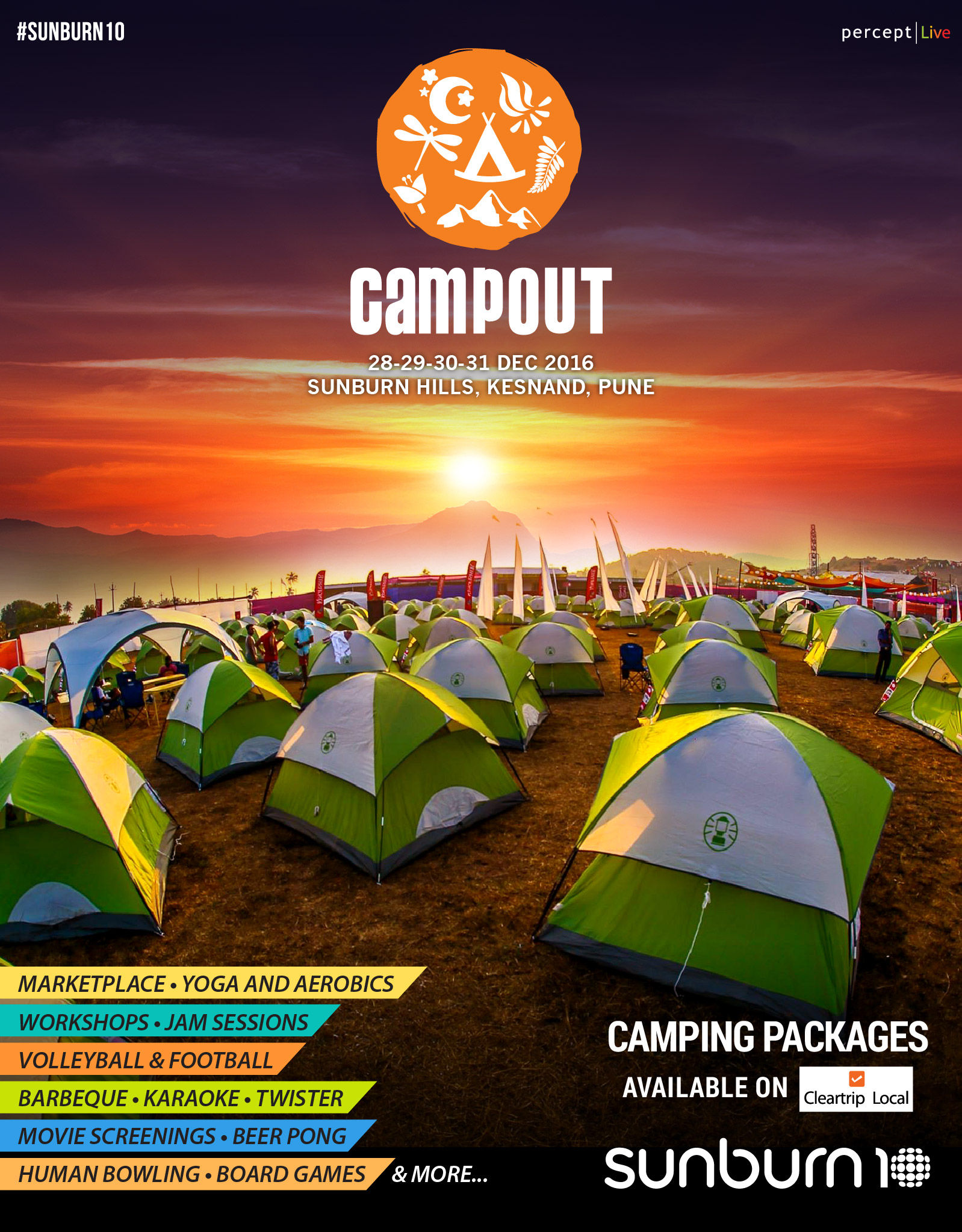 Offline Partners
Mumbai
Bengaluru
Delhi
Gujarat
Pune
Hyderabad
Mangalore
Nagpur/Raipur
Kohlapur
Goa
Chennai
Guwahati
Kolkata
Rajasthan
9820091731
9833669217
9769900967
9820587879
7666664987
9821261553
9820477773
9871900994/5
9999880513
9535588999
9999977735
9711883993
9811521627
8017738980
8337030967
9830062689
Terms & Conditions
Entry permitted for ages 15 years and above only.
An SMS and an email with a link within few days of Early Bird ticket sales completion, clicking on which you will be taken to the payment page. Simply click on the link to pay the remainder amount and complete the transaction. In case the transaction fails, click on the same link again after 20 minutes. Failing to pay the 2nd instalment within 45 days time will make the 1st instalment void and the tickets will be forfeited. NO REFUNDS will be given on your first instalment (Payment).
The event is subject to government permissions. In case the permissions are not granted and event is canceled, a full refund shall be immediately issued to all patrons.
A physical Sunburn Smart Band will be home delivered to the address mentioned. Incase of any tampering, the Sunburn Smart band will not be considered as valid to enter the festival A ticket shall not be a valid ticket if the barcode or hologram has been tampered with.
No refund on a purchased ticket is possible, even in case of any rescheduling.
Unlawful resale (or attempted unlawful resale) of a ticket would lead to seizure or cancellation of that ticket without refund or other compensation.
Duplicate tickets will not be issued for lost or stolen tickets.
Each ticket admits one person only.
This is a wrist-band access festival. Wrist-bands will be issued at the festival and will enable access to all stages for designated dates. Please keep your wrist-band on for all days that you have purchased tickets for. They are washable. In case wrist-bands are taken off, a replacement wrist-band will not be issued.
Wristbands removed or tampered with will be rendered invalid and WILL NOT be replaced.
Alcohol will be served to guests above the legal drinking age (LDA) and on display of valid age proof. LDA bands will be provided at the venue on proof of age.
Artist line-up and billed attractions may be subject to change.
Organizers reserve the right to perform security checks on invitees/members of the audience at the entry point for security reasons.
Organizers or any of its agents, officers, employees shall not be responsible for any injury, damage, theft, losses or cost suffered at or as a result of the event of any part of it.
Parking near or at the festival premises is at the risk of the vehicle owner. Organizer will not hold responsibility for any damage or theft of any vehicles within the stipulated parking premises of the festival.
Consumption and sale of illegal substances is strictly prohibited. Possession, sale and dealing in Narcotics Drugs and Psychotropic substances attracts stringent punishments under the Narcotics Drugs and Psychotropic substances Act, 1985 which ranges from 6 months upto 20 years imprisonment and fine upto Rupees Two Lakhs. Consumption of the narcotic drug or psychotropic substance (cocaine, morphine, diacetyl morphine or any other narcotic drug) or any psychotropic substance is liable for rigorous imprisonment for a term which may extend to one year, or with fine which may extend to Twenty Thousand rupees; or with both under NDPS Act, 1985.
Professional cameras, any form of recording instruments, arms and ammunition, eatables, bottled water, beverages, alcohol are not allowed from outside the festival. Food and beverages will be available inside the festival.
This ticket permits entry to the festival grounds only. Any Pre or After parties may have other ticketing requirements and may be sold separately.
Rights of admission reserved, even to valid ticket holders.
Organizers are not responsible for any negative effects of food items or drinks consumed in the venue by festival guests; Sunburn encourages guests to drink responsibly and in moderation.
Persons suspected of carrying items that may be used in an offensive or dangerous manner, or carrying out illegal activities within the site may be searched.
First aid/medical facilities will be provided, however, the organizers do not take any responsibility for any problems arising.
Any disputes to be settled under Mumbai jurisdiction courts only.
The holder of this ticket hereby grants organizers the right to use, in perpetuity, all or any part of the recording of any tape made of holder`s appearance on any channel for broadcast in any and all media globally and for advertising, publicity and promotion relating hereto.
The organizers reserve the right without refund or other recourse, to refuse admission to anyone who is found to be in breach of these terms and conditions including, if necessary,ejecting the holder/s of the ticket from the venue after they have entered the ground.
FAQ



Q. What are Early Bird Tickets?



A. Early bird tickets are 4-day General Admission / VIP tickets which will be available at a special price for a limited period. You can save up to 35% if you buy them on 26th May -12 pm (IST)

Q. What is the difference between GA and VIP tickets?

A. General Admission (GA)tickets offer general access to the 4 days of the festival. VIP tickets allow a fast track entry to the festival and an elevated viewing area of the stage.



Q. Are there any payment plans available for Sunburn 10?



A. Yes, you can reserve your Early Bird Tickets (GA or VIP) by paying 50% of the amount now and the rest within 45 days. Once you pay 50% of the amount, your Early Bird Ticket would be blocked for you and would be sent to you after you make the second payment. Stay tuned for more details!



Q. How and where do I collect my tickets/wristbands ?



A. Early Bird tickets along with your Sunburn Smartband will be Home Delivered to the address mentioned by you in the month of December. Will keep you posted on this.



Q. Which debit/credit cards can i use to buy the early bird tickets?



A. We accept all debit/credit cards including MasterCard,Visa, Maestro, American Express and Diners Card



Q. What documents should I bring if I have booked a ticket through a friends or parents debit or credit card?



A. Printout of the confirmation email from Book My Show, Photo copy of Debit/Credit card used. Photocopy of Valid Photo ID of the debit/credit card holder Valid Photo ID of the person using the ticket.



Q. Is there any other verification that I can provide instead of a copy of my debit/credit card?



A. No, only these documents mentioned above, will be used for verification purposes.



Q. Can I swap/upgrade a G.A. ticket to VIP ticket?



A. Once bought, tickets cannot be swapped or upgraded.



Q. Will I have to be present at the venue when the tickets are being collected?



A. Yes, you will have to be present at the venue when collecting your ticket. The only exception will be made if you have used someone else`s credit card to make the purchase - you will need an authorized letter from the credit cardholder (Format mentioned at bottom of the page)



Q. Can I buy tickets using cash?



A. Yes, you can buy your tickets in cash from our authorized ticketing partners. List of `Authorised Ticketing Partners` coming soon. Stay tuned!



Q. How old do I have to be to enter Sunburn 10?



A. You must be of 15 years and above.



Q. Will I be able to get a refund for the tickets if I do not attend the festival?



A. No refund will be provided for tickets even in case of any rescheduling.



Q. Will I need to carry a photo id along for ticket verification purposes?



A. Yes. A valid Photo ID i.e. PAN Card, Passport, Driver`s License etc.



Q. Will my VIP Ticket allow me backstage?



A. No, there is no backstage access with any ticket.



Q. Do the tickets give access to free food and beverages?



A. Early bird Tickets are for entry purposes only. No free alcohol or food would be provided against the tickets.



Q. Can I pre-buy food &beverages coupons online while booking my ticket?



A. Yes, you can pre-buy Food, Drinks & Beverages coupons online at the time of booking your tickets. You can also buy them at the venue over the period of the festival.



Q. Are there additional charges for booking a ticket online ?



A. Yes, a nominal service change will be added per transaction.



Q. What is the maximum number of tickets I can purchase ?



A. A maximum of 10 tickets per transaction can be purchased.



Q. What if I am reaching the venue later, can I use separate copies of the same ticket for the non-cardholders to enter separately?



A. No, unfortunately it is not possible.



Q. What should I do if I purchase a ticket, but live outside India?



A. Please provide a copy of your passport and credit card/debit card at the ticketing booth at the venue for your tickets.



Q. Where can I read ticketing `Terms & Conditions ?



A. The ticket terms and conditions will be provided before you purchase your ticket.



Q. Can I re-enter the venue during the day if I leave?



A. Yes, as long as your Sunburn Smartband is intact and not tampered with, you can re-enter the venue through the official entry points at any time during event hours.



Q. Are there any travel packages available for Sunburn 10?



A. Yes, we will have travel packages for Sunburn 10 which will be released soon. Stay tuned for more details.



Q What is the authorization letter format?



A. TO WHOMSOEVER IT MAY CONCERN



I, (Your name)______________ authorize _____________(Friends name)to use my ticket bearing Booking ID No. ________ on my behalf for `Sunburn 10`.

Please find encl.the photocopy of my debit/credit card, print out the Booking confirmation &a valid Photo ID.

(Your name) (Signature)



`