Regular Ticket Sales
Festival Pass valid till 30th Dec 2015
Festival + Camping
Camping Only
Single Day Pass
Two Day Pass
About
Season 9 seems bigger than ever! Asia's biggest music festival, Sunburn Goa is now a 4-day festival, and is announcing a bigger than ever star studded line-up. The festival will be held on the northern shores of Vagator, Goa. In its 9th year of providing unique dance music experiences, 2015 will earmark new beginnings as the stage in Goa is set for it's biggest line-up of over 120 artists, fans from 42 countries and 7 different stages with headliners Dimitri Vegas and Like Mike, Kygo, Martin Garrix and David Guetta! Adding up to the global line-up are KSHMR, Bassjackers, Dyro, Seth Troxler, Felix Jaehn, Art Department, Tube and Berger, Desert Dwellers, Liquid Soul and more. The line-up also boasts a wealth of Indian talent in the name of Shaan, Qwiver, Anish Sood, Sartek, Priyanjana, Arsh, Janux, Joshi and many more. Presenting an absolutely new initiative this year is the 12-month EMI option for selected credit cards. So, you can buy 4-day festival pass for an amount as small as Rs.831!

For the first time ever, Sunburn Goa will be hosting the campsite - Campout. Campout will have a 24x7 marketplace with multiple shops, a dedicated bar, various experience zones and activities, free access to after parties, bonfire, jam sessions and much more. The objective of Campout is to keep its campers immersed in the same atmosphere that symbolizes Sunburn Goa for the entire duration of their stay.

This year, Sunburn will offer experiences like hot air balloon rides, acrobatic airborne acts, cruises, flea market, etc. 24-hour security, food and beverage services take precedent above all at the campsite and Sunburn has accounted for all these factors while creating a state of the art camping entertainment hub and party zone for all four days of the festival. This year, the festival will also have Asia's largest ever stage construction with its main stage having a 200-foot structure. With high-octane fusion of space and sound, world class LED lighting, video projection, Sunburn revelers will light up the sky in what will be a 360-degree sonic experience. This is the 9th edition of Sunburn Goa which will deliver the worlds best, in technology, music and production in a great web of artistry.
VVIP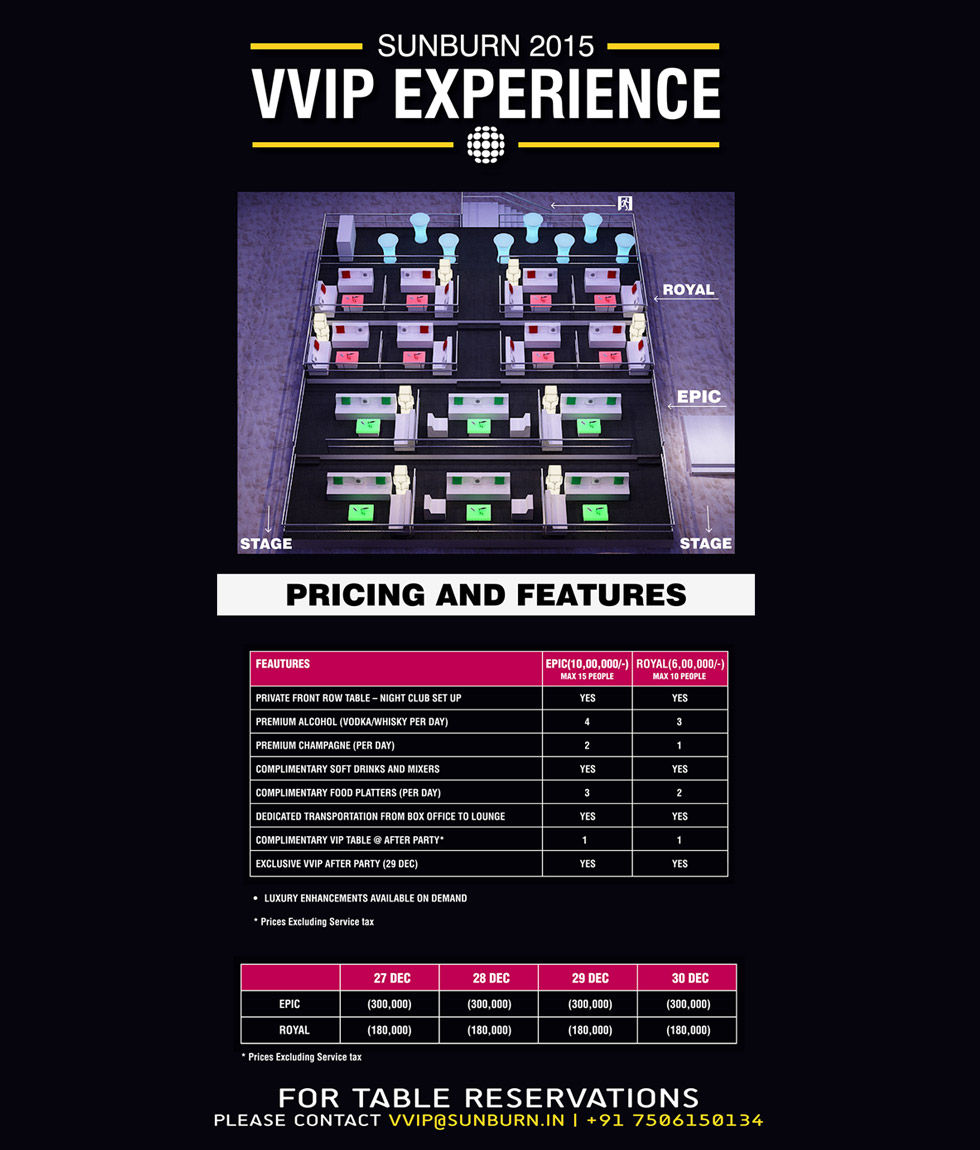 Schedule
Coming Soon

Camping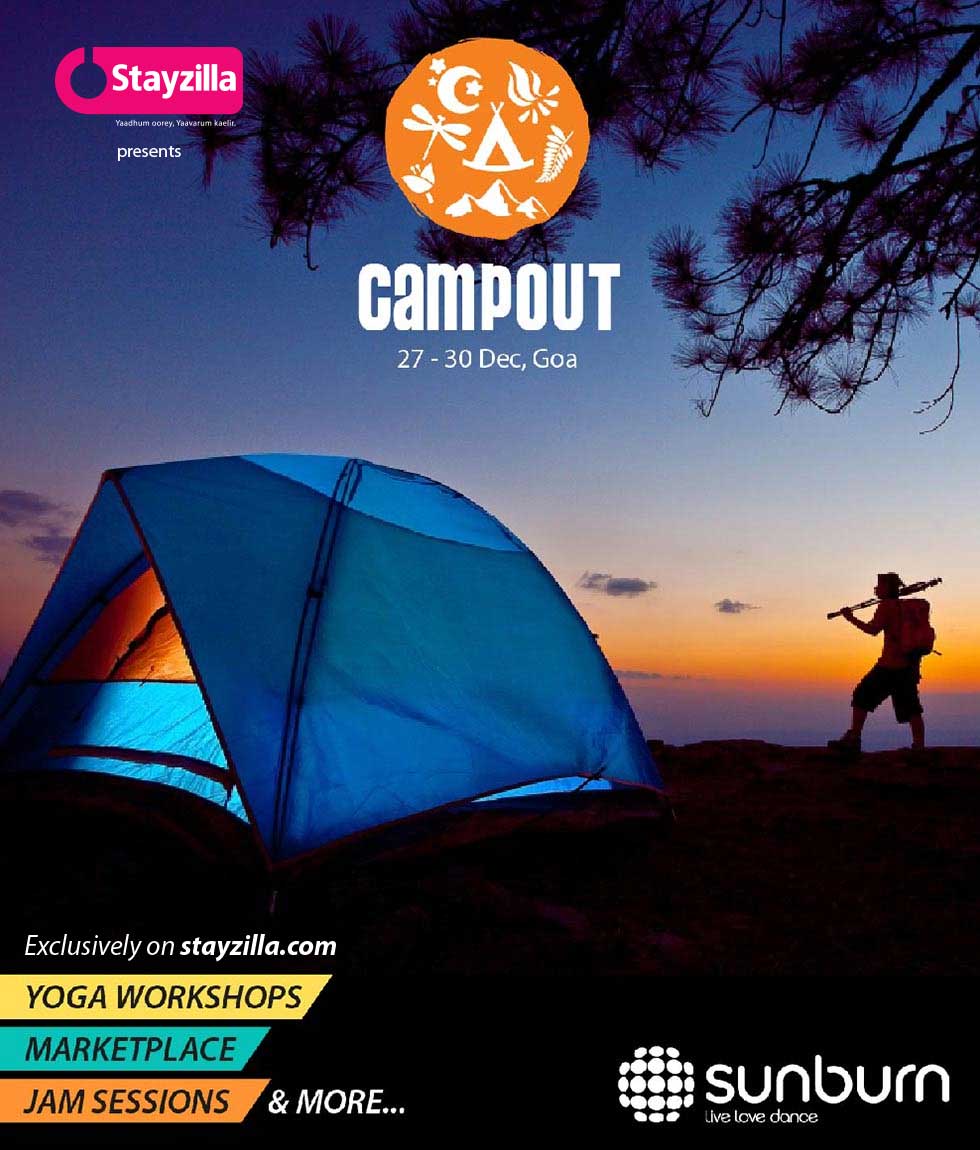 Lineup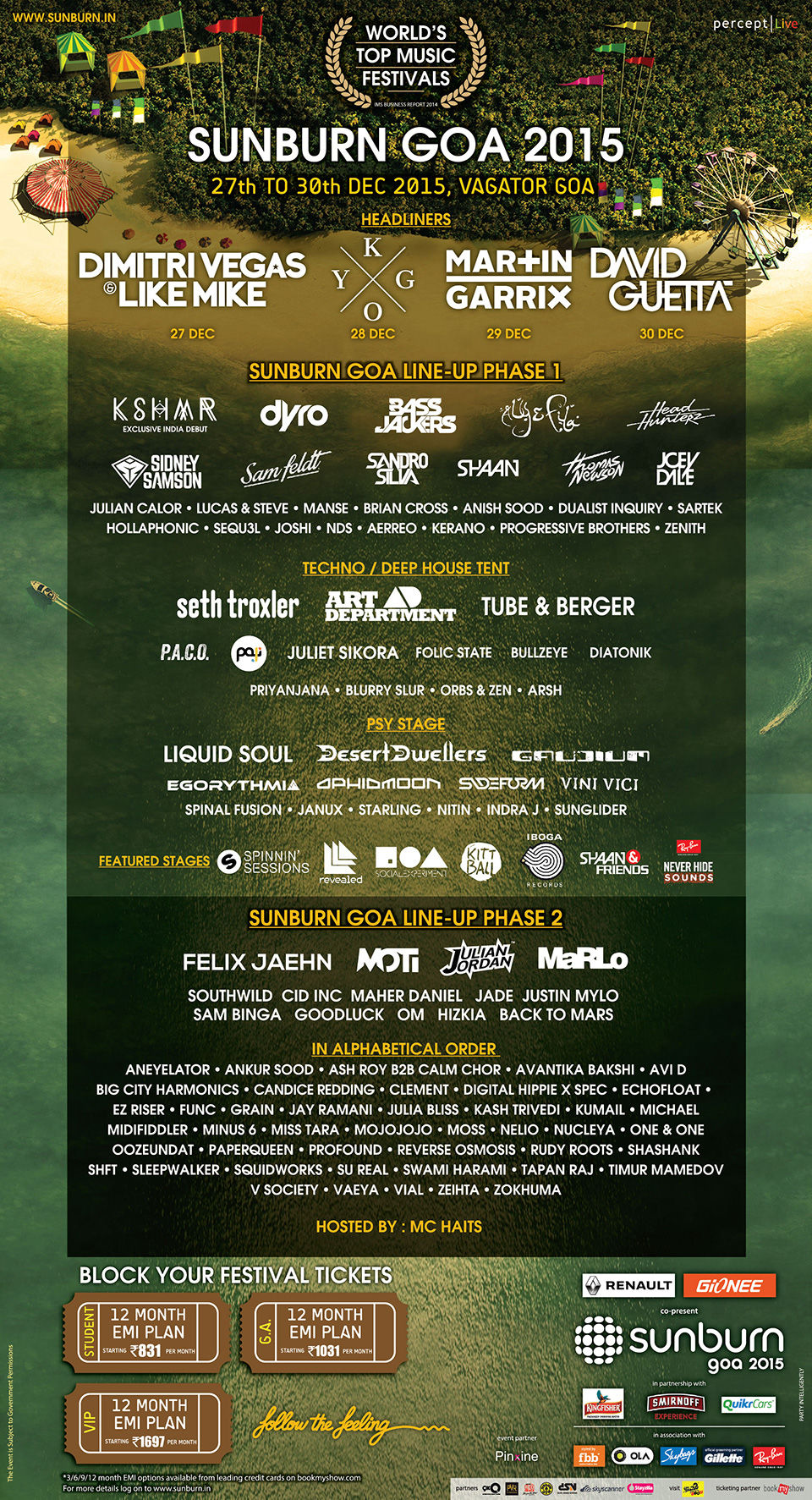 Offline Partner's
Mumbai
Bengaluru
Delhi
Ahmedabad
Vadodara
Pune
Hyderabad
Mangalore
Nagpur
Raipur
Goa
Chennai
Guwahati
Kolkata
Mysore
9820252130
9820491493 / 9820587879
9833669217
9769900967
9821261553
7666664987
9820477773
9986458021
9886253884
9902706940
9871900994 / 5
9999880513
9999811224
9999977735
9657779911
9730494667
8007969659
9000081152
9246269996
9581072727
9830008208
8017738980
8337030967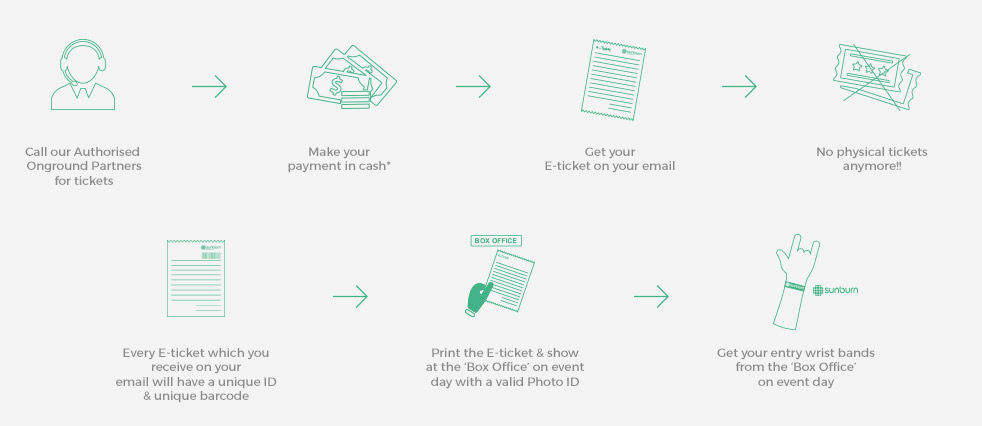 Please give the exact details to our 'Authorised Partner'. The details will be verified at the Box Office.
Buy Tickets from our 'Authorised Onground Ticketing Partners' only.
'Cash Receipts are available as 'Proof of purchase' from 'Authorised Onground Partners'
Terms & Conditions
Entry permitted for ages 15 years and above only.


The event is subject to government permissions. In case the permissions are not granted and event is cancelled, a full refund shall be immediately issued to all patrons.


A physical ticket will be issued at the venue box office on the day of the event in exchange for your e-ticket purchase confirmation from bookmyshow.com. Please carry valid photo id for verification of the ticket holder name along with your e-ticket print out.


A ticket shall not be a valid ticket if the barcode or hologram has been tampered with.


No refund on a purchased ticket is possible, even in case of any rescheduling.


Unlawful resale (or attempted unlawful resale) of a ticket would lead to seizure or cancellation of that ticket without refund or other compensation.


Duplicate tickets will not be issued for lost or stolen tickets.


Each ticket admits one person only.


This is a wrist-band access festival. Wrist-bands will be issued at the festival and will enable access to all stages for designated dates. Please keep your wrist-band on for all days that you have purchased tickets for. They are washable. In case wrist-bands are taken off, a replacement wrist-band will not be issued.


Wristbands removed or tampered with will be rendered invalid and will not be replaced.


No re-entry is permitted for the day wise ticket holders. Wrist bands will be cut by the security team in case a customer wishes to exit the venue during the period of the event.


Alcohol will be served to guests above the legal drinking age (LDA) and on display of valid age proof. LDA bands will be provided at the venue on proof of age.


Artist line-up and billed attractions may be subject to change.


Organizers reserve the right to perform security checks on invitees/members of the audience at the entry point for security reasons.


Organizers or any of its agents, officers, employees shall not be responsible for any injury, damage, theft, losses or cost suffered at or as a result of the event of any part of it.


Parking near or at the festival premises is at the risk of the vehicle owner. Organizer will not hold responsibility for any damage or theft of any vehicles within the stipulated parking premises of the festival.


Consumption and sale of illegal substances is strictly prohibited.


Professional cameras, any form of recording instruments, arms and ammunition, eatables, bottled water, beverages, alcohol are not allowed from outside the festival. Food and beverages will be available inside the festival.


This ticket permits entry to the festival grounds only. Any pre or after parties may have other ticketing requirements and may be sold separately.


Rights of admission reserved, even to valid ticket holders.


Organizers are not responsible for any negative effects of food items or drinks consumed in the venue by festival guests; Sunburn encourages guests to drink responsibly and in moderation.


Persons suspected of carrying items that may be used in an offensive or dangerous manner, or carrying out illegal activities within the site may be searched.


First aid/medical facilities will be provided, however, the organizers do not take any responsibility for any problems arising.


Any disputes to be settled under Mumbai jurisdiction courts only.


The holder of this ticket hereby grants organizers the right to use, in perpetuity, all or any part of the recording of any tape made of holder`s appearance on any channel for broadcast in any and all media globally and for advertising, publicity and promotion relating hereto.


The organizers reserve the right without refund or other recourse, to refuse admission to anyone who is found to be in breach of these terms and conditions including, if necessary,ejecting the holder/s of the ticket from the venue after they have entered the ground.


Internet handling fee per ticket may be levied. Please check your total amount before payment.


Tickets once booked cannot be exchanged or refunded.


Possession, sale and dealing in drugs and psychotropic substances attracts stringent punishments under the Narcotics Drugs and Psychotropic substances Act, 1985 which ranges from 6 months upto 20 years imprisonment and fine upto Rupees two lakhs.


Consumption of the narcotic drug or psychotropic substance (cocaine, morphine, diacetyl morphine or any other narcotic drug) or any psychotropic substance is liable for rigorous imprisonment for a term which may extend to one year, or with fine which may extend to twenty thousand rupees; or with both under NDPS Act, 1985.
Internet handling fee per ticket may be levied. Please check your total amount before payment.
Tickets once booked cannot be exchanged or refunded.
We recommend that you arrive at least 20 minutes prior at the venue to pick up your physical tickets.
FAQ



Q. What is the difference between GA and VIP tickets ?



A. General Admission (GA) tickets offer general access to the 4 days of the festival. VIP tickets allow a fast track entry to the festival and an elevated viewing area of the main stage.



Q. Are there any payment plans available for Sunburn Goa 2015?



A. Yes, you can now buy tickets via 12 months EMI option using select credit cards.


Q. What are the dates for Sunburn Goa?



A. For the first time, Sunburn Goa will be a 4 day festival i.e. from 27 to 30 December 2015



Q. How and where do I collect my tickets/wristbands ?



A. Tickets have to be collected from the Ticket Booth at the venue over the period of the event (27-28-29-30 December).

You will need photo ID proof, print out of the confirmation email from Book My Show & a letter of authorization, BOTH from the card holder (if the card used to purchase the ticket is not yours).
Entry / Wrist bands will be given upon handover of the ticket. We would also need a bank transaction receipt if you have booked the tickets through `Online Banking`.



Q. Which debit/credit cards can i use to buy the tickets?



A. We accept all debit/credit cards including MasterCard,Visa, Maestro, American Express & Diners Card



Q. What documents should I bring if I have booked a ticket through a friends or parents debit or credit card?



A. Printout of the confirmation email from Book My Show, Photo copy of Debit/Credit card used. Photocopy of Valid Photo ID of the debit/credit card holder Valid Photo ID of the person using the ticket.
Authorization Letter (Format mentioned at bottom of the page)



Q. Is there any other verification that I can provide instead of a copy of my debit/credit card?



A. No, only these documents mentioned above, will be used for verification purposes.



Q. Can I swap/upgrade a G.A. ticket to VIP ticket?



A. Once bought, tickets cannot be swapped or upgraded.



Q. Will I have to be present at the venue when the tickets are being collected?



A. Yes, you will have to be present at the venue when collecting your ticket. The only exception will be made if you have used someone else`s credit card to make the purchase - you will need an authorized letter from the credit cardholder (Format mentioned at bottom of the page)



Q. Can I buy tickets using cash?



A. Yes, you can buy your tickets in cash from our authorized ticketing partners. List of uthorised Ticketing Partners is mentioned



Q. How old do I have to be to enter Sunburn Goa 2015 ?



A. You must be of 15 years and above to be able to enter the festival.



Q. Will I be able to get a refund for the tickets if I do not attend the festival?



A. No refund will be provided for tickets even in case of any rescheduling.



Q. Will I need to carry a photo id along for ticket verification purposes?



A. Yes. A valid Photo ID i.e. PAN Card, Passport, Driver`s License etc.



Q. Will my VIP Ticket allow me backstage?



A. No, there is no backstage access with any ticket.



Q. Do the tickets give access to free food and beverages?



A. Tickets are for entry purposes only. No free alcohol or food would be provided against the tickets.



Q. Can I pre-buy food & beverages coupons online while booking my ticket?



A. Yes, you can pre-buy Food, Drinks & Beverages coupons online at the time of booking your tickets. You can also buy them at the venue over the period of the festival.



Q. Are there additional charges for booking a ticket online ?



A. Yes, a nominal service change will be added per transaction.



Q. What is the maximum number of tickets I can purchase ?



A. A maximum of 10 tickets per transaction can be purchased.



Q. What if I am reaching the venue later, can I use separate copies of the same ticket for the non-cardholders to enter separately?



A. No, unfortunately it is not possible.



Q. What should I do if I purchase a ticket, but live outside India?



A. Please provide a copy of your passport and credit card/debit card at the ticketing booth at the venue for your tickets.



Q. Where can I read ticketing `Terms & Conditions ?



A. The ticket terms and conditions will be provided before you purchase your ticket.



Q. Can I re-enter the venue during the day if I leave?



A. If you have a 4-day festival ticket and as long as your entry wristband is intact and not tampered with, you can re-enter the venue through the official entry points at any time during event hours. Re-entry is not allowed for day wise ticket holders.



Q. Are there any travel packages available for Sunburn Goa 2015?



A. Yes, we will have travel packages for Sunburn Goa 2015 which will be released soon. Stay tuned for more details!



Format of Authorization Letter:




TO WHOMSOEVER IT MAYCONCERN



I, (Your name)_____________ authorize _____________(Friends name)to use my ticket bearing Booking ID No. ________ on my behalf for `Sunburn Goa 2015`.
Please find encl.the photocopy of my debit/credit card, print out the Booking confirmation &a valid Photo ID.
(Your name) (Signature)

-----------------------------------------