Rang Barse Bheege Chunarwali Rang Barse! 
Holi here here! Let the party begin at any one of the holi parties in Bengaluru! The splash of colors; the mesmerizing music; soulful food; amazement of drinks and beverages; this is the time to let go, revel, rewind and reclaim oneself. A festival that binds people of all faiths and walks of life together is an ode to the spirit of humanity. To share happiness is to share the very essence of life. 
Where's the party?
Just logon to bookmyshow and search for holi events in Bengaluru. Pick the holi party that is most convenient to you, located near you or the one that has more razzmatazz for your liking. All holi parties are smashing events at the best places in town. Expect DJ nights, glitzy lights, throbbing music, disco deewanas, color wars, and more.
Is there a women's only bash?
Of course! There would be a male-only or women-only holi event. Check the listings on bookmyshow. There could be family-oriented parties too – catering to family celebrations. Call up the event organizers. You never know – you could get offered a customized holi party for your family too. Holi is a fabulous occasion to smear some colors of love, friendship, camaraderie on each other and stay in the pink of health, wealth and prosperity all year round!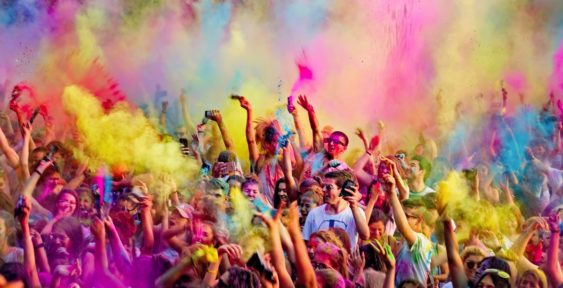 What to expect at a holi party?
A celebratory ambience has it all. Fine dining and wining. An ensemble of exotic, indie, continental, cross-cultural food and drink. Color guns with safe colors to splash at one another. Some events could have special costumes for the celebrations for those who don't want to soil their Armani or Versace wear! Music is a staple at these events. Many holi parties in Bengaluru have a live band playing. Holi events in Bengaluru can be theme based as well. 
So start cracking – book that event right away and start preparing for that colorful night.