Darbar, the latest tamil movie starring Rajnikanth, engages you with action and drama. 
When a top cop Aaditya (Rajnikanth) is asked to take down on the most feared and ruthless drug lord in Mumbai, a murderous rampage begins. Aaditya is shown to be a strong cop who doesn't go by the rule book. 
At the beginning of the movie, he is threatened and questioned by the members of the Human Rights Commission. The film tries to project Aaditya, the hero, as a mentally disturbed person to justify his illegal killings.
Sunil Shetty, who plays Hari Chopra, is a dreaded gangster who has fooled and escaped the police force 27 years earlier. Hari returns to India to settle scores with Aaditya by killing his daughter Valli (Nivetha Thomas).
This happens after Aaditya, on his duty to eradicate drug lords of Mumbai, kills Ajay Malhotra (Prateik Babbar), son of Vijay Malhotra (Nawab Shah) who happens to be the main drug supplier in the city.
The film's selling point is the daughter-father scenes between Rajnikanth and Nivetha Thomas. Their relationship on screen is endearing. 
The most wanted criminal Hari Chopra is killed and nemesis is achieved.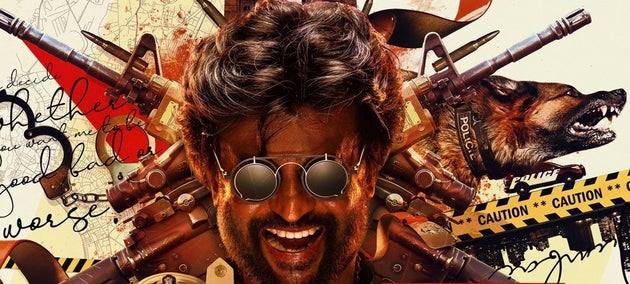 Darbar maybe the only recent tamil movie that is conscious about it's hero's real life age. Aaditya and Lily's (Nayanthara) romantic track is enjoyable. There is a scene that addresses the issue of the age difference between the two. It is handled  in such a dignified manner that Rajnikanth fans won't be disappointed. 
The film Darbar does have a solid middle section; however, the first and the third acts are greatly underwhelming. One would find the introduction scene to be the weakest and the latter part of the movie to be rushed senselessly.
The fact that the tamil movie has Bollywood actors speaking in Hindi, tamil audience feel fooled with lack of lip-syncing.