Avane Srimannarayana is an Indian fantasy adventure comedy film. It is a Kannada language film produced by H.K Prakash and  Pushkara Mallikarjunaiah. The film has talented stars like Rakshit Shetty and Shanvi Srivastava in lead roles. The movie is directed by directorial debutant and is edited by Sachin Ravi. 
The movie was realised in theatres on 27th Dec 2019.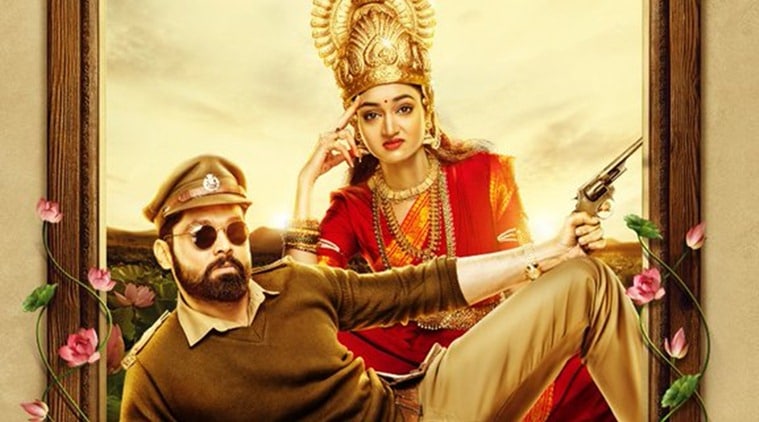 The trailer of Avane Srimannarayana shows a fictional town called Amaravathi. The story is filled with primitive lords, cowboy motivated bars, a cop with touches of Jack Sparrow and a whiff of a love story. 
The story line is as follows. A treasure goes missing and feudal lord dies. His two stepsons Jayarama (Balaji Manohar) and Tukaram (Pramod Shetty) having an eye on his throne and struggles hard to fulfil lord's last wish. After fifteen years, a cop Narayana (Rakshit Shetty) finds himself between the continuing turmoil. The movie is worth watching to find out whether the treasure be recovered and who will win to continue the rule the reign. 
The entire film took over three long years to complete but its worth looking at the output of the film. The film is correctly blended mythology with the fiction, which is a challenging job. 
For Kannada audiences, this 3 hour 6 minutes long film is a complete paisa vasool entertainer and one of its kind in Kannada film industry. 
Avane Srimannarayana wins heart of audiences with power pack performances of the star cast. Rakshit Shetty who plays as the clever, humorous, awful cop is great to watch over. Balaji Manohar and Pramod Shetty are suitable for the villain performance. Pramod plays a shrewd politician is worth watching. All of these come as a rescuer for the fading storyline. Sachin Ravi, being a Debutant Director has not left any stone unturned to fulfil the wish of bringing up a confident smash at box office.