Recently, the Union Minister of Information and Broadcasting – Mr. Prakash Javadekar released the official poster of this upcoming Tamil movie. The minister mentioned that the movie is based on the life and times of this great Indian who surmounted all obstacles in this life and rose to be the President of this nation. He also remarked that he was an inspiration to thousands of students. It's a story of how a dedicated person can rise to the top against all the odds.
The movie is scheduled to be released by the end of the year. Missile Man is produced by Dream Merchants Inc in association with A K Enterprises and is directed by Anil Sankara. This movie is co-produced by Jagadeesh Daneti, Suvarna Pappu & John Martin.
This Tamil movie is a biopic of Dr. Abdul Kalam (1931- 2015), who was a teacher, author, scientist, and later went on to be the eleventh President (2002 to 2007) of the Republic of India. He was also the recipient of the highest civilian award – the Bharat Ratna. His birth anniversary (October 15) is observed as World Student Day.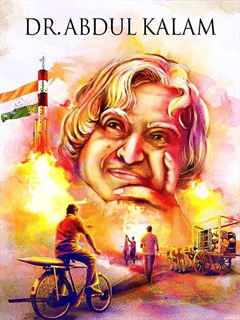 It traces his humble beginnings as a village boy who, at a young age, showed so much potential in his village school. As a a young boy, he started distributing newspapers to help support the family. He went to Saint Josephs College, where he graduated in Physics. Later he studied Aerospace Engineering in the Madras Institute of Technology. 
He worked at various reputed organisations like DRDO, INCOSPAR, and in 1963-64, started working on an expandable rocket project at DRDO. 
He decided not to contest the Presidential election again in 2007 and stepped down as the President on July 25, 2007. Dr. Abdul Kalam passed away in Shillong, Meghalaya, at the age of 83. This was a great blow for the nation, and he will be remembered for being a politician gentleman and an inspirer as well as a visionary.