Seldom has any Marathi film in recent times evoked such anticipation as Hirkani. The movie is set in the historical backdrop of the reign of Shivaji Maharaj. Though it takes a leaf out of Maratha history, the movie is not about courage, guerilla warfare or the endless sieges, which was customary during that phase of the Maratha Empire. On the other hand, it is a narration of a mother's desperate bravery in brazening out the odds and defiance of the strict edicts of Shivaji in his fort, to reach out to her toddler child in the village back home. Directed by Prasad Oak, who won a National Award in his Directorial debut film Kaccha  Limbu, Hirkani is worth watching as a performance-oriented movie.
Synopsis:
The story is set in Raigad, the erstwhile capital of the Maratha Empire. Hirkani and Jewaji Rao are husband and wife village folk, with a doting newborn. For some reason, Hirkani is compelled to go to the fort to deliver milk, leaving her child in the care of her neighbor. Though she is expected to return home early, she gets delayed, and the gate of the Fort is shut trapping her inside. No one can defy the command of Shivaji, but she has to find a way out. In her desperation to reach home, she not only breaks the law but scales the cliff face of the mountain to arrive home to her child. 
Cast:
Crew:
Director:

Prasad Oak

Producer:

Falguni Patel

Music:

  Amit Raj
Release date: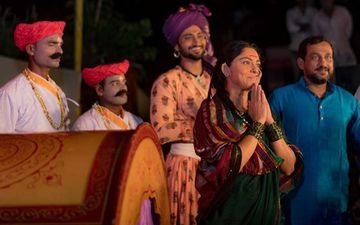 The highpoint of Hirkani:
It is the performance of Sonalee Kulkarni which stands out in the film. She is able to shed her glam image to get under the skin of the character she portrays. The success of the movie lies in getting the audience associated with the real character, so strong is her performance. 
Do not miss out on the movie and grab the offers at BookMyShow for Hirkani, your foray into the history of the Maratha Empire, but with an altogether different perspective.