Ajay Devgn's latest release of this new year 2020 'Tanhaji – The unsung warrior' is winning hearts of people all over India and becoming a blockbuster hit. The box office collection seems a step closer to Rs. 150 crores, on its 8th day of release. This hindi movie seems unstoppable in the box office and it is special to Ajay's heart as it is his 100th movie. The team of 'Tanhaji' is expecting to cross Rs. 200 crores mark.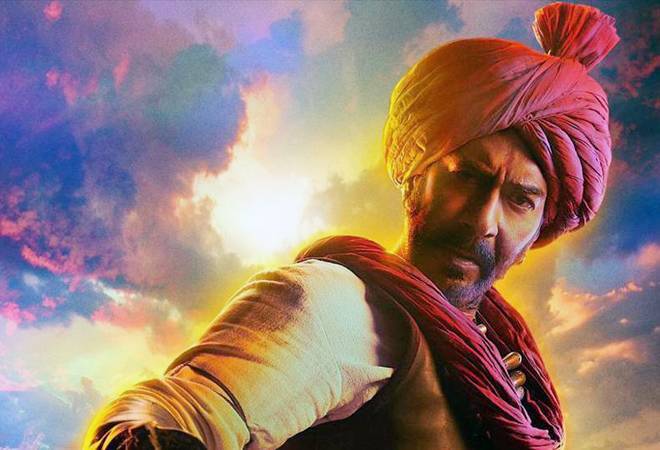 Tanhaji: The unsung warrior is the story of Chhatrapati Shivaji Maharaj the military leader of Maratha Emperor. The story is a historical drama when the Mughal Emperor Aurangzeb overtakes the Kondhana fortress and plans to make it a Mughal base for Southern India. Meanwhile, Shivaji plans to conquer the fort, but without the help of Tanhaji. This is because the son of Tanhaji is about to get married, and hence Shivaji is not willing to involve Tanhaji in the plan. 
But when Tanhaji discovers about this, without thinking about his son, he sets out to stop Udaybhan Singh Rathore from taking control and reaching the fort. 
The movie was released on 10th Jan 2020 and ever since the box office collection is increasing. The first three days collection was Rs. 15.10 Cr, Rs. 20.57 Cr, and Rs. 26.26 Cr respectively. Later in mid-week the collection dropped to Rs. 11.23 Cr but again took over the momentum and crossed Rs. 128.97 Cr till Friday, 17th Jan 2020.  
Movie stars Ajay Devgn, Saif Ali Khan, Kajol, and Sharad Kelkar are in lead roles. Ajay Devgn won the hearts of people with his brilliant stellar performance in the movie as Tanhaji. 
Directed by Om Raut, the movie is full of drama, emotion, action, and conflict. The movie gives an enthralling experience to its audience with top notch direction. 
Interested individuals can check out bookmyshow website and book tickets online by visiting the website or the mobile application.