The first Oscars were held 90 years ago in 1929, and there have been a lot of wins since then. Oscars are a grand platform to celebrate the brilliance of acting, directing, screenwriting or other behind-the-scenes categories, for the entertainment industry. In the history of the Oscars, there have been some movies that were honoured more than others. These movies won awards more than any other movie and created history. Some of the Oscar-winning movies became the best movies of all time.
The five most Oscar-winning movies are :
The Lord of the Rings: The Return of the King (2003) 
This final part of the epic fantasy big-screen adaptation of J.R.R. Tolkien's iconic trilogy The Lord of the Rings won 11 awards at the Oscars of 2004. This classic made history on the night of 76th Academy Awards in many ways. It won in all the categories it was nominated for and also first and only fantasy movie to win an Oscar for best picture. Peter Jackson got an award for the best director. Other categories it won for were the Best Adapted Screenplay, Costume Design, Art Direction, Film Editing, Visual Effects, Sound Mixing, Original Score and Best Original Song. This makes it a top rank holder in the list of Oscar-winning movies.
Ben-Hur (1959) 
Ben-Hur also won 11 awards at the Oscars for many categories. William Wyler won Best Director for historical epic. It won for Best Picture, Art Direction, Cinematography, Costume Design, Special Effects, Film Editing, Sound Recording, and Music. Charlton Heston got Best Actor in a Leading Role, and Hugh Griffith got for Best Actor in a Supporting Role for the Oscar-winning film.
Titanic (1997)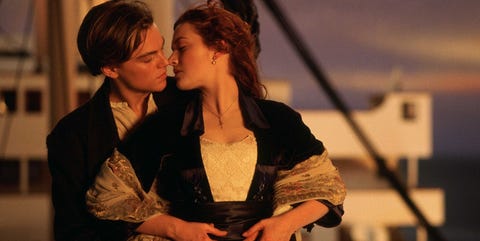 Titanic won 11 Oscars at the 70th Academy Awards. James Cameron won Best Director along with Best Picture, Original Dramatic Score, Make-Up, Art Direction, Visual Effects, Original Song, Sound, Sound Effects Editing, Film Editing, and Costume Design.
West Side Story (1961)
This film adaptation of Stephen Sondheim's modern Broadway musical retelling of Romeo and Juliet won 10 Oscars at the 34th Academy Awards. Robert Wise and Jerome Robbins won for Best Director, and George Chakiris and Rita Moreno won Best Supporting Actor and Actress respectively. It became one of the most Oscar-winning movies with the award in categories like Best Picture, Art Direction, Cinematography, Music, Costume Design, Sound and Film Editing.
The English Patient (1996)
This World War 2, romance was nominated for 12 categories and won nine of them. Those nine awards include Best Director for Anthony Minghella and Best Supporting Actress for Juliette Binoche. It got an award for Original Score, Art Direction, Cinematography, Costume Design, and Film Editing.