The ambit of any historical film is always very broad and there have been some iconic Hindi films in this genre. Panipat is one such upcoming movie that aims to chronicle one of the bloodiest battles in the eighteenth century which turned out to be the nemesis of the mighty Maratha Empire at the hands of Afghan invaders. As in the past, Ashutosh Gowarikar excels in directing vast canvasses. Panipat is no exception as it aims to project the times of the Marathas supremacy.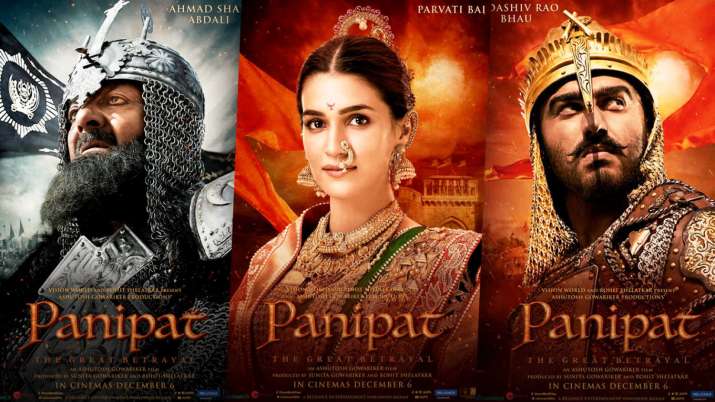 Synopsis:
There was no challenge to the supremacy of the Marathas in the middle of eighteenth-century India. However, an Afghan invader sets his eyes on the Indian throne. The Maratha King commands Sadashiv Rao Bhau, the Commander-in-Chief of the Maratha Army to halt the marauders. Leading a large army, he proceeds to the North, where the final face-off occurs with Ahmad Shah Abdali.  Purportedly fought on 14th January 1761 resulting in the defeat of the Marathas in the battle. Considering as one of the bloodiest battles fought on Indian soil with both the armies suffering heavy casualties, the aftermath also led to the gradual decline of the Maratha Empire. 
Cast: 
Arjun Kapoor as Sadashiv Rao Bhau 
Sanjay Dutt as Ahmad Shah Abdali
Kriti Sanon as Parvati Bai

Mohnish Behl as Nana Saheb Peshwa

Padmini Kolhapure as Gopika Bai

Zeenat Aman as Sakina Begum 
Crew: 
Release Date:  6 December
Interesting  Facts: 
The national award-winning art director Nitin Desai has recreated Shaniwar Wada in ND Studios.

Neeta Lulla has designed the costumes. 

It influences the film by the Third Battle of Panipat.
As always, check out the teaser trailer of this magnum opus at BookMyShow and gauge the scale of its production. Your ticket for the film comes with many offers as an added attraction. Ensure your tryst with the upcoming movie on 6 December.