Good Newzz, a Dharma production house movie starring top rated actors such as Akshay Kumar, Kareena Kapoor, Kiara Adwani and Diljit Doshanjh is already released in theatres on 27th December 2019. The movie was already beating hearts of people ever since the trailer and songs of the movie were released and after the release, it is elevating the box office collections day by day.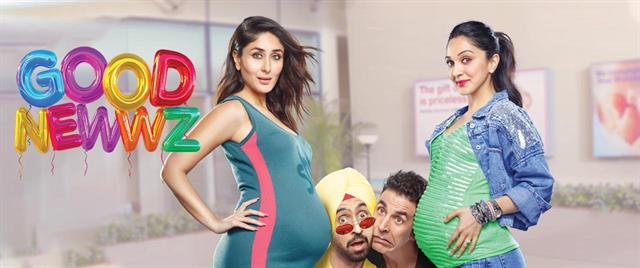 Good Newzz is a story of two couples striving hard to get their own baby naturally but fails. Later they decide to opt for an in-vitro fertilization (IVF) procedure to conceive. But as both the couples have the same surname, there is a mix up by their doctor which leads to lot of confusion in their lives. Now how they deal with it is the entire plot of the movie. 
Akshay Kumar (Varun Batra) and Kareena Kapoor (Deepti Batra) are high class, the posh couple who plan for a baby. But the couple fails for natural conception despite of several trails and opt for artificial procedure called IVF. Similar, another loud, fun-loving, energetic Punjabi Batra couple played by Kiara Advani (Monika Batra) and Diljit Doshanjh (Honey Batra) faces the same issue related to natural pregnancy. In the hospital, the doctor gets confused with the similar surnames of both the couples and ends up with sperm mix-up. The couple is informed about the tragedy happened which affects the lives of both the couples severely. 
A must watch movie which will give treat to audience eyes, heart and soul with stellar performances by lead actors Akshay Kumar, Kareena Kapoor, Kiara Adwani and Diljit Doshanjh. Kareena steals the show with the top-notch acting skills. Akshay Kumar's comic timing has no comparison in the movie. 
Good newzz is fully filled with lot of laughter as well as sensible emotions. It is lighthearted, comedy and fun filled movie.