Bollywood has told many stories of our historical heroes. The movie Tanhaji is based on the life of Tanhaji Malusare, a Maratha warrior who was the subedar in Chhatrapati Shivaji Maharaj's army.
Tanhaji: The Unsung Warrior is a slow-paced hindi movie. Directed by Om Raut, the movie seems to be an exaggerated ode to the great warrior.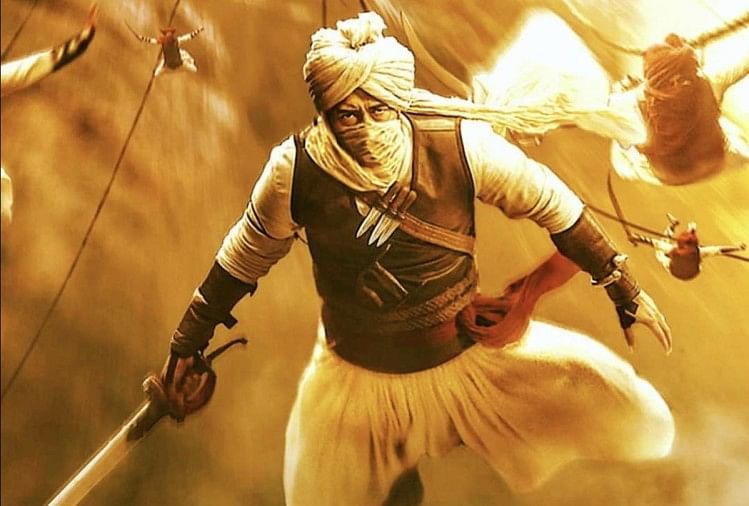 Set in the 17th century, the film starts with showing Aurangzeb, the Mughal emperor (played by Luke Kenny) ruling the north of India from the banks of the river Yamuna.
He wants to expand his empire by defeating the Marathas.
Down south, the Marathas are determined to bring back Swarajya under the leadership of Chhatrapati Shivaji Maharaj. 
The shrewd Aurangzeb (also known by his regal name Alamgir), sets Mirza Raje Jai Singh, a Rajput General, against the Marathas.
Sharad Kelkar, who plays Chhatrapati Shivaji Maharaj surrenders his 23 forts, including the Fort of Kondhana, to save his people and his kingdom. The Fort of Kondhana has vital importance through which Alamgir wants to rule southern India. 
Four years after Kondhana fort is captured, Alamgir sends his fortkeeper Udaybhan Singh Rathod (played by Saif Ali Khan) with a special cannon called Naagin. This cannon was powerful enough to destroy the whole fortress. 
The Marathas are shown planning a campaign to recapture the Kondhana Fort. The Maratha army is led by Tanhaji Malusare (Ajay Devgn).
The film presents the Battle of Sinhagarh, with exciting turns and twists. Ajay Devgn's Tanaji Malusare looks like a 17th-century Singham with over-the-top dialogues. Kajol is reuniting with her husband in his 100th film. 
Saif Ali Khan's Udaybhan Singh is the best part of Tanhaji: The Unsung Warrior. In a negative role, Saif Ali Khan once again proves his versatility. Tanhaji: The Unsung Hero is a frail attempt to glorify the Maratha warrior. Book your tickets by using the Bookmyshow app.