Last Christmas is a Hollywood movie full of romance, comedy, and drama. Directed by Paul Feig, the film stars Emilia Clarke, Henry Goldings, Madison Ingoldsby, Emma Thompson, Boris Isakovic in leading roles. The movie traces the life of Kate, played by Emilia Clarke, who is accompanied by bad decisions that are compounded by her decision to work as an elf in a Christmas store. A chance encounter with Tom (played by Henry Golding) leads to the beginning of positivity in her life. Something that she is not used to for a long time.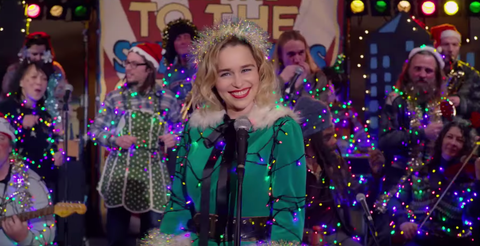 With Christmas fast approaching, Kate's life also seems to be drifting towards hope, happiness, positivity, and love. All she needs is to have some faith and let go of all the barriers.
The movie shows the lead actors working for a homeless shelter. It might be mentioned here that George Michael himself worked at a homeless shelter, although this was done in an anonymous manner.
Another interesting fact is that the lead actor Emilia Clarke sang her songs in the movie Last Christmas.
Paul Feig, the Director of the movie, was not keen on making another comedy around holiday since his previous attempt with Unaccompanied Minors in 2006 failed commercially and critically. It was only after Emma Thompson personally sent the script to him, that he read the script and agreed to direct the movie.
Emma Thompson had started working on the script of the movie in the year 2010.
This is the second Christmas based movie for Emma Thompson. Her first Christmas based movie was Love Actually released in 2003.
Most of the shooting was done at around 2 AM to avoid the fans disrupting the shooting of the movie.
The movie brings together Paul Feig and Henry Golding for the second time after they worked together in A Simple Favor  that was released in 2018.
This is also the second romantic movie of Emilia Clarke. Her first being 'Me Before You' in 2016.