This Diwali the Shooter Dadis are coming to set the box office on fire. In this era of real-life Bollywood movies, it's the turn of Shooter Dadis to hit the saand ki aankh (bull's eye). Saand Ki Aankh is an upcoming Bollywood movie based on the lives of Chandro Tomar and Prakash Tomar, the two sharpshooters who set an example for everyone and proved that age is just a number. Vanquishing all the odds, these two ladies picked up the gun at the age of 60, only to enhance the future of their daughters. But in the process, they unveiled their hidden talent of being exceptional shooters and stunt every one with their striking performances. Their skill brought them many national and international medals, and they became the 'Shooter Dadis' of India.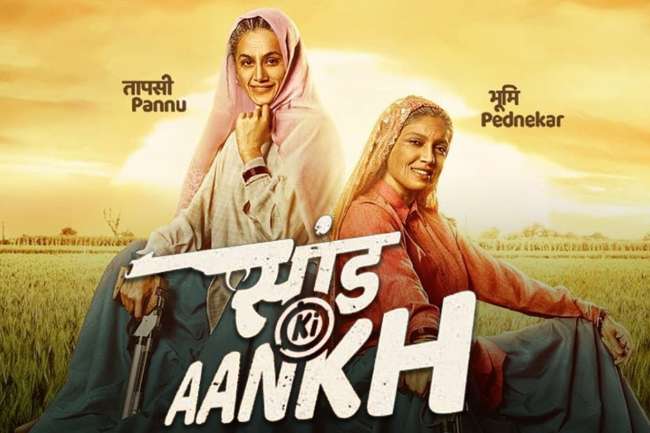 This time, Tushar Hiranandani, one of the distinguished scriptwriters of Bollywood movies, is in the director's chair. Tushar Hiranandani is all set to bring this inspiring story of these two Tomar sisters-in-law on the big screen. 
In this upcoming movie, Taapsee Pannu and Bhumi Panderkar are playing the lead roles. These two young actresses of Bollywood have always impressed with every character they have played with their mettlesome acting. In the crowd of glamour and stars, these two are among those skillful actors who never fail to impress their audiences with their polish acting. This time they are playing the role of 60 years old ladies. Their fans will see them in never seen before avatar; white hair, retro dress and holding pistols in their hands. Other vital actors roped in for the film are Prakash Jha and Vineet Kumar Singh.
This upcoming movie produced by Anurag Kashyap, Nidhi Parmat and Reliance Entertainment will hit the theatre on 25th October 2019.  
'Tann Buddha Hota Hai, Mann Buddha Nahi Hota '(body becomes old, the mind does not become old) – the film speaks about the will power; that the strength is in your mind, not in your body. This film on the struggle and success of the Shooter Dadis will change the definition of 'age' for everyone.