The story: Viju Prasad, a disgruntled motivational trainer, is hired by two affluent men to become a pastor. Their idea is to mint money using religion as a tool. A stunt on live television puts the fake messiah under the scanner. What would the consequences be for him and his corporate bosses? 
We are living in times when religion and faith are rampantly used as tools to mint money, exploiting the gullible. Anwar Rasheed's Trance dwells on this reality by weaving a story about a fake pastor being used by corporates to trade faith in exchange for money.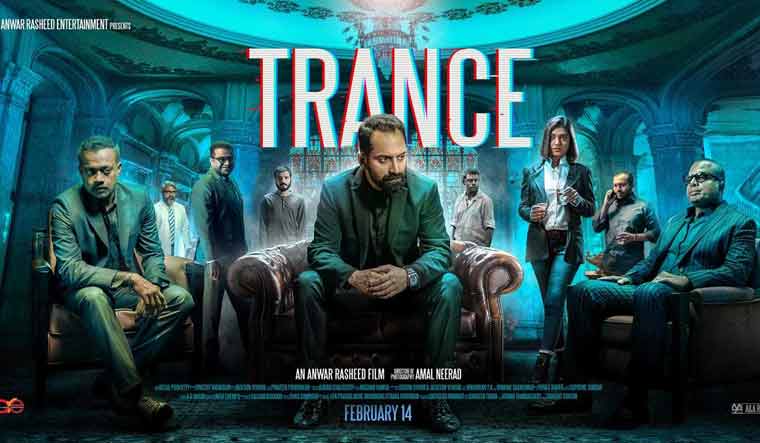 Trance Movie review: Viju Prasad, played by Fahadh, is a nondescript motivational trainer struggling to make ends all the while taking care of his younger brother. When circumstances force him to move to Mumbai, his life takes an unforeseen turn. Viju is offered by two wealthy men (Gautham Vasudev Menon and Chemban Vinod) to join them as some pastor. A crash course in theology initiates Viju's into the business of faith. The subdued Viju becomes the charismatic Pastor Joshua Carlton. All seems to be going well with the orchestrated stage performances, the miracles, and easy exploitation of blind faith. Things turn sour when a bold television stunt puts Joshua under the scanner. The movie then follows the repercussions of Joshua's actions and the consequences in store for his bosses. 
Fahadh's personification of a simple Viju and the magnetic Joshua are the selling points of the movie. Nazriya breaks away from her girl-next-door image by playing an alcoholic, drug addict Esther Lopez. Gautham Vasudev Menon, Soubin Shahir, and Dileesh Pothan add the much-needed weight to the movie. 
The first half of the movie keeps the audience glued. But the second half suffers from loss of direction. While the movie busies itself with Joshua's reflections, the forced angle between Joshua and Esther does nothing to salvage the interest in the plot. 
Amal Neerad's cinematography lends a fresh and stylish frame to the movie. Vincent has effectively highlighted the exploitation of faith by fake messiahs, making the movie generally appealing. 
Book tickets for this Malayalam movie on BookMyShow.