There aren't that many leading men from the '80s who transitioned well enough into the '90s and are still awesome in the 2000s. With hit films that stretched all the way back to the '80s, John Cusack has endured, playing the nice-guy, the nice-guy who is secretly bad, the nice-guy who is evil, the nice-guy who has to save the day, the nice-guy who hates his job. Hmm… noticing a pattern here. Never mind that, let's take a look at this amazing actor and see for ourselves how awesomely nice is John.
1. The time when he gave away a glove:
In Serendipity, John Cusack proceeds to pick up a pair of gloves and then offers them to Kate Beckinsale. Thus begins the topsy-turvy crazy and rather silly search for a book "Love in the Time of Cholera." Also there is a love story in the background, but who cares about that.
2. The time he stood up and made a fool of himself:
Remember "Say Anything"? The scene where John Cusack held a boombox above his head to play the Peter Gabriel's "In Your Eyes" for Ione Skye. By the way, the original song played while shooting was a song by Fishbone.
3. The lines he has spouted: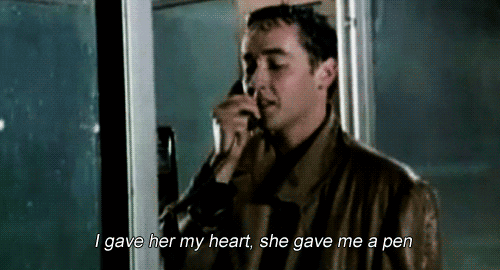 " I gave her my heart, and she gave me a pen." How many of us have heard that? The equivalent of "I love you", she responds with "Bhaiya!". Also due to the complete absence of cellular networks, Say Anything had the line " I draw the line at 7 unreturned phone calls." Try finding someone who does that these days.
4. The time he took up kickboxing:
Oh he didn't just take it up, he is now a 6th level black belt in the sport. After kickboxing for over 20 years, we have a Cusack who will be going toe-to-toe with the legend of the East: Jackie Chan in Dragon Blade! Guess what, John Cusack has trained under Benny the Jet Urquidez who has also fought Jackie Chan. Cool huh?
5. His best mate is his best mate:
Jeremy Piven and John Cusack have acted in a lot of movies together, but here is the cool part, John Cusack cut his teeth while acting on stage in Jeremy Piven's parents' theatre. Apparently there was a falling out in the past. But now, it seems that fences have been mended and hatchets have been buried.
Here are some of the coolest movies staring the two of them: Say Anything, Grosse Pointe Blank, Serendipity, Runaway Jury.
So that's 5 things about John Cusack. Catch him, Jackie Chan and Adrien Brody in the latest action kung-fu movie Dragon Blade. What are you waiting for? Also tell why John Cusack is amazing in your words.