The depths of your soul are black. You are a tortured twisted version of a happy person. The last time you sat in peace, was when you were knocked out in the mosh-pit. Your alarm ringtone is the 20-minute Rush song "2112". You have a favorite solo and you know the air guitar moves to it. Congratulations, you are a metal head.
A metal head is one of those creatures that truly imbibe the Rock culture.
Here is a look at the traits of a true metal head:
1. When you are hanging off a local train and "Livin' on the Edge" by Aerosmith starts to play in the background..
2. Your mother/ S.O. wonders where did all those black t-shirts come from!
3. You can headbang to get rid of a hangover caused by headbanging in the first place.

4. A guitar store has a sign made especially for you: "No Stairway to Heaven!" and "Please don't lick the guitars!"

5. You can quote Spinal Tap in your sleep and often you have argued that going to 11 is what matters.
6. A good boot can be used to open beer bottles, stomp the ground and also take Dadar station's crowd.
7. You might be a metal head if you have watched Beauty and the Beast, and wondered what if Meatloaf was the voice.
8. A true metal head looks at scars like they were marks of battle. Even paper-cuts.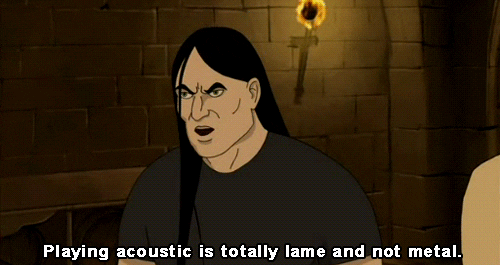 9. Listening to Justin Bieber causes you to break out into a murder frenzy! ARGH!
10. You have looked at a hotel ceiling and wondered where is the super glue.
11. There is a folder dedicated to the Floyd on your music drive. For those days, when you are feeling mellow.
12. You might be a metal head if you have looked at a Wah-Wah pedal and said "Wah-wah!"
13. The Wayne's World movie is a tribute and a must watch!
14. Tenacious D is an under-rated band.
15. There is at least one picture online, where you are holding up the Devil's horn sign, with a big grin on your face.
These are just a few of the traits that a metal head might have. Although, you might not have all, and still love the music. So come together and mosh! It's time to howl! Rock on, people.