The Indian team has been a force to reckon with in test cricket in recent years. Apart from being practically unbeatable at home, they've also posed a significant threat in overseas conditions. The immediate future looks secure too. With Rahul Dravid helming the operations of the National Cricket Academy (NCA) and overseeing the grooming of budding talent in the country, the Board of Control for Cricket in India (BCCI) has managed to effectively create a supply chain to the Indian team.
We decided to take a peek into the future. It is June 2025. The IPL has ended a couple of weeks ago, with the Mumbai Indians winning their seventh title. India is now gearing up for a 5-test series in England next month. Much has changed in world cricket in the last five years. Cricket has finally adopted the concept of yellow card and red card from football, in a bid to curb on-field clashes. The coronavirus pandemic of 2020 resulted in the International Cricket Council (ICC) prohibiting the use of saliva to shine the cricket ball. While this was meant to be a temporary precaution, it soon became a permanent rule, with ball manufacturers coming up with a wax-based gel to be used on the ball instead. Australia has won the inaugural world test championship, beating India in the final at Lord's. Meanwhile Mahendra Singh Dhoni finally hung up his boots after the 2021 IPL, and his fans have been trending #BringBackThala on Twitter every single day for the last four years.
India, however, continue to be a formidable side. We take a look at India's likely starting XI in the first test against England at Edgbaston, Birmingham next month, featuring some old legs and some new.
1. KL Rahul
KL Rahul's ability was never in question. Since his test debut in 2014, his career had been a patchwork of inconsistency and occasional brilliance. However this changed during the turn of the decade. Not only did Rahul make his way back into the test side, he has also been the team's most prolific batsman in the last four years. No one knows what brought this turnaround, but some believe not spending too much time with Hardik Pandya played a big part. Now 33, Rahul is at the peak of his powers and the vice-captain of the side. Many dare to call him the best Indian opener since Virender Sehwag. We're pretty sure the next man on this list would be looking to challenge that statement.
2. Prithvi Shaw
For a while, the talented youngster from Mumbai struggled to find a regular spot in the test team after his doping ban ended, thanks to stiff competition for the opening slot. But a couple of retirements and a strong home season helped him cement his place at the top of the order. A naturally attacking player, Shaw tends to score his runs at a brisk pace when he gets going. Despite his good run, a few questions have been raised about his temperament. It appears that he has a compulsive tendency to take needless risks early on in the innings. Shaw, however, seems unperturbed by this criticism. "Haterz gonna hate", he recently posted on his Instagram.
3. Cheteshwar Pujara
The old warhorse is still around, and is more battle-hardened than ever. Cheteshwar Pujara is now 37. Playing just one format of the game has helped him prolong his career, and Indian fans hope that he has one or two more seasons left. His monk-like concentration powers have only strengthened and he recently crossed the 10,000-run mark in test cricket. He continues doing what he does best, bat long hours and grind the opposition. Of course, he reserves his best for the Aussies. One vividly remembers the sight of pacer Jhye Richardson having a meltdown at Hyderabad last summer, after Pujara nonchalantly blocked the fiftieth consecutive delivery sent down by him.
4. Virat Kohli (captain)
You didn't think the king was going to bow out so soon, did you? In the last leg of his career, Virat Kohli has prioritised test cricket over ODIs and T20, and continues to lead the side in the longest format. He may not be the unstoppable force he was five years ago, but no opponent dares to take him lightly. On the field he has achieved everything a player possibly could (except, of course, winning an IPL with RCB). He is still consistently among the runs and has assumed a calmer demeanour with age. Even his biggest critics agree that Kohli has grown as a captain. He has also finally cracked the Decision Review System (DRS) code, something Indian fans are immensely grateful for. Rumour has it that apart from making videos with wife Anushka Sharma, Kohli spent most of the 2020 lockdown taking private tuitions from MS Dhoni (via Zoom calls of course) on how to use the DRS.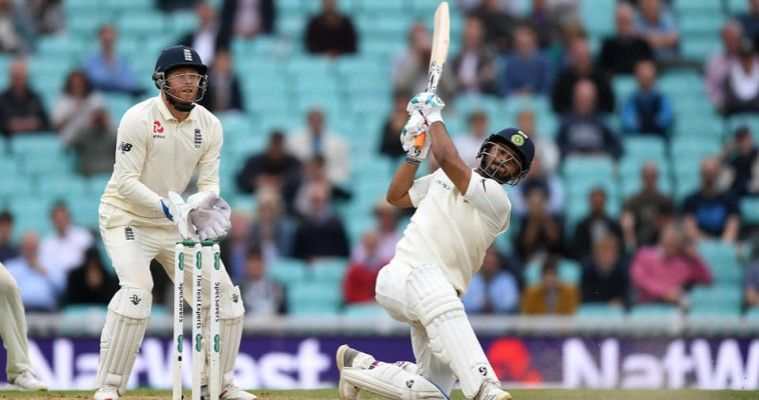 5. Shubman Gill
We knew Shubman Gill (pictured above) was going to break into the team at some point, he is too good a player to stay out for long. Ideally suited to bat in the top order, he is expected to take the number three spot once Pujara retires. But for now he is enjoying his stint in the middle order, and has been relentlessly aggressive against the older, softer ball. The good old English media has been talking about how Gill doesn't quite possess the technique to survive England's swinging conditions, which only assures us that he has a glittering future ahead.
6. Rishabh Pant (wicketkeeper)
Rishabh Pant has finally become the wicketkeeper-batsman we hoped he would be. He has made playing belligerent knocks lower down the order against tired bowling attacks a habit. No other Indian keeper, not even the great Dhoni, has averaged over 40 with the bat after 50 tests. The comparisons with former Australian great Adam Gilchrist are growing louder. Pant also continues to be chirpy behind the stumps. The last time India and England met, he told Ben Stokes that the English cricket board wouldn't let him fulfil his potential of being the greatest all-rounder ever, and would find an excuse to drop him soon. In the commentary box, Kevin Pietersen strongly agreed.
7. Ravindra Jadeja
Unlike Kohli, we're glad that Ravi Jadeja hasn't mellowed with age. He is still the most sprightly character on the field, and bowls over after over of his left-arm spin. However it's really his batting that has been a revelation over the years. Having gone from strength to strength, his show with the bat allows the team the luxury of playing five bowlers in the XI. He is now three short of 10 test hundreds, a goal that he has set for himself before he ends his test career, and has promised a grander, more elaborate version of his trademark 'talwaarbaazi' celebration when he gets there.
8. Kuldeep Yadav
Ravichandran Ashwin finally called it a day two years ago, after picking his 500th test wicket. This means that Kuldeep Yadav, who'd been waiting in the wings for a long time, is now India's chief spinner. The wily left-armer has proved to be effective at home as well as overseas, bamboozling batsmen with his flight and guile. While his on-field performances remain impeccable, Yadav has other worries on his mind. He has been writing frantic emails to the ICC and the BCCI, urging them to avoid describing him as a chinaman bowler. He insists on being called a "left-arm wrist spinner", fearing that the term 'chinaman' may trigger a section of people to call for his boycott.
9. Mohammed Shami
Mohammed Shami has been the senior pro and the backbone of India's pace attack since Ishant Sharma's retirement. Shami gave up playing limited overs cricket last year, after feeling the need to reduce his workload. His pace has reduced over the years but his skills with the ball have only got better, and he is the best exponent of reverse swing on the planet today. The sight of Shami bowling long, lion-hearted spells during difficult periods in a test match is an inspiring one.
10. Kamlesh Nagarkoti
Kamlesh Nagarkoti had made waves as a tearaway fast bowler in the 2016 under-19 world cup, but a back injury threatened to end his career before it had begun. However, over time he rehabilitated himself and slowly worked his way into the Indian side. Today, as the youngest member of India's pace attack, he provides raw pace, something Kohli has always been fond of. His ability to generate movement in the air is an added bonus.
11. Jasprit Bumrah
We aren't sure which figure is higher, Jasprit Bumrah's test wickets or the number of videos on YouTube of kids across the world copying his bowling action. Bumrah is nothing short of a phenomenon in world cricket, and is well on his way to become the country's greatest ever fast bowler. Bumrah often competes with Australia's Pat Cummins, South Africa's Kagiso Rabada and England's Jofra Archer for the mantle of the best bowler in the world.
Coach: Ravi Shastri
Yes, the Kohli-Shastri bromance is intact. The duo has produced satisfactory results over the years, giving the administrators no reason to replace Shastri. The fans aren't complaining, for he is an abundant source of meme-worthy content. In a recent press conference, our chest-thumping coach vociferously declared that India would beat England 5-0 in the upcoming test series. Skipper Kohli, sitting next to him, was seen shaking his head and muttering under his breath.
PS: This is an imaginary scenario sketched by a fan badly missing cricket action.
For more on cricket, see here.