21.10.2015
This is one date that
Back to the Future
fans can never forget. After all, it's the destination time for Marty McFly's second great adventure! If there's one thing we love about the movie, it's how it blended fantasy, science fiction and reality. This is exactly why we couldn't wait for 2015. We needed to find out how many of
Back to the Future Part II
's predictions were going to come true. Now that we're merely months away from the big day, let's see how close our reality is to Marty's.
Self-lacing shoes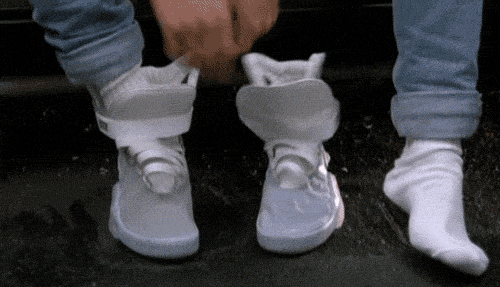 Until last week, this seemed like one of the film's most absurd predictions. Not anymore. On January 7, Tinker Hatfield from Nike confirmed that work on shoes with powerlaces is already underway. Though the designer said that they were looking at a 2015 release, he refused to divulge any more details. He simply said that there are "11 and two-thirds months left in 2015".
Phone glasses
Wearable computing is no longer a thing of fiction. In fact, the phone glasses used in Back to the Future Part II are eerily similar to Google Glass. While it's reminiscent of Marlene McFly's phone, the Google Glass is more of an Android-based computer. Still, it does have the ability to connect to a smartphone. Though it hasn't entered the mainstream yet, who knows what the tech scenario will be like in October?
Pepsi Perfect
Pepsi Perfect was a healthy version of Pepsi, which was available at the Cafe '80s. Not only was the drink vitamin-enriched, but it also came in a special lid with an inbuilt straw. Sipping on Pepsi at the movies would be so much easier! Though they are yet to come up with something of the sort, Coca Cola did release the Coca Cola Light Plus, a vitamin and mineral-rich version of Diet Coke. Sadly, it was discontinued in 2011. But who knows what can transpire in 9 months?
Flying cars
Though there have been prototypes of flying cars, it's going to be a while before our highways are 50 feet above the ground. Right now, the Aeromobil 3.0 is as close as we can get to owning our very own flying car. The car has been in testing since October 2014, so if we're lucky, we might just be able to get our hands on it this year! Want to see the Aeromobil in action? Look no further:


Hoverboards
A skateboard that hovers… Sounds like fun, doesn't it? As if that wasn't cool enough, the hoverboards in Back to the Future also came in various colors, sizes and models! Fortunately, this might just become a reality soon. Hendo, who began manufacturing their version of the hoverboard, seem to have been mostly successful. The Kickstarter they used to raise funds was successfully backed on December 15, 2014. What's better? Hendo is all set to launch them on 21.10.2015!
Rejuvenation clinics
Though rejuvenation centres exist, they mostly offer massages, facials and the like. The rejuvenation clinics in BTTF II did more than just that. They actually allowed people to add a few decades to their life! Though we don't have clinics like these just yet, we're on the right path. Medical advances have made organ transplants and 3D printing of organs possible, adding years to the lives of many.
Adjustable self-drying jackets
Don't you just hate it when you find an outfit you love, but it doesn't fit? Well, if all goes according to plan, we might just have self-adjusting jackets soon! Marty's jacket had a button that automatically adjusted it to the wearer's size and dried the garment when it was wet! Though this is yet to become a reality, intelligent clothing does exist. We might just have self-adjusting clothing around soon!