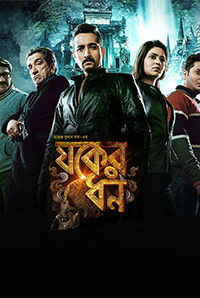 No shows available for this movie.
SYNOPSIS
Kumar finds a black human skull with a puzzle etched on it, from his grandfather's room. Unable to make any sense out of it, he takes the skull to his trusted friend, Bimal, who is a professor of Anthropometry. Together, they decipher the puzzle, only to discover that it hints at an ancient Tibetan treasure hidden somewhere in the dense jungles of Neora Valley. In order to satisfy their appetite for adventure, and to bring Hiranmay back safely, Bimal and Kumar sets out on a dangerous adventure, however, they are not the only ones after treasure, they have to deal with the dangerous criminal who is after the treasure. The duo have to rely on their wits and heroics for survival on their mission.
The director has managed to give a realistic touch to the movie by shooting the movie at most beautiful places adding to perfect cinematography. The songs of the movie have a perfect blend of adventure of thrill and suspense in it and the credit can be given to Meemo Music. The movie is a must watch with excellent selection of actors and directors.
...Read full review
People who viewed this also viewed