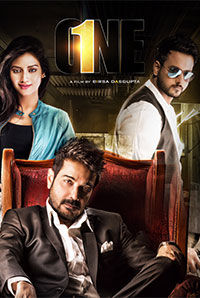 No shows available for this movie.
SYNOPSIS
One is essentially a modern retelling of the eternal conflict between good and evil. Yash Dasgupta plays an honest police officer, whose sole aim in life is to destroy corruption in every form. In his lifelong battle against evil, he comes across his archenemy- an unscrupulous businessman - whose brutality knows no bounds. This character has been essayed by Prosenjit Chatterjee. A cat and mouse game ensues between the two, with too many lives at stake. Will good triumph over evil in the end?
One is an action adventure with dollops of comedy, drama, romance and sci-fi. Yes, its all of that and still a remake of Thani Oruvan, the 2015 Tamil blockbuster.
...Read full review
People who viewed this also viewed