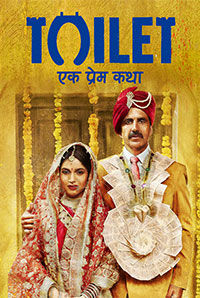 No shows available for this movie.
Hindi
Comedy
Romance
Satire
SYNOPSIS
Toilet - Ek Prem Katha traces the love story between 'jugadbaaz' Keshav (Akshay Kumar) and progressive girl Jaya (Bhumi Pednekar), set in two villages near Mathura.

TEPK is a satirical take on a battle against the age old tradition of open defecation in the country. From the panchayat to the sanitation department, from the role of the government to the superstitions of the villagers, from scams to the ethos, from first love to a matured romance, TEPK is Keshav's journey where a common man stands up for a cause and eventually changes the mindsets.
CREW
Shree Narayan Singh
Director| Editor|
Aruna Bhatia
Producer|
Shital Bhatia
Producer|
Siddarth-Garima
Writer|
Manas Chaturvedi
Musician|
Parampara Thakur
Musician|
Sachet Tandon
Musician|
Shikhar Chaturvedi
Musician|
Vickey Prasad
Musician|
Akshay Kumar
Executive Producer|
Neeraj Pandey
Executive Producer|
Anshuman Mahaley
Cinematographer|
Shreya Ghoshal
Singer|
Sonu Nigam
Singer|
Sukhwinder Singh
Singer|
Sunidhi Chauhan
Singer|
Neelanchal Ghosh
Costume Designer|
Darshan Jalan
Costume Designer|
Anmol Ahuja
Casting Director|
Abhishek Banerjee
Casting Director|
Udai Prakash Singh
Art Director|
Abbas Ali Moghul
Action Director|
People who viewed this also viewed