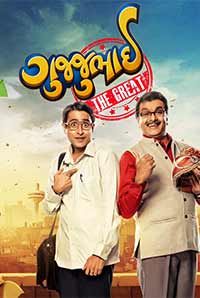 A comic roller coaster ride.
TRENDING STORIES
See More
SYNOPSIS
Gujjubhai the Great revolves around three characters, Hasubhai, his daughter Tanisha and his manager Bakul. Having a typical Baniya mentality, Hasubhai wants his daughter Tanisha to marry his employee Bakul. However, Tanisha is in love with an ad-film maker Montu. While everyone in the family has fallen for Montu's charm, Hasmukh sees him for the trickster that he is. The laughter ride begins when Hasubhai and Bakul take the challenge to induce Tanisha for marriage. Will Hasubhai and Bakul win the battle?
Gujjubhai The Great is a 2015 Gujarati comedy film directed by Ishaan Randeria. Presented by Nakshatra Entertainment Baroda and produced by Devendra Patel in association with Siddharth Randeria Productions.
...Read full review
Gujjubhai The Great is a Gujarati movie which is released in almost all the theaters of Gujarat on 18th September. On first day people enjoyed this film a lot and gave positive reviews of Gujjubhai The Great.
...Read full review
Siddhartha Randeria a very well-known name in Gujarati Theatre best known for his Gujarati Comedy Plays for which he has won multiple awards in various departments of acting, writing and direction, is now making his debut in silver screen with a Gujarati Comic Caper Gujjubhai The Great.
...Read full review