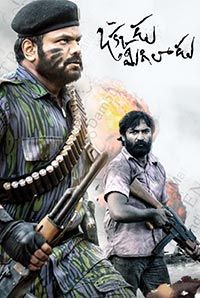 TRENDING STORIES
See More
SYNOPSIS
The human race, although started as just one, has been divided by the different nations, regions, families, and other reasons in the name of proper governance, God, and caste to name a few. Men fought for freedom but brought dictators such as Hitler and Stalin to power, who caused massacres, genocides, and Holocaust, turning nations into burial grounds.

Okkadu Migiladu revolves around two such leaders, who have the same ideologies, their leadership, sacrifices, and unbelievable sea journey, which they survive only to live as refugees.
Verdict: Leaves the audience underwhelmed. Okkadu Migliladu starring Manchu Manoj, Anisha Ambrose and Ajay Andrews Nuthakki in lead roles also has Milind Gunaji, Suhasini and Posani among the rest of the cast. Directed by Ajay Andrews Nuthakki, the music and the background score of Okkadu Migiladu has been rendered by Siva Nandigama. The cinematography has []...
...Read full review
Surya (Manchu Manoj) is a student leader fighting for justice for three girl students who were raped and murdered, two of whom happen to be Sri Lankan refugees just like him.
...Read full review
Surya (Manchu Manoj), a Srilankan refugee, fights for justice in 3 university girls death case. As ministers two sons are involved in the case, to protect them, police arrest surya in a fake case. While in custody, Surya narrates his flashback to one good cop (Posani) out there.
...Read full review