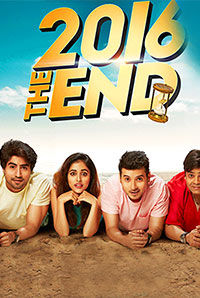 No shows available for this movie.
SYNOPSIS
When Sunny, Asse, Rahul and Sheetal come to know that the world will be coming to an end in seven days, they begin to think how would they spend their last days of life. However, nobody knows when exactly they are going to die.
This weekend another Bollywood small budget movie 2016 The End is going to release at the cinema and people have very mix buzz for the movie. I am sure that you all are going to love this movie but I think people have not that much buzz for the movie because this movie has not that big face. Critics are saying the good reviews for the movie and word of mouth is working positively for the movie. Direction work is a bit boring in the movie.
...Read full review
A group of friends set off on a road trip when they get to know the world will end in a week
...Read full review
People who viewed this also viewed