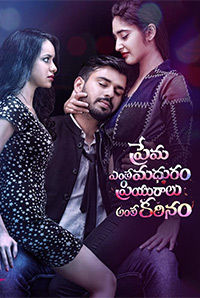 TRENDING STORIES
See More
SYNOPSIS
Jai, who is frantically searching for Mythili, meets Sarah who knows the whereabouts of her. However, Jai goes away from Sarah when she proposes him. After much struggle, Jai, somehow finally meets Mythili and wins her heart. Everything goes well for him until he finds the harsh truth about her, which leaves him shattered.
Jai (Chandrakanth Dutta) is a young guy who goes to the US in search of his lover Maithili (Radhika). As time passes by, he meets Sara (Pallavi Dora) and becomes close to her. Sara too starts liking him but Jai is only in deep love with Maidhili and keeps searching for her ignoring Sara.
...Read full review
Jai (Chandrakanth Dutta) has been on a hunt for Mythili (Radhika Mehrotra) ever since he accidentally dashed into her at Rajiv Gandhi International Airport in Hyderabad. Knowing that she has joined California University, he shifts base to the US along with his uncle (Gemini Suresh).
...Read full review
People who viewed this also viewed