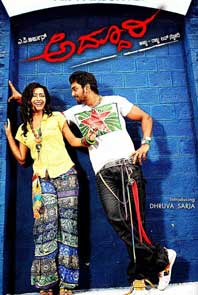 SYNOPSIS
The story revolves around two characters named Arjun and Poorna. Arjun meets Poorna and instantly falls for her. Poorna is in no mood to follow suit. She has her own confusions and does not want to commit her love for Arjun. But later she understands the deep love of Arjun towards her and accepts the proposal.
Poorna`s father decides to get her married but she wants to tie the knot with Arjun. They decide to get married but Arjun fails to make it to the sub-registrar`s office on the D-Day.
An infuriated Poorna decides to stay away from Arjun and agrees to marry the person her father had selected for her. Arjun returns and pleads to Poorna to get back.
Both Arjun and Poorna agree to be together and visit places they had frequented during the time when their love blossomed. What happens to Arjun`s love is revealed in a touching climax.
The story takes a new turn here when Asha (Anushri), a friend of Poorna, tells her why Arjun couldn`t come to the marriage registration office and how he saved her life that day. The incident changes Poorna`s attitude towards Arjun. What was the incident?
...Read full review
The story revolves around lovers-turned- friends, Arjun and Poorna. A misunderstanding between the two college-goers threatens to hamper their near perfect relationship and we will leave you to find out the why and what of it as the film is definitely worth a one time watch. The story is predictable but what makes it appealing all the same is the charm and energy that the lead pair brings with them.
...Read full review
People who viewed this also viewed