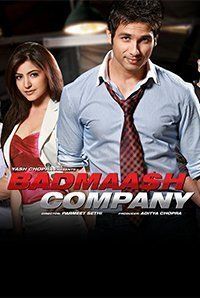 TRENDING STORIES
See More
SYNOPSIS
Life in the 1990`s was remarkably different for the average Indian. Consumerism had not set in. It was devoid of most of the luxuries of the West. In fact everything ``imported`` was good, and everything Indian, pass. Badmaash Company is an extraordinary story set in the 1990`s in middle class Bombay (as it was known then), of four ordinary youngsters Karan (Shahid Kapoor), Bulbul (Anushka Sharma), Chandu (Vir Das) and Zing (Meiyang Chang) who came together to start an import business of things longed for by yuppie Indians! What made their venture such a stupendous success was the fact that they found a way to beat the system and soon became the undisputed kings in their business, realising their one dream of making quick money by doing all the wrong things - the right way!
Parmeet Sethi, writer-director of this week`s `Badmaash Company` has been quoted as having said that he took all of six days to hammer out the script of this film. Well, guess what? It shows! Set in the early 90s, in a pre-liberalized India when foreign brands were expensive and hard to get your hands on, `Badmaash Company` is an outrageously silly story of four middle-class friends who accumulate much wealth when they figure out a perfect con that involves selling imported sneakers. Shahid Kapoor, Anushka Sharma, Vir Das and Meiyang Chang star as the bore-some foursome who are shown repeating this con over and over and over again till it begins to feel like a tutorial guide. Greed takes them westwards, and next thing you know they`re in New York repeating the exact same con with leather gloves.
...Read full review
Mayank Shekhar (Hindustan Times)
The son is clear: Meri mehnat ka fayda sirf mujhe hona chahiye. Mere boss ya meri company ko nahin (The fruits of my effort should accrue to me alone; not to my boss, or my company). The boys still intrinsically bright, and the father warns, You have sharp brains. The problem is, you know it. This can either take you really far, or eventually pin you down, depending on the direction you take. As an audience, youre aware both will happen. This is a film - with its own notions of redemption and poetic justice - after all. Youre also somewhat ready for this Catch Me If You Can ride. The kid chucks his MBA entrance preparations. His friends join in. An idea strikes him. He scores a bronze. Another idea hits his head supplying useless leather gloves to an import firm, and scramming off with the loot. He scores silver. Yet another scheme a silly mortgage-foreclosure swindle in the American real estate. He picks up gold again.
...Read full review
Shahid Kapoor and his gang of three friends - Anushka, Vir Das, Chang - dream of getting rich quick. Obviously, morals don`t have much to do in their show-me-the-money schemes and they set up their million dollar company on umpteen crooked deals. So far so good, but soon power corrupts, the law catches up and family values come in conflict. Can the dream run continue?
...Read full review