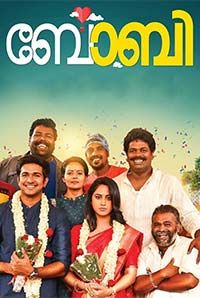 SYNOPSIS
Bobby is a story of a 21-year old boy, who gives up his Seminary Studies and falls in love with a lady who is 7 years elder to him. The movie showcases the funny events, romance and the love life of the couple.
The story of Bobby revolves around a youngster of the same name, who is 21 years old. Bobby is a Seminari student, but it is not his cup of tea. He gets ousted from there due to his behaviour and later he meets Maria, an ex-bank employee, who is 7 years elder to him. Bobby tries to win her love but Maria has her own share of problems. What happens later forms the rest of the story.
...Read full review
Some of the recent mainstream Tamil movies like the GV Prakash films (as hero), recent Simbu films, Sundar C films etc. had these bizarre plot where the hero falls instantly for the heroine and the makers try to create a series of events over that fragile platform giving us a tough time to make sense of what is happening on screen. Bobby starring Niranj, son of Maniyan Pilla Raju is one such movie in my opinion.
...Read full review
People who viewed this also viewed