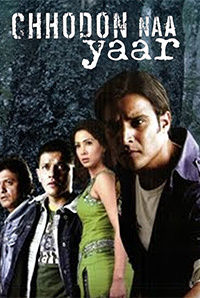 Super Natural Thriller Of The Year
No shows available for this movie.
SYNOPSIS
Ravi (Jimmy Shergill), Shiv (Kabir Sadanand) and Sunny (Farid Amiri) are three final year students studying doing Mass Communication in Delhi. They decide to make a movie for their project based on a myth prevalent in north hills of India. His friends immediately are all thumbs up for his idea and raring to go on the trip into deep jungle. Ravi`s girlfriend, Rashmi (Kim Sharma) and their college professor Saxena (Ahmed Khan) are dead set against the idea because of the danger involved just in case the myth was actually the truth. But the three students go anyway. As they would venture deeper into the woods, their believes would be put to test.
Sorry! None of the critics have had a chance to review this movie yet.
People who viewed this also viewed