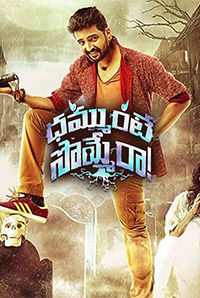 TRENDING STORIES
See More
SYNOPSIS
A rich loan-shark cannot accept his daughter's middle-class lover and plans to kill him by inviting him and his family to a palatial mansion. Little does he realise that his evil plot is going to be flipped on its head, as the house is haunted by a powerful ghost.
There are some films that manage to get away even though they seem underwhelming throughout, and solely ride on the fact that the post-interval portions are entertaining enough to make you forget the dreariness of the initial part of the film. Dammunte Sommeraa is that kind of a film. The film moves at a slow, sluggish pace and director Rambhala takes forever to get the plot moving.
...Read full review
The film is based in a haunted bungalow of Sivaganga Parvatam area. Kumar (Santanam) and Kajal (Anchal Singh) are two lovers who decide to marry each other. But Kajals dad, who does not approve of their relationship makes a false promise to Kumar and his family and takes them to the bungalow in order to kill them. Rest of the story is as to how Kumar saves himself and his family from the evil spirit which lives in the haunted bungalow.
...Read full review