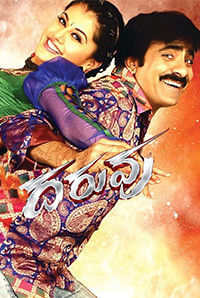 TRENDING STORIES
See More
SYNOPSIS
Daruvu: Sound of Mass (Telugu) is an upcoming socio-fantasy film. This Telugu film has been written and directed by Siva, produced by Burugupalli Siva Rama Krishna under Sri Venkateswara Entertainments banner and starring Ravi Teja and Taapsee Pannu in lead roles. Raviteja`s next movie ``Daruvu`` is the remake of Mega Star Chiranjeevi`s `Yamudiki Mogudu` and has been contemporized to suit the present day audience. Veteran actor Kaikala Satyanarayana who was famous for his portrayal of Yama Dharmaraju in several films was cast for that role and Tamil actor Prabhu was cast for the role of Yama Dharmaraju`s son.
Our man Bullet Raja falls head over heels in love with Shwetha (Taapsee Pannu). But there is a slight problem. It turns out that she is on the verge of getting engaged to Harbour Babu, a vicious goon. But our man wastes no time and confesses his love for her minutes before her engagement ceremony and even mouths a few cheesy one liners at her seething fiancee. An enraged Harbor Babu kills him in retaliation.
...Read full review
Radhika Rajamani (Rediff)
Siva is heavily influenced by the Yamaloka films of the past like Yamaleela, Yamudiki Mogudu and Yamadonga, where the protagonist goes to Yamaloka and comes back to earth in another body. Daruvu treads the same path.
...Read full review