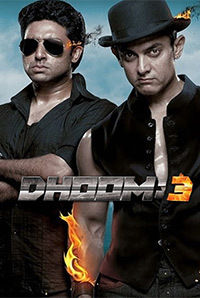 Action, thrill, drama, romance, bikes - The chase gets bigger!
TRENDING STORIES
See More
SYNOPSIS
In the cacophony of today's world, we would like to transport you to a time when an audience discovered a film in the theatre. A time to forget your world and get involved with the world of

SAHIR: A man so driven that he exudes an energy that is at once alluring and dangerous, fiery, fierce and unforgiving. Sahir The Clown Thief is a force that destroys whatever opposes him.

JAI DIXIT: The canny cop from Mumbai. Determined, analytical, persevering. Jai can go to any lengths to get his adversary and sometimes you have to think like the enemy to trap the enemy.

ALI AKBAR: The entertainer. The reluctant cop who is at home anywhere - from Nagpada to Niagara Falls, Ali is always at ease, ready to fall in love with anything that resembles the female form and unswerving in his search to become a familywala.

AALIYA: A fresh faced unassuming girl who transforms once she is on stage. She is a fearless soul who defies gravity in her act in the circus. She is equally fearless in matters of the heart.
Straight up, Dhoom 3 makes you laugh, gasp - even sniffle. The most emotional of the Dhoom series yet, this is Aamir Khan`s show all the way. As revengeful circus star Sahir, whose father Iqbal (Shroff) dies after losing his beloved Great Indian Circus to a stony-hearted Chicago bank, Khan is terrific. The Dhoom series usually showcases brawn on bikes but in this one, mind meets machinery, Khan`s brain almost visibly ticking behind his eyes, calculating every second before he vrroooms off on a bike - across a wire stretched high between buildings, beneath a mega-truck, even underwater. Chicago forms a super backdrop for Sahir`s stunts, the grainy stone of its buildings the perfect texture against which those bikes purr past with velveteen growls. Scrawling `Teri aisi ki taisi` on its vaults and scattering the bank`s money across Chicago`s skies, Sahir makes the local police look as intelligent as turkeys. But things change when Mumbai cop ACP Jai Dixit (Bachchan), with bike-and-babe-mad subordinate Ali (Chopra), arrive and figure out why - and how - Sahir is breaking the bank.
...Read full review