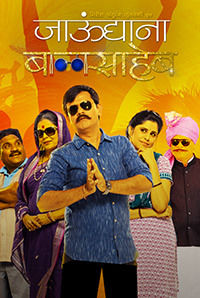 A laugh riot, yet a sensitive film about today`s youth and politics.
SYNOPSIS
The film addresses issues related to the younger generation in politics, and argues that one need not have a problem with dynastic politics, if the heirs are worthy and manage to prove their eligibility.
Verdict: Girish Kulkarni whips out a 'mass' entertainer. Girish Kulkarni first appeared on the silver screen in 2008 in the film Valu. Since then, he has been praised for his writing and acting skills. Later, he also won a National Award for his work in the film Deool which released in 2011. This year, with Jaundya Na Balasaheb, Girish makes []...
...Read full review
ow often do you drive across huge political hoardings and wonder what real work the people on these hoardings have done to be deserving of a place in public spaces? And how often have you thought that someone should do something about this? Well, Girish Kulkarnis directorial debut is a step towards achieving just that.
...Read full review
I have been a longtime fan of the duo Umesh Kulkarni and Girish Kulkarni. Together, with Girish writing and Umesh directing, they have produced four remarkable films including Deool, which was the third ever Golden Lotus, the top national award for Marathi film industry. Their last film, Highway, is one of the most noteworthy and meaningful films produced last year. Jaundya Na Balasaheb is significant as its Girish Kulkarnis debut as the director.
...Read full review
People who viewed this also viewed