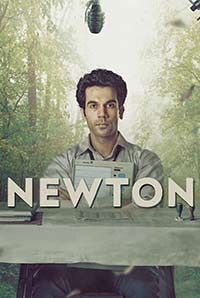 TRENDING STORIES
See More
SYNOPSIS
Newton Kumar, a rookie government clerk is sent on an election duty in the conflict-ridden jungles of Chhattisgarh, which is under the control of the naxals. Faced with the danger of the looming guerilla attacks by the communist rebels, despite the odds stacked against him, Newton Kumar tries his best to conduct a fair voting process in the region.
CREW
Amit Masurkar
Director| Writer| Screenplay|
Manish Mundra
Producer|
Shiladitya Bora
Producer| Associate Producer|
Naren Chandavarkar
Musician|
Benedict Taylor
Musician|
Mayank Tewari
Screenplay|
Raghav Gupta
Executive Producer|
Swapnil S. Sonawane
Cinematographer|
Shweta Venkat
Editor|
Sachin Lovalekar
Costume Designer|
Tejas Girish Thakker
Casting Director|
Romil Modi
Casting Director|
Sorry! None of the critics have had a chance to review this movie yet.