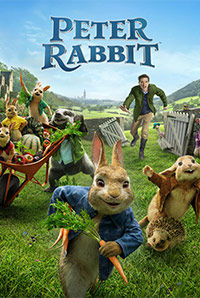 TRENDING STORIES
See More
SYNOPSIS
Peter Rabbit, the mischievous and adventurous hero who has captivated generations of readers, now takes on the starring role of his own irreverent, contemporary comedy with attitude. In the film, Peter's feud with Mr. McGregor escalates to greater heights than ever before as they rival for the affections of the warm-hearted animal lover who lives next door.
Verdict: Peter Rabbit's entry into the 21st century makes him cuter than ever. Long before we got gems like the marmalade-loving bear Paddington, there was a rabbit who was ruling kids' novels. The Tale of Peter Rabbit by Beatrix Potter, which originally came out in 1902 has finally entered the 21st century with a movie adaptation. The character of []...
...Read full review
This live-action/animated film is an ode to the generations of readers who have grown up reading Potters simple tale about the antics of a mischievous rabbit. Peter Rabbit (voiceover James Corden) along with his triplet sisters Flopsy (voiceover Margot Robbie), Mopsy (voiceover Elizabeth Debicki), Cotton-Tail (voiceover Daisy Ridley) and cousin Benjamin Bunny (voiceover Colin Moody) are a happy quintet, who are perpetually on a mission to raid old McGregors (Sam Neill) tempting vegetable patch.
...Read full review
It seems like the Paddington movies have opened the doors for more adorable talking animals from beloved childrens books. Peter Rabbit, the new adaptation for the big screen, isnt quite as memorable but is still fun enough for kids to enjoy at the movies. The adults will need a bit of patience to deal with it though.
...Read full review