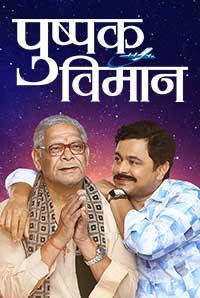 TRENDING STORIES
See More
SYNOPSIS
An 83-year-old man, Tatya, an ardent devotee of Saint Tukaram firmly believes the age-old folklore, which says that the saint boarded the Pushpak Vimaan and set off to heaven, to be true. He also harbors the dream of flying in Tukaram's mystical vehicle. The movie, with a touch of humor, showcases the emotions shared between a grandfather and a grandson.
CREW
Vaibhav Chinchalkar
Director| Screenplay|
Sunil Phadtare
Producer|
Subodh Bhave
Writer|
Narendra Bhide
Musician|
Santosh Mulekar
Musician| Background Score|
Ratnakant Jagtap
Executive Producer|
Mahesh Aney
Cinematographer|
Ashish Mhatre
Editor|
Apurva Motiwale
Editor|
Sameer Samant
Lyricist|
Santosh Phutane
Art Director|
Verdict: A light-hearted story of devotion, love, and responsibilities. Starring one of the most loved actors in Marathi cinema, Subodh Bhave, and the veteran actor MohanJoshi,comes Pushpak Vimaan - a fun, light-hearted family drama. Bhave has contributed with the story, as director Vaibhav R. Chinchalkar makes his debut with this one. After proving his mettle in Katyar (movie) as a director, ...
...Read full review
Dreams are basically a bag full of a persons unfulfilled desires and, generally, this bag is never empty. Pushpak Vimaan`s Tatya (Mohan Joshi) harbours one such dream.
...Read full review