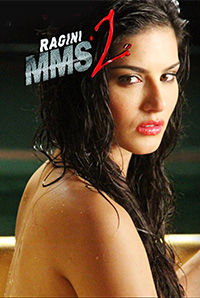 A sequel to the sensual horror returns
Hindi
Adult
Horror
Thriller
TRENDING STORIES
See More
SYNOPSIS
A young enthusiastic crew and an over-the-top film director, visit a farmhouse on the outskirts of Mumbai, to make an erotica-horror!

The director casts Sunny Leone, the famous adult film entertainer as his lead to play Ragini. They decide to shoot in an actual haunted locationthat leads to creepy & menacing happenings.

Ragini MMS-2, furthers the brand that was successfully created by its `spooky-sexual` predecessor Ragini MMS.
When you watch Ragini MMS 2, you will feel two things - one, a slight chill that fizzles out much before it reaches down your spine, and second, a lot of mirth. Mirth because of the star cast, that primarily comprises non-actors except someone as seasoned as Divya Dutta. Pity that the actress had only ...
...Read full review
Shubhra Gupta(IndianExpress)
A film unit goes off to a deserted house in the middle of a forest for a shoot. Because this is a sequel to Ragini MMS, we are already primed for what is about to happen: a vengeful spirit will get after the humans, and scare us witless in the process.
...Read full review
Early on in the first half, we are told that Ragini MMS 2 is a `horrex` (horror+sex) film! And the makers leave no stone unturned to make sure it proves to be one. Picking up from its prequel, the second chapter begins with Ragini being locked up in an asylum. Parvin Dabas plays a director wanting to make a film based on her story with Sunny Leone as the lead.
...Read full review